The New York Mets are not the worst team in baseball. They are not even the most ineptly run franchise in their own division. Yet, their 2009 campaign may have forever redefined the concept of losing.
Jokic? Embiid? The NBA MVP is obvious... right? | Keep it a Buck(et)
Nothing has gone right for the poor Metropolitans in this calendar year. From the ownership down to the bat boys, the entire organization has been beset by financial issues, management missteps, injuries, errors, poor timing, and just plain bad luck. Every week seemed to bring a new crisis or terrible disaster and through it all, they constantly found inventive and entertaining ways to squander victory. And there's still a month left!
Join us now on a journey through the outer borough's season of hell, as we look back on the losingest bunch of losers who ever lost a baseball game.
January 15: The Mets kickoff 2009 by unveiling a commemorative patch for the upcoming season, their first at spanking new Citi Field. It is roundly and swiftly denounced.
G/O Media may get a commission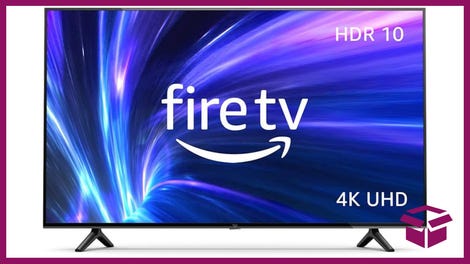 42% Off
Amazon Fire TV 50" 4K Smart TV
February 3: Citigroup, which got its name on the stadium via a 20-year, $400 million licensing deal, considers backing out the agreement because they can no longer afford it. Suggested name change: "Taxpayer Field"
February 17: OF Carlos Beltran declares the Mets the "team to beat" in the NL East and in response to Philadelphia's Cole Hamels (who referred to the Mets as "choke artists") says, "Hopefully we kill him, and then he'll have to deal with the situation." Beltran, who will make $19 million in 2009, plays just 67 games before going on the disabled list for10 weeks (and counting.) [Photo: AP]
February 18: The last remaining piece of Shea Stadium is knocked down.
April 6: SP Johan Santana wins his opening day start against the Cincinnati Reds. Two days later, the New York Times reports that the Mets no longer offer group discounts to Little League teams that visit Citi Field, as they did at Shea Stadium in previous years.
April 12: In Santana's second start, OF Daniel Murphy drops an easy fly ball in the second inning against the Marlins, allowing two unearned runs to score. The Mets lose, 2-1. Santana says after the game: "It's one mistake that he made. It cost us the whole ballgame, but it's part of the game ... This is not going to be the first time. I don't think it's going to be the last one, either." That's called foreshadowing.... [Photo: New York Daily News]
April 21: One week later, Murphy badly misplays a flyball in the eighth inning against St. Louis, allowing the eventual go-ahead run to reach base on a triple. On June 24, after being moved to first base, Murphy makes another costly error that contributes to another Mets loss. (He did manage to make one nifty play this year.) [Video: MLB.com]
May 10: The Mets beat Pittsburgh, 8-4, and move into first place in the NL East. The three-game sweep of the Pirates gives them a seven-game winning streak, their longest of the season. They remain in first place for 8 more days, leading by as much as 2 games before dropping back to second. It is the high water mark of their season. [Photo: AP]
May 13: All-Star SS Jose Reyes hurts his right calf. He makes 7 more plate appearances before being placed on the DL and does not play again in 2009.
May 16: 1B Carlos Delgado is placed on the 15-day disabled list, after just 26 games played. Three days later he has arthroscopic surgery on his hip and does not play again in 2009. [Photo: New Jersey Star-Ledger]
May 18: The Mets commit five errors in an 11-inning game against the Dodgers. The game ends when 1B Jeremy Reed throws the ball away attempting to force out the winning run at home plate.
May 20: A fan gets her arm stuck in a Citi Field toilet, while trying to retrieve a dropped gold tooth. Plumbers must be called to the stadium to free her. [Photo: A Helluva Town]
June 4: RP J.J. Putz, acquired in 3-team, 12-player trade during the offseason, has surgery to remove a bone spur from his elbow. While on a rehab assignment in August, doctors discover a slightly torn ulnar collateral ligament in the same elbow. He will not play again in 2009. [Photo: Canadian Press]
June 12: SP John Maine is placed on the 15-day disabled list with "shoulder weakness." He does not play again in 2009. [Photo: NY Daily News]
June 12: Leading the crosstown rival Yankees by one run with two outs in the bottom of the ninth, 2B Luis Castillo needs only to catch a routine fly ball to end the game. He drops it, allowing both the tying and winning runs to score. [Video: MLB.com]
July 2: On a one-game road trip to Pittsburgh the Mets are booked into the Westin Hotel. The hotel is also hosting Anthrocon, the "galaxy's largest Furry convention." [Photo]
July 3-5: Trailing the division leaders by just one game, the Mets head to Philadelphia for a crucial three-game series. They are swept, scoring just three runs all weekend. They fall to fourth place and are never closer than four games behind the rest of the season. [Photo: AP]
July 12: Mets fans boo their giant mechanical "Home Run" apple after it fails to rise in celebration of a Fernando Tatis dinger. [Photo: AP/Star-Ledger]
July 22: The New York Daily News reports that while visiting the Mets Double-A farm team in Binghamton, Vice President for Player Development Tony Bernazard took off his shirt and challenged minor league players to fight him during a locker room tirade. One day earlier, Bernazard loudly berates an assistant in front of scouts and fans at Citi Field, because someone else has taken his seat during a game. Five days later, Bernazard is fired.
July 27: At the press conference announcing the dismissal of Tony Bernazard, general manager Omar Minaya accuses Daily News beat writer Adam Rubin of "lobbying for a player development position," implying that Rubin's coverage of Bernazard was influenced by his desire to secure a job for himself in the Mets' front office. Minaya apologizes the next day, at the behest of Mets COO Jeff Wilpon.
August: In one of the season's few bright spots, 3B coach Razor Shines takes a stand against hiney-fingering.
August 4: Luis Castillo sprains his ankle after slipping and falling down the dugout steps during a game. The Mets lose in extra innings. [Photo: New York Post]
August 15: All-Star 3B David Wright is hit in the head by a fastball from San Francisco's Matt Cain. During the two weeks he spends on the disabled list, the Mets fall 5.5 more games in the standings. [Photo: AP]
August 20: Former closer Billy Wagner returns from injury and appears in his first game in over twelve months. He is immediately placed on waivers and (after waiving his no-trade clause) is sent to Boston within a week. [Photo: AP]
August 23: Adam Goldstein, better known as DJ AM, throws out the ceremonial first pitch at Citi Field. Five days later, he is found dead of a suspected drug overdose. [Photo: Reader Greg B.]
August 23: Trailing 9-7 in the bottom of the ninth inning against the Phillies, the Mets have runners on first and second with nobody out when OF Jeff Francoeur lines into the 15th unassisted triple play in Major League history. It's only the second time ever that a MLB game has ended with an unassisted triple play. [Video: MLB.com]
August 25: The Mets announce that Johan Santana, who will make $19 million in 2009, will have arthroscopic elbow surgery and is placed on the DL for the remainder of the season. [Photo: AP]
August 28: Erin Arvedlund, author of "Too Good to Be True," a book about jailed hedge fund manager Bernie Madoff, asserts that Mets owner Fred Wilpon will be forced to sell the team within the next year. Wilpon and his family lost an estimated $700 million as a result of Madoff's fraudulent schemes. The Mets deny the claim.
September 1: With one month remaining in the 2009 season, the Mets begin the day 17.5 games behind the Philadelphia Phillies.
[Video: MLB.com/Mike Byhoff]