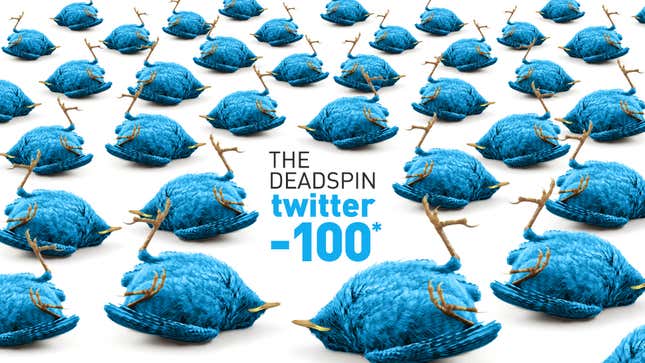 Last week, SI.com published its third annual Twitter 100, a list of the Twitter feeds that Sports Illustrated staffers purportedly consider "essential to your daily routine for finding news, information and entertainment from the sports world."
Today, as a complement, we present our Twitter -100, our list of the sports world's 73 worst Twitter feeds (here's last year's list). These are listed in no particular order, and the only real criteria for inclusion were 1) working our nerves in some way and 2) coming to mind when we were drawing up a list of terrible accounts. We hope this list is useful to you as you choose sports-related Twitter feeds to avoid.
1. Pete Thamel (@SIPeteThamel), Sports Illustrated senior writer
Author of romance fiction. Thinks of sports as apparatus of moral discipline. Got all sanctimonious about a fucking horse.
2. Shaquille O'Neal (@SHAQ), NBA pundit
It's like someone gave the world's most unfunny comedian seven million followers.
3. Major League Baseball (@MLB), official Twitter account of MLB
A robot capable of recognizing "internet funny" and totally incapable of replicating it.
4. Carl Weathers (@TheCarlWeathers), the guy who played Apollo Creed
BE PEACE every single tweet? BE PEACE every single tweet.
5. Joe Sheehan (@joe_sheehan), baseball writer
Brave iconoclast will spare no one in his assault on 1997's conventional wisdom.
6. War Machine (@warmachine170), MMA fighter/porn actor
Mr. Machine is too alpha for both MMA and pornography.
7. Richard Deitsch (@richarddeitsch), Sports Illustrated media reporter
It's something unpredictable, but in the end is right. Really, REALLY wants you to read about dead people in The Economist.
8. Ariel Helwani (@arielhelwani), MMA personality
Up-to-the-minute news from the Mean Gene Okerlund of MMA. "Journalist."
9. Brian Kenny (@mrbriankenny), baseball pundit
"Fuck off! 'Judean People's Front.' We're the People's Front of Judea!"
10. Bill Barnwell (@billbarnwell), football writer
Fine writer whose feed during games is a terrifying repository of know-it-allness. You will follow and unfollow a record number of times.
11. Alex Morgan (@alexmorgan13), soccer player
Treacly amalgam of rampant boosterism, outright shilling, profligate hashtags, and insightful observations that are neither.
12. Blaine Gabbert (@BlaineGabbert), NFL player
Nothing wrong with tweeting for the troops and patting America on the back. A lot wrong with letting Donald Trump do it for you.
13. Bomani Jones (@bomani_jones), sports pundit
Several thousand brilliant tweets snowed under 200,000 140-character mind farts.
14. Scott Miller (@scottmcbs), baseball writer
The sort of shit-peddling white-guy columnist who loves to write about "immature" Hispanic ballplayers. Half-literate moron.
15. BuzzFeeᴅ Sports (@BuzzFeeᴅSports), official Twitter account of BuzzFeeᴅ's sports vertical
"Here's a bunch of GIFs that are not even loosely related to sports. It's the internet, go fuck yourself."
16. Pete Prisco (@PriscoCBS), football writer
Odious, thin-skinned columnist who exists only to lick the boots of NFL management. Doesn't know when he's being trolled.
17. Dave Zirin (@EdgeofSports), sports columnist
Speaks truth to power when not pimping himself to Grantland.
18. Kelly Dwyer (@KDonhoops), basketball writer
Passive-aggressive basketblogger. Acts like the toughest record-store clerk in your most badass local record store.
19. Dan Levy (@DanLevyThinks), lead writer at Bleacher Report
Still the self-appointed ombudsman of everything. Tried to get people to fund his dumb robot book.
20. Adam Rubin (@adamrubinespn), Mets beat writer
Go-to source if you want to know what the Mets' 18th-round draft pick had for breakfast.
21. Grantland (@grantland33), official Twitter account of Grantland
Satire is dead. Where does satire rank in the Literary Mode Pantheon?
22. Peter Gammons (@pgammo), baseball writer
dbbbbbb ppppp[[[
23. Phil Jackson (@philjackson11), former NBA coach
Fraudulent branding exercise's fraudulent branding exercise. Go do a TED talk already.
24. Jack Dickey (@jackdickey), former Deadspin editorial fellow
Disgusting man. Eats peanut butter with cheese.
25. Jason La Canfora (@jasonlacanfora), football writer
Lighten up, Francis.
26. Katie Baker (@katiebakes), writer for Grantland
Wedding scorecards, hockey galore, and gentle ribbing of Martha Stewart. It's like having a marginally hip Canadian aunt.
27. Carmelo Anthony (@carmeloanthony), NBA player
Legend in his own mind knows this one weird trick.
28. The Iron Sheik (@the_ironsheik), former pro wrestler
A web entrepreneur or some shit tweeting mock-incoherently about current events in the guise of a broken-down old man. Go fuck yourself.
29. Chris Jones (@MySecondEmpire), magazine writer
Better a heart full of shit than an asshole pumping blood.
30. Duke Basketball (@dukeblueplanet), official Twitter account of Duke basketball
It's about Duke basketball.
31. Mark May (@mark_may), college football pundit
The dumbest sports pundit on TV is somehow even dumber on Twitter.
32. Dan Dakich (@dandakich), radio host
Shitty radio host; the last man on earth willing to stick up for the NCAA.
33. Bill Simmons (@billsimmons), ESPN brand
Oh, shut up ...
34. Drew Magary (@drewmagary), Deadspin writer
... and that goes for you, too.
35. Ed Sherman (@sherman_report), proprietor of The Sherman Report
Dreary newspaper hack whose prose is worse than whatever press release he's rewriting. Dumb. Useless.
36. Bruce Arthur (@bruce_arthur), Canadian sportswriter
Pious bore. Climbs over David Broder's corpse to sermonize from high ground of today's safest issues. "Canada's best sportswriter," 2012.
37. Colin Cowherd (@ESPN_Colin), radio host
Race-baiting sports yakker who at his most lucid and broadminded sounds like the lost third author of The Bell Curve.
38. Marcus Vick (@MVFive), Michael Vick's brother
Remember your high school buddy's shit-eating little brother? He grew up to be Marcus Vick's Twitter account.
39. Jon Heyman (@JonHemanCBS), baseball writer
He's like a carbon copy of colleague Scott Miller, but dumber.
40. Darren Rovell (@darrenrovell), sports business reporter
Consistently wrong sports business reporter who knows jack shit about both sports and business. Post-human.
41. Kristi Dosh (@SportsBizMiss), sports business reporter
Somehow Darren Rovell isn't ESPN's worst sports business reporter.
42. Jason Reid (@JReidPost), sports columnist
Bottom-rung columnist who spends his day sniping with people who point out how dumb his columns are.
43. Thomas Lake (@thomaslake), Sports Illustrated senior writer
Somehow manages to overwrite even when working with 140 characters.
44. Peter King (@SI_PeterKing), Sports Illustrated senior writer
Dull exponent of NFL conventional wisdom. Roger Goodell's best friend. Stoogedom mitigated by fact everyone knows he's a stooge.
45. MLB Memes (@MLBMeme), meme farm
Another "[x]Meme" account that operates entirely on ripped-off content. Who laughs at this shit?
46. Donovan McNabb (@donovanjmcnabb), former NFL quarterback
If your dad were a First Take moderator.
47. Isiah Thomas (@iamisiahthomas), former NBA executive
Deep thoughts.
48. MMA Roasted (@mmaroasted), MMA comedian
The world's worst and most obvious possible MMA jokes, delivered by a cretin.
49. Michael Kay (@realmichaelkay), Yankees broadcaster
Twitter account of Michael Kay.
50. Manish Mehta (@MMehtaNYDN), Jets beat writer
Too dumb to realize all he needs to do to troll Jets fans is report the news straight. Wanted to fire head coach two weeks before season.
51. Wright Thompson (@wrightthompson), magazine writer
Jes cain't cotton to ya'll's fancy city ways. Foghorn Leghorn with a Twitter login and an expense account.
52. Tim Marchman (@timmarchman), Deadspin deputy editor
"Am I too precious to write Hot Takes, or am I just too lazy to write them longer than 140 characters? I can't decide!"
53. Tommy Craggs (@tcraggs22), Deadspin editor-in-chief
The J.D. Salinger of Twitter, if all Salinger ever published had been "Hapworth 16, 1924."
54. Cristiano Ronaldo (@cristiano), soccer player
Synthetic android. Makes Darren Rovell look human.
55. Chipper Jones (@realcj10), former MLB player
Thanks for taking time away from your fishing boat and your cold ones to pick fights with random Twitter dudes, Larry.
56. Skip Bayless (@RealSkipBayless), sports pundit
Skip Bayless: still all in.
57. Doug Gottlieb (@GottliebShow), college basketball pundit
NCAA apologist. Surely a former DI athlete once popped for stealing money sees the difference between scholarship and salary.
58. Jason Whitlock (@WhitlockJason), ESPN brand
Incapable of expressing a thought that hasn't been filtered through the prism of a popular cable TV show.
59. ESPN Stats & Info (@ESPNStatsInfo), ESPN's official stat-peddling Twitter account
Irrelevant, needlessly specific stats that used to fill dead time during MLB/NFL broadcasts, now available 24/7.
60. Steve McPherson (@steventurous), basketball writer
Pretentious basketblogger.
61. John Buccigross (@Buccigross), SportsCenter anchor
Poetry and T-shirt pimping in equal insufferable measure. Almost makes you glad ESPN doesn't cover hockey.
62. Ethan Sherwood Strauss (@SherwoodStrauss), basketball writer
Precious basketblogger.
63. Charles Robinson (@CharlesRobinson), investigative reporter for Yahoo
Mall cop coming to terms with the fact that no one goes to that mall anymore.
64. Thom Loverro (@thomloverro), radio host and Washington Times columnist.
Sports takes so hot and full of garbage they should come with a silver microwaveable sleeve and an antacid tablet.
65 & 66. Brandon McCarthy (@BMcCarthy32), MLB player; Amanda McCarthy (@Mrs_McCarthy32)
Exhibitionists. Ongoing Twitter flirtation is ruining Calvin and Hobbes for us. Just get it over with and fuck in public, you two.
67. Mike Florio (@ProFootballTalk), NFL's useful idiot
Florio word salad recipe: 1 cup, management garbage; 1 tbsp, out-of-nowhere moralizing. Drizzle with half-remembered contract law. Toss.
68. Dick Vitale (@DickieV), college basketball broadcaster
Oh good, the crazy old man found a new way to scream at you.
69. Josh Krulewitz (@jksports), flak
ESPN PR guy.
70. Jason McIntyre (@jasonrmcintyre), proprietor of The Big Lead
ESPN PR guy.
71. Patrick Hruby (@patrick_hruby), writer for Sports on Earth
"Tell me I'm pretty."
72. Chris Kluwe (@ChrisWarcraft), former NFL punter
Unemployable Redditor. Are punters real NFL players? Not this one!
73. Deadspin (@Deadspin), official Twitter account of Deadspin
You won't believe how fast the high tone and sanctimony yield to SEO when it's time to scrabble for traffic [VIDEO]
Art by Jim Cooke