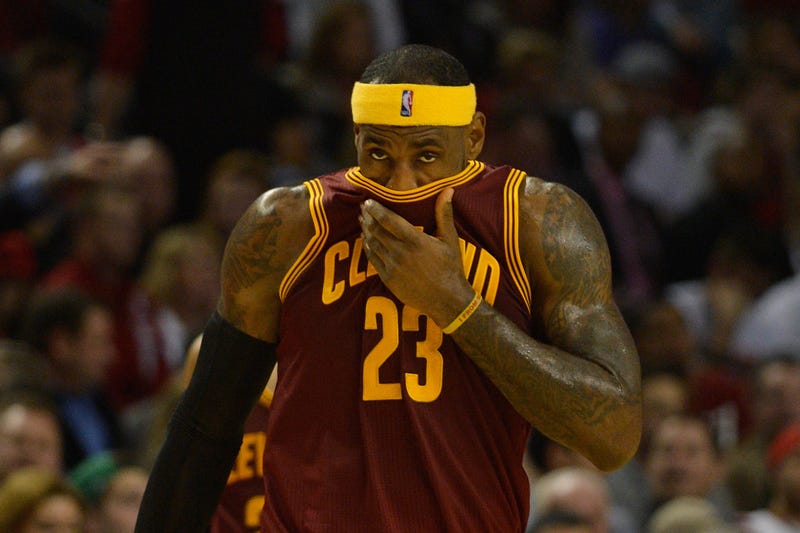 Holy shit, the Cavaliers are 1-3! ONE AND THREE! OH MY GOD, CLEVELAND IS CLEVELANDING ALL OVER ITSELF AGAIN! Now, listen: I know that newly assembled teams like this need time to gel, and that the NBA regular season is fucking stupid, and that the Heat struggled in a similar fashion at first with LeBron, and that all of this is likely being overblown. But thinking about this in sober and rational terms is no fun at all. I DEMAND PANIC. So, with that in mind, here are a few working theories as to why the Cavaliers, and LeBron in particular, are struggling.
1. LeBron has cancer. A tipster (okay, just a guy) emailed and put it all together for us. LeBron is skinnier. And he is balding. Hence … CANCER. Sure, cancer treatments don't make your hair recede so much as fall out en masse, but who know what kind of new cancers Cleveland's industrial pollution had waiting for LeBron when he touched down on the tarmac? Cleveland cancer may very well carve a figure 8 into your skull.
2. Kyrie Irving banged his mom. I mean they were arguing.
3. LeBron's skills have diminished. This was a theory thrown out by anonymous sources to ESPN's Brian Windhorst. Why have his skills diminished? Where did they go? No idea. I guess sometime you just get basketblock? Bill Simmons also tested this Blass Disease theory out as well. Or maybe he thinks LeBron has older sisters who are dragging him down.
4. PERFORMANCE ENHANCING DRUGS OH GOD THE CHILDREN! LeBron was on PEDs for his whole career, got a positive test, conspired with the NBA to bury the test so that his feel-good story could go on unabated, and can no longer put the muscle back on. Fucking cheat. He won't be getting MY Hall of Fame vote, which I do not actually possess.
5. That's an impostor. It would be the ultimate troll move on Cleveland, really. LeBron comes home, pledges his allegiance for life, and then sends out Larry James to take his place on the court. Eat shit and die, Cleveland! This is what you get for eating your young.
6. LeBron accidentally stepped into a wormhole and is now 20 years older. We call this the Oden Effect.
7. This is all a secret viral brand strategy cooked up by Centrum Plus and Target. LeBron looks old. He is struggling. When suddenly, come spring, he's strong as a fucking ox and ready to carry his team on his back again. AND HE OWES IT ALL TO THE GOOD FOLKS AT CENTRUM SILVER, AVAILABLE AT YOUR LOCAL TARGET. If they can get to Alex from Target, who couldn't they get to LeBron? Think about it …
Photo via Getty