Christian Pulisic. Matt Miazga. Josh Sargent. These are some of the budding talents soccer fans in the States hope will develop and flourish and eventually Make America Great At Soccer For The First Time. And it seems we've found another young upstart to add to that list. That youngster is none other than ... Barron fucking Trump?!
We knew the youngest of our dumbass president's children was a soccer fan after Barron was photographed rocking a head-to-toe Arsenal kit a few months ago, but we didn't exactly know just how deep the kid's devotion to the game ran. Pretty damn deep, it turns out. Apparently, as soccer writer Pablo Maurer tweeted today, Barron is actually a member of D.C. United's U-12 squad:
Sure enough, the midfielder even has his own page on the U.S. Soccer Development Academy site:
G/O Media may get a commission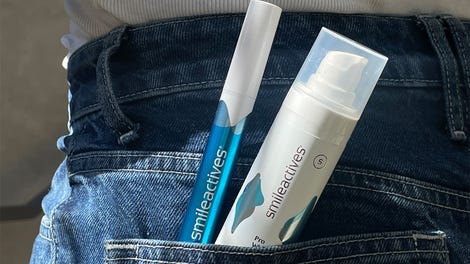 58% off
Whitening Powerhouse Pen & Gel Duo
D.C. United's academy is a pay-to-play deal (though they do offer scholarships), and the real, heavy academy work doesn't start until the U-13 level. Which is to say Barron's presence on the U-12 roster isn't necessarily because he's set to be the next Michael Bradley, though he might be, who knows! Let's take a look at some tape on the kid and see if we can do a little scouting:
Great height, solid positioning, not much athleticism or work rate to speak of, a little bit of leadership though in how he indicated to his teammate where he wanted the ball. Some good things to work with, but maybe midfield isn't his best position.
Maybe he'll have a better chance of sticking with the sport and possibly climbing all the way up to the national team level if he changed positions and gave goalkeeping a shot. He's already got a great potential nickname there: Barron "The Wall" Trump. Yes sir, Americans just might have a Trump in our lives for a long while yet—as long as President Trump doesn't get us all killed first, or outlaw the sport entirely as some kind of escalation tactic when he sees Mexico go much further than the U.S. in next summer's World Cup, or any number of normally unthinkable but at present perfectly, terrifyingly plausible doomsday scenarios that Barron's dad might inflict upon the country and the world out of either bigotry or hatred or, even more likely, just general stupidity and impulsiveness. But yeah, if the world is still standing in ten years, it might just be a world in which Barron is standing between the USMNT's sticks.
May the planet never again be as bizarre as it is right now.