We're smack dab in the middle of post-holidays winter, when all there is to do is be pissed off about the fact that there's nothing to look forward to in the immediate future other than some dark, cold days. This wears on everybody, but it seems to be wearing on NBA players in particular.

It felt like the whole league was in a bad mood yesterday. First came a report from Adrian Wojnarowski, which described a "fiery" and "intense" team meeting in which the legitimacy of Kevin Love's weekend illness was apparently challenged by his very own teammates. If you've ever had a job you hated, you are familiar with that distinct, petty feeling that comes over you when one of your piece-of-shit coworkers—who clearly doesn't work as hard as you!—calls in sick. That motherfucker's faking it! is the thought process of a professionally unhappy person, and it does not speak well of the Cavs' championship aspirations.
Next came a hot beef cooked up by Wizards point guard John Wall and Mavericks guard J.J. Barea. The Wizards, who are supposed to be good but actually stink, got rolled 98-75. In the fourth quarter, with the game out of hand, Wall and Barea got into it:
Then came the postgame shots, first from Wall (via ESPN):
"Just a little midget trying to get mad," Wall said. "I don't pay him no mind."
Damn! And then from Barea:
"Now I have somebody in the NBA that I don't like," Barea said. "That's my first. I don't like him at all now. But I don't think his teammates like him, either. So it's nothing new for him."
G/O Media may get a commission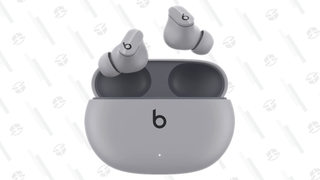 Point to Barea here for doing his homework. He seems to be aware of a recent Washington Post report about a Wizards team meeting that apparently went very poorly. That report was hilarious because you usually hear about secret team meetings as a catalyst for a team finally getting its shit together and taking a step forward, but this one seems to have just made things worse. The Wizards are a mess.
Now we turn towards Golden State, where Kevin Durant is not happy that Rockets center Clint Capela had the temerity to say that the Rockets are better than the Warriors after defeating them on Saturday. Get a load of this smug response:
May God one day grant us all the self-assurance necessary to do whatever the real-life equivalent of joining a 73-win team is, and then proceed to lecture people about not working hard enough.
Let's see, what else do we have here? It looks like Doc Rivers has joined the chorus of NBA players and coaches who are fed up with the officials.
Damian Lillard reportedly had a private meeting with Blazers owner Paul Allen in which he urged Allen to get his shit together.
Giannis Antetokounmpo tried to undercut his own front office and prevent Jason Kidd from getting fired at the last second.

The Spurs and Kawhi Leonard are apparently mad at each other.
I think everyone is ready for the All-Star break.