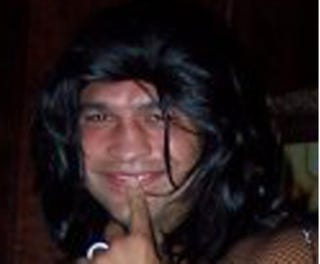 Welcome back to Deleted Scenes. This space is now reserved for those scuzz-money entrepreneurs who've unsuccessfully tried to sell us prurient information. This is also where we'll run notable emails we've received from some of our readers. All emails are [sic]'d. Enjoy.
Price Offered: $10.12 per photo
SUBJECT: Photos of another boxer in lingerie
I have pictures similar to Oscar De La Hoya in lingerie. These pictures are of a former recent boxing heavyweight champion in lingerie. If you are interested in buying this pictures contact me.

Will

DEADSPIN:

Hey William! Sure, we're interested. Can you tell me a little more about the photos so I can determine what we'd pay for them? Like, how recent was the person heavyweight champion?

WILL:

After the controversial pictures of former champ, Oscar De La Hoya wearing lingerie surfaced, it seems like he is not the only former champion that enjoys wearing women's clothing.

I have attached a cropped picture of the face of John "The Quiet Man" Ruiz, former heavyweight champion who defeated Evander Holyfield for the heavyweight title. It appears John has been quiet about a few things in his life. The remaining portion of the pictures shows his full body in fishnet lingerie. There are plenty more pictures like this one.

If you are interested in purchasing the pictures contact me asap.

DEADSPIN:

How many pictures are there? Right now, I'd say we'd shoot for about $8.76 per photo.

WILL:

Sorry that price is too low of an offer.
Sent on the Sprint® Now Network from my BlackBerry®

DEADSPIN:

$10.12 per photo, then. If you have 100 of them that's more than, like, $200,000.

WILL:

I'm confused about your pricing math. I have a total of 4 picture of John Ruiz. Let me know how much you would offer for the 4 pictures total.
Sent on the Sprint® Now Network from my BlackBerry®

DEADSPIN:

$40.48 for all four. $10.12 for one.

WILL: S

orry that is way too low of an offer. I have other networks interested in the photos already.
Sent on the Sprint® Now Network from my BlackBerry®

DEADSPIN:

Cool. I'll keep an eye out.
Notable Fanmail
SUBJECT: Thanks guys (not a tip, just feedback)
Hey DS,

Just wanted to say "thanks" for all the great content and "see ya later," the newer-ish format of the last 6 months or so just doesn't work for me. The whole content on the left and links on the right, with the separate scrolling and links that don't seem to lead anywhere useful, leaves me confused and dehydrated. I'm an old man, 39, so this stuff is probably way cool for the kids today.

Another old man complaint: too TMZ, not enough sports. But hey, that's the gawker way.

I'm going to stick with SB and KSK and the like, but I wanted to let you know it's not you, it's me.

Peace

Sandro Vitaglione
Ed. note: If you wish, the site will scroll as one page if you click the button in the upper right corner, right next to the search button.
— fin