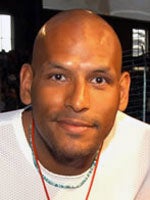 After we told you about John Amaechi's coming out in a few weeks as the gay former NBA player, the fine folks at OutSports, who had known about this for a while, released their story about the book, sections of which they have seen. Some fun tidbits:
• He spent three years in Europe and had a regular boyfriend. When he returned to the NBA and the Jazz, he went celibate.
• After he earned a guaranteed contract with the Jazz, he felt more comfortable being himself and would look forward to road trips to cities with, you know, openly gay people in them.
• He had "much respect" for Jeff Van Gundy, but not much for Jazz coach Jerry Sloan, who supposedly used "anti-gay innuendo" to describe him to teammates.
• Here's our favorite one: Amaechi says one of his biggest regrets was not admitting his sexuality to one of his best friends on the team ... Greg Ostertag! God, what we wouldn't give for video of that conversation.
John Amaechi To Come Out Publicly [OutSports]
Your Anonymous Gay Former NBAer Is Less Anonymous Now (But Only Slightly So) [Deadspin]