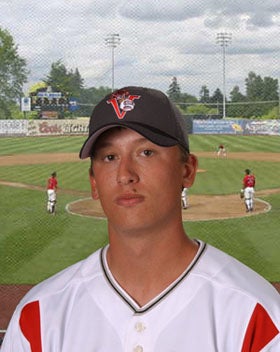 Well, this has been a depressing day. John Odom, the minor leaguer who made news last year when he was traded for 10 maple bats, has died of an accidental overdose of drugs and alcohol.
Thrown off of his high school team, knocking around in the San Francisco Giants' farm system, Odom was a lost soul who finally landed with the Laredo Broncos of the Independent United League. He had been traded by the Calgary Vipers for 10 bats — a story that made headlines and got quite a few chuckles in May of last year.
He seemed to handle it well, too. A former prospect in the San Francisco Giants' chain — future Cy Young winner Tim Lincecum bunked on his couch in Class A ball — Odom gladly agreed to interviews. He kidded about the kooky deal that made him famous, saying it would make a better story if he reached the majors someday. "People are like, 'I'd kill myself' and stuff," Odom said at the time, dismissing any such notion.

Three weeks after the trade, he abruptly left the team. Six months after the trade, he was dead. The medical examiner said Odom's death in Georgia on Nov. 5 at age 26 was an accidental overdose from heroin, methamphetamine, the stimulant benzylpiperazine and alcohol.
So some are making this out to be the tragic story of a ballplayer who was haunted by his failures in the game, forever dogged by the novelty circumstances of the famous trade. But it probably had very little to do with that; it was a lot simpler, most likely. At any rate, very sad.
Tragic Ending For Minor Leaguer Traded For Bats [NBCSports]