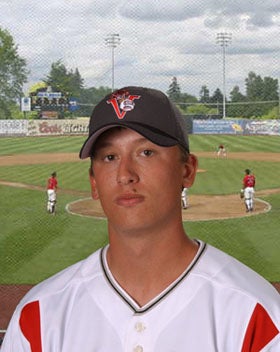 No matter what John Odom does from here on out — make it to the majors; get multiple World Series rings; become Pope — he will always be remembered as the player who was traded for bats. It happened last week, as Odom was sent from the Calgary Vipers of the Golden League to the Laredo Broncos of the United League — both independents — for 10 Prairie Sticks Maple Bats. And on Saturday, he made his Broncos debut.
Minor leaguer John Odom allowed one run in two innings Saturday in his debut for the Laredo Broncos after being famously acquired last week for 10 baseball bats. Odom gave up two hits and walked two in his first appearance since being dealt by the Calgary Vipers in a trade that made the 26-year-old righty a national punchline.
Of his sudden notoriety, Odom said: "I really don't care. It will make a better story if I make the major leagues one day." A 26-year-old pitcher in the independent league who was recently traded for bats? It's practically a sure thing!
Oh, Laredo lost to the Edinburg Coyotes, 9-5 in 10 innings.
Pitcher Traded For Bats Lasts Two Innings In Debut [NBC Sports]
Wait, They Traded Blue Moon Odom? [Deadspin]