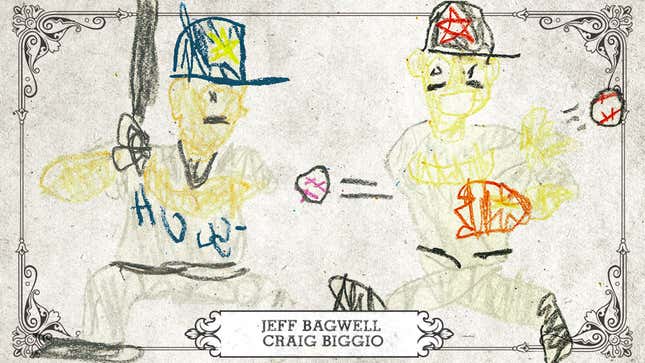 Having acquired a Hall of Fame ballot, which we'll be filling out in accordance with the wishes of our readers, we're examining the merits—and relative lack of merits—of all 36 players on this year's ballot for the purposes of better informing the electorate, i.e., you. All entries in the series can be found here.
These guys need a nickname, right? Sure, somebody came up with "The Killer B's" a long time ago. But how often was that sobriquet used for just Jeff Bagwell and Craig Biggio? For a while they were joined by Derek Bell, and later Lance Berkman. When I think about Killer B's, I think about three Astros rather than two. So maybe a portmanteau's in order. Bigwell. Craigwell. Bigwellgio. I don't know. Let's keep noodling on it. Because I just can't think of one without the other. And Bigwellgio, teammates for so many years in Houston, are now stuck in Hall of Fame purgatory, waiting for the call that probably won't come. Or won't come soon, anyway.
A long time ago, someone impressed upon me a fundamental principle of player evaluation: Everything Counts. If we're lucky enough to have a piece of information about a player—or, to be specific about our purposes, about a Hall of Fame candidate—why wouldn't we consider that information?
So in a perfect world, everything would count. Hall of Fame voters would consider not just home runs and batting average and steals and wins and losses and strikeouts and a few other not-so-obvious things, but also the myriad other factors that might lead to wins and losses. Things like baserunning and the ability to turn a double play and, sure, even a player's leadership. Voters might also consider players' performance in big games … and in fact, many voters do consider big games. Unfortunately, they do that only in the most half-assed way. We know that Jack Morris has received a great deal of credit for his singular performance in the 1991 World Series … while the voters seem to have completely ignored the significant number of postseason games in which Morris did not pitch well. Otherwise, it's hard to find candidates who have either benefited or suffered much because of their postseason exploits.
What if everything did count, though? How much extra credit should a great October performance be worth? How much should a poor October performance be held against a guy? Should one win in October count the same as one win in June? I don't think so. You probably don't, either. But twice as much? Five times as much? After all, flags fly forever. Everybody's going to come up with a different answer. It seems fair, to me, to use postseason numbers as a sort of tie-breaker with marginal candidates … but more than that? Well, that might depend on your definition of marginal. Deciding who should be in the Hall of Fame is easy until you start trying to define things. Which is why so many voters just don't bother. Does he FEEL like a Hall of Famer? Yep. So I'm voting for him.
But let's try to come up with a definition, just in case … oh, I don't know. Just in case we somehow find ourselves in possession of a Hall of Fame ballot. Would you be OK with counting postseason games double? Ah, but should all postseason games count the same? Should a walkoff homer in Game 1 of a Division Series count exactly the same as a walkoff job in Game 7 of the World Series?
Happily, someone's already asked (and answered) these questions. In 2011, Beyond the Box Score's Adam Darowski put together a list of postseason WPA and weighted the numbers, counting League Championship Series double and World Series triple. We can obviously quibble all we like, but that seems as reasonable as anything. However, Darowski weighted the values of only the positive contributors. His reasoning? "[A] positive postseason contribution can help a player's Hall of Fame case much more than a negative postseason contribution can hurt it."
He says this, but he's not demonstrated this. Nor does he suggest this is how we should think about Hall of Fame candidates.
Darowski's top 30 includes nine Hall of Famers: Babe Ruth, Christy Mathewson, Lou Gehrig, Rollie Fingers, Herb Pennock, Home Run Baker, Red Ruffing, Mickey Mantle, Chief Bender, and Jim Palmer. I suppose one might argue that Fingers benefited substantially from his postseason numbers, which include six saves in Oakland's three straight World Championships. And Baker might well have gotten a boost from his two big homers in the 1911 World Series. But Baker was elected to the Hall by the Veterans Committee, which makes comparisons difficult.
On the other hand, Allie Reynolds comes in eighth on Darowski's list, yet has never come particularly close to election despite his stellar reputation. Art Nehf is third on the list, and has never been considered a serious candidate despite winning 184 games in the majors. And Curt Schilling is ninth on the list, his fate as yet unknown. If he does eventually get elected, many of the voters will have his postseason exploits in mind … but if he's elected, it probably won't be by the BBWAA. Not under the current rules, anyway.
For the postseason to really count in the voters' minds, apparently it takes more than numbers; apparently it takes a memorable moment (or moments). Schilling has that moment, and so does Jack Morris. Carlos Beltran also has his postseason moment, but as brilliantly as he's played in October, the moment they'll remember is probably his strikeout against Adam Wainwright that ended the National League Championship Series in 2006.
Which brings us back to Bagwellgio. Darowski offers just the bottom 10 on his list, and neither Bagwell nor Biggio makes the list. Which is surprising, given that both were just ridiculously awful in the postseason. In his 33 games, Bagwell batted .226 with two home runs. Biggio played in even more (40) postseason games and was just as bad, with two homers and a .295 on-base percentage.
Tenth-worst on Darowski's list is Bill Mueller, at -1.54 weighted Win Player Average (wWPA). Let's assume that Bagwellgio just missed the list, though, and both of them are -1.50. Remember that Darowski doesn't actually do any weighting with the negative values. So let's do some weighting. Let's double those values, and give them -3 apiece.
Three wins, or six for the pair. Doesn't seem like a lot, does it? Considering that Bagwell's 80.3 fWAR ranks 21st since World War II, and Biggio's 65.3 ranks … well, just 53rd since World War II, which actually isn't terribly impressive. Just ahead of Biggio are Graig Nettles and Edgar Martinez; just behind him are Dwight Evans and Adrian Beltre. But of course Biggio's got 3,000 hits, which has always been a magic number for Hall of Fame candidates—well, before steroids anyway—and goes a long way toward explaining why Biggio fared better in his first appearance on the ballot than Bagwell has in any of this three tries. I'll mention, too, that Roberto Alomar finished with essentially the same fWAR as Biggio and was elected on just his second try (and with 90 percent support, no less).
So, have Bagwell and Biggio fallen short because of their postseason failures? I think it's highly doubtful, for the simple reason that I can't identify any other players who have fallen short for that reason. Hall of Fame voters generally rely on precedent—the Hall of Fame, after all, is essentially a self-defining institution—and there's simply no precedent for even considering negative postseason performances.
Ah, but should they fall short because of their negative postseason performances? Obviously not, if you believe the Hall of Fame should define itself. But what if you believe the Hall of Fame should simply honor the greatest, most valuable players? I still think Bagwell clears the bar easily. Biggio, though … if you do weight his postseason stats, and give them a little more juice than his regular-season numbers when considering his career value, you're looking at a player who's truly borderline, right there with Willie Randolph and Kenny Lofton and Buddy Bell and Dick Allen and Darrell Evans. But also with Hall of Famers Ryne Sandberg and Billy Williams and Dave Winfield and Andre Dawson. Leaving aside the history of candidates with 3,000 hits, it's not impossible to make a reasonable case against Biggio.
It's just that I've never seen anyone make that case. Biggio didn't get elected on his first try last time because the ballot was overstuffed with excellent candidates, and also because of guilt by association. Craig Biggio played with Jeff Bagwell, and Jeff Bagwell's been hurt by suspicions that he was juiced. Which, given just what we know about that era and what we saw with our eyes, seems at least somewhat likely.
I almost wish that Bagwellgio have been kept out of Cooperstown because they were both so terrible in October. That would suggest that a number of the voters were digging deep, trying to come up with their own well-conceived notion of what constitutes value, what a Hall of Famer should look like.
But that isn't what has happened. Instead it's just been the same old Morality Police, spreading hypocrisy and intellectual inconsistencies with hundreds of ballots every year.
Rob Neyer, SB Nation's National Baseball Editor, has written various books, while also generally offending or annoying a few people over the years.
Art by Sam Woolley.
---