Your p.m. roundup for Sept. 9, the day Steve Jobs did not die. H/T to Drew for the Milwaukee Journal Sentinel photo. Got any stories or photos for us? Tip your editors.
Jokic? Embiid? The NBA MVP is obvious... right? | Keep it a Buck(et)
What we're watching (all times EDT, unless noted): There's college football on ESPN, with Florida International-Louisville at 7 and Missouri-Arizona State at 10:30. NASCAR's Nationwide Series qualifier is on ESPN2 at 7:30. NBATV has a WNBA doubleheader, with Indiana-New York at 7 and Tulsa-Los Angeles at 10:30. MLB Network has either Phillies-Brewers or Braves-Cardinals, both of which start at 8. NFL Network has Calgary-Edmonton in a CFL game at 9. Fox Sports Net has a high school football game between Hamilton (Ariz.) and Notre Dame (Ariz.) at 10. And Showtime has boxing at 11.
G/O Media may get a commission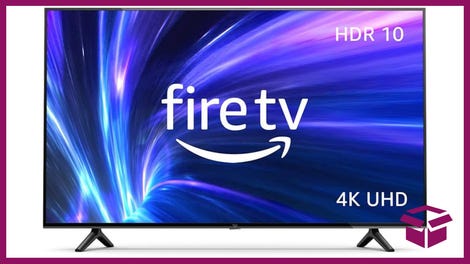 42% Off
Amazon Fire TV 50" 4K Smart TV
Read Me
Nothing about this story is pleasant: "Reporters ducked into pews at church services and, notebooks in hand, grimly worked the playgrounds. Each new development brought another wave of media attention. Frustrated, a Cleveland teenager posted on Facebook, 'man yall y r we still on the fuckin news they need to let that shit go.' The story, already red-hot, became inflammatory when it was reported that all of the suspects were black and the victim Hispanic. Friends and relatives of the men and boys were quoted defending them and blaming the girl, who they said acted much older than 11, wearing makeup and sexy clothes. They speculated that she had probably lied about her age, so how were the males to know? The New York Times was roundly castigated for its "rape-friendly" coverage of the assault, which was heavy on sympathetic quotes about the defendants and uncritical of malicious comments about the victim. After receiving tens of thousands of readers' complaints, the Times took the extraordinary step of sending its reporter back to Cleveland for a do-over, and the media began to cover its own coverage. Clearly no one was planning to 'let that shit go' anytime soon." [GQ]
This Date In Deadspin History
Sept. 9, 2010: Deadspin Classic: Letters To Barbaro
Things You Might Have Missed Today
Some quick links to a few items we posted earlier:
• Dan Snyder Is Suing The Washington City Paper Over A Story He Never Read, Because Dan Snyder Is A Prick
• The Deadspin Guide To Trolling NFL Players On Twitter
• Football Coach Says His Team "Don't Need No Meows, No Cats" In Presser Of The Year
• Here's Rony Seikaly Looking Like A Haggard Drag Queen While DJing At Burning Man
• Just In Time For 9/11, Today Is Anthrax Day In The Bronx
Elsewhere
It gets better: "Suns President and Chief Executive Officer Rick Welts is resigning after running the franchise's business side for nine years. Less than four months after jolting the sports world by becoming the first pro sports team senior executive to be openly gay, Welts jolted his own organization Friday by sharing plans to leave what he has called the best jobs in sports on his own accord. Welts told The Arizona Republic Friday morning that he is not leaving for another job but to be in another city. In the past year, Welts started a new relationship and his partner is in Sacramento. He plans to do speaking engagements and perhaps take an offer to write a book." [Arizona Republic]
So much for that controversy: "The NFL has relaxed its normally rigid uniform policy, which will allow players to commemorate the 10th anniversary of the Sept. 11 attacks. League spokesman Michael Signora tweeted that the league told its 32 clubs on Friday that players may wear special shoes and gloves from official NFL equipment licensees for Week 1 games." [Sports Illustrated]
Your Japanese Toilet Commercial Interlude … With Penguins!:

Jered Weaver might me be making $85 million, but he still really needs that $17 splatter screen from his wedding guests: "Don't bullshit us. We know that Oxo meat tenderizer will just gather dust. And that stupid cake stand will just be shoved into a closet." [Busted Coverage]
Cowboys fans not welcome: "'I don't want to see a Dallas Cowboys jersey,' Ryan said. 'I don't. We want our stadium to always be green and white. There is no doubt that is what we want in our stadium. When you come here, it's nothing but green and white.'" [New York Post]
We are all Dave McKenna CCXVI: Craggs linked to it this morning, but we're doing it twice today. So here's another daily link to Dave McKenna's brilliant "The Cranky Redskins Fan's Guide to Dan Snyder," which we'll be posting until Snyder's dumbass libel lawsuit drowns in that murky water that puddles up between subway rails.
Merch: Managing editor Tom Scocca and contributing editor Drew Magary have both written books. You can buy Scocca's Beijing Welcomes You: Unveiling the Capital City of the Future here, and Magary's The Postmortal here. Now do it.
Send stories, photos, and anything else you might have to tips@deadspin.com.