It's El Clásico time again, which means it's time for the sports world's fiercest rivals, Real Madrid and Barcelona, to square off in the Most Important Soccer Game in All of Human History—or at least the biggest one since the last time the two met. While the titanic stakes of this game can sometimes be overplayed, this weekend's Clásico actually is incredibly important to both teams, if not quite in the way we're used to.
The best sports movies according to Toheeb Jimoh
As the traditionally ascendent side during this Messi era of nearly unstinting dominance, Barcelona usually enter these matches from a place of power. As of late, Clásicos have been fairly consistent: A freshly-rejiggered Real Madrid team desperate to legitimize their almost decade-long assault on Barça's bejeweled pedestal strikes out against a transcendent Barça squad that takes special pleasure in welcoming their challengers into the trophy room and summarily squelching the attempted uprising. During this era—the start of which we'll put at the 2008-09 season that saw Pep Guardiola become Barça manager and Lionel Messi become Lionel Messi—Barcelona have won 10 La Liga Clásicos to Real's 4, including three humiliating beatdowns (a 6-2, a 5-0, and a 4-0) by the Blaugranas.
This time, Real Madrid have their best shot in a long while to take their place as the world's preeminent team and in the process seriously cripple their hated foes.
G/O Media may get a commission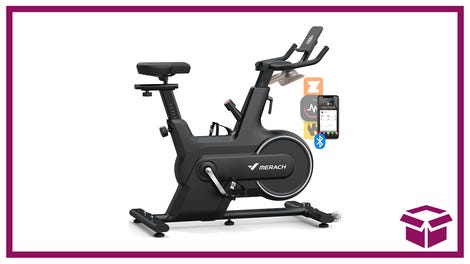 14% off + Coupon
Merach Indoor Cycling Bike
Despite winning La Liga and the Copa del Rey last year and investing heavily this past summer in a roster that already had the greatest player of all time and arguably the greatest assemblage of forwards the game has ever seen, Barça have struggled pretty badly (relatively speaking, of course) this season. This Barça season so far bears an uncanny resemblance to the start of the 2014-15 campaign. Manager Luis Enrique—who has failed to win just one major competition (last season's Champions League) in his two-year managerial stint—is once again the subject of open speculation about whether he's good enough for his job. Barcelona's midfield has been practically non-existent, especially given the absence due to injury of Andrés Iniesta, which has both exposed their defenders to wave after wave of counterattacks and frozen out their lethal attackers by failing to consistently provide them the ball in the most dangerous spaces.

For a team with Neymar and Luis Suárez and Ivan Rakitić, one that spent big money to bring in André Gomes and Paco Alcácer and Denis Suárez, Barcelona too often still rely almost solely on Messi to do basically everything, from orchestrating the build-up play to setting up his teammates with chances to scoring himself. Barça are just six points behind Real in the league table, but their performances, particularly of late—a 3-1 loss to Manchester City, narrow victories over Valencia, Sevilla, and Granada, draws against Málaga and Real Sociedad—have been worrying. The standards placed on Barcelona by their fans are admittedly often unrealistically high, but at the same time a team with maybe the most talent in history and with so much money with which to improve really should look something close to perfect every time out, which Barcelona decidedly haven't.
In contrast, Real Madrid are sitting very comfortably, and in some important ways look better off than they have in years. Not quite in terms of their performances on the pitch, mind you: Real have been very good so far this season coming off their surprising Champions League win last year, but they still don't play with any consistent, coherent strategy and still struggle from time to time when facing teams they should in theory run all over. What has been truly revelatory this year (and under manager Zinedine Zidane's tenure generally) is how uncharacteristically peaceful and under control he has everything looking.
When Real's president Florentino Pérez fired Rafa Benítez and gave Zidane the top job midway through the Spaniard's first year last season, the hope was that Zidane would be something like the Blancos' answer to Guardiola. Zidane and Guardiola were both legendary players for Real Madrid and Barcelona, respectively, they both kicked off their coaching careers with their clubs' B team in Spain's lower leagues, and both inspired faith amongst the fans that they could reach similar heights in their managerial careers as they hit in their illustrious playing days.
In reality, though, Zidane is much more like the current Barça boss Luis Enrique than he is similar to Guardiola, not least because it's hard to judge just how good either of them are as managers. Last season, Zidane was able to heal what had been a fractured Real locker room when he took over, and he not only won the European Cup, but made a strong comeback push for a league title that Barça at one point looked like they'd wrap up a couple months before the end of the season.
However, Zidane's tactical acumen was difficult to appraise. Despite voicing a desire to play attacking, dominating soccer, all Zidane really did on the tactical front was continue the previously much-derided work and playing style of Benítez, chiefly by continuing to field the defensively strong but otherwise limited Casemiro in Madrid's starting lineups. And while he did win the Champions League, Real were gifted an unbelievably easy path to the final, completely bypassing all of Europe's elite competitors until meeting cross-town rivals Atlético Madrid in the championship.
In that first half-season in charge, Zidane unquestionably performed very well by managing the egos of the squad and keeping the kind of backroom politicking that regularly plagues that crazy club at bay. Still—and not unlike after Luis Enrique's first year at Barcelona—you couldn't quite decide whether the team had won because of or in spite of their manager.
This season has been mostly more of the same for Zidane, which actually solidifies the case that he is a damn good manager after all. He doesn't appear to be a Guardiola-esque ideologue or mastermind, but he doesn't have to be. Zidane's strategic nous is mostly a factor of personnel. Against smaller teams, Zidane likes playing either a 4-3-3 or a 4-2-3-1 with lots of attacking-minded players in midfield to ensure that Real have the passing quality and technical precision to eel through tightly-packed, deep-sitting defenses.
In bigger games, he prefers using a 4-3-3 with Casemiro at the base of the midfield triangle, or, when the Brazilian destroyer is injured (as he has been for much of this season), some more defensively secure combination of Toni Kroos and Luka Modrić sitting behind Isco or Rodríguez, the former two both making it a point to sit a little deeper and play a little safer. It's all pretty pragmatic, and, most importantly, it works. The most impressive result of Zidane's managerial career was probably Real's 3-0 away win against Atlético a couple weeks ago, when he inspired a lineup without either Karim Benzema or Kroos to a very convincing win. Casemiro has only just returned back to health this week and the increasingly influential Gareth Bale is out for the Clásico, so if Madrid do win at Barcelona tomorrow, it would be yet another extremely impressive scalp in Zidane's growing collection.

Because Barcelona are in yet another largely-overblown though not entirely unjustified mini-crisis, while Real are in a period of uncommon tranquillity, Saturday's Clásico could prove to be huge for both teams' respective futures. A Barcelona win at home could reenergize the entire club, virtually erasing Real's margin at the top of the league and demonstrating yet again that these players and this coach have the ability and drive to continue to fight on every front for the trophies and glory that their fans consider their birthright. A Real Madrid win would certainly cement the Blancos' place as the best team in world right now, and might just lift them to the La Liga title they've only captured once since Guardiola and Messi made Barça almost unbeatable back in 2008, while at the same time sending Barça into a downward spiral of doubt and calumny.
In fact, all of this calls to mind the last time the two Spanish giants clashed, in last season's Clásico. Then, a promising but still unproven Zidane went up against a swaggering Barça on a historic 39-game unbeaten streak. Had Real lost, the result would've all but sealed the league title for the Catalan club, buoying them for the repeat triple-title season they appeared well on track for, while also possibly exposing Zidane as merely an amiable man manager that Real should probably replace with a better coaching candidate in the summer. Instead, Cristiano Ronaldo and co. scraped together a victory that strengthened Zidane's place, galvanized the whole team to go on the season-ending tear that won them the Champions League, and caused Barcelona's once-promising season to crater, leading a loss in focus and confidence that the team still has yet to recover from. And in the Clásico before that, Barcelona whipped Benítez's Real so badly that the all-powerful club president had to fire his hand-picked coach just a handful of weeks later and install Zidane in his place in the first place.
Yes, this Clásico is enormously important. Just like always.