Patriots QB and AFC champion Tom Brady did his weekly call on WEEI's Kirk and Callahan today to talk about the team's win over the Steelers. He was also asked about his friendship with and his reported call to Donald Trump before Trump's inauguration. Brady was so determined to not confirm anything—"Umm ... I have called him, yes, in the past"—that he might have a post-football career as White House Press Secretary.
Assuming Brady's goal was to baffle his interviewers with empty words until they moved on to another topic—that strategy has worked well in recent history—he accomplished it. Read or listen as the quarterback dodges the question about as well as he dodged Javon Hargrave, via WEEI. The transcript is captivating. Brady starts with a vague answer, then tries it in meaninglessness.
"I'm a pretty positive person, so I don't want to create any distractions for our team and so forth," Brady said [in response to a question about his relationship with Trump]. "I just try and stay positive and actually this world could use a little more positivity. Everything's not great in this world and everything is not great in life. But if you try and take a positive approach … I try to do that. I try to do that in practice. I try to do that with my team. I try to do that with my family. That's how I go about life. I don't like negativity. I don't like a lot of confrontation. Those things don't make me feel very good. I wouldn't be a good talk show host."

Brady was subsequently asked what the negative aspects of his life might be.

"I wouldn't even tell you what those things would be," he said. "There's nothing for me to complain about. I don't have any complaints. I'm a human being like every other person. I have family, and the same things that every family goes through. Life is good and it's very precious. You have different things in life that keeps things in perspective of how precious life is, things that happen with your family and your friends. I'm very blessed to have support and love and to do what I love to do, and for that I'm very grateful."

Then, for clarification sake, the quarterback was offered the opportunity to confirm or deny the phone call in question.

"I have called him, yes, in the past. Sometimes he calls me. Sometimes I call," Brady said. "But, again, that's been someone I've known. I always try to keep it in context because for 16 years you know someone before maybe he was in the position that he was in. He's been very supportive of me for a long time. It's just a friendship. I have a lot of friends. I call a lot of people."
When it seemed that everyone was ready to move on to the next topic, Brady asked why everyone tried to turn his friendship with Trump into "such a big deal." The hosts were essentially forced to spoon-feed to Tom Brady why people care about Tom Brady knowing the president.
"I'm sure in your life," Kirk Minihane said, "since you're friends with this guy, he's the president, I'm sure you've had discussions with women in your life who say 'I can't stand this guy. I hate this guy. Why do you like this guy?' I mean, that hasn't happened?" Brady declined to get into his private life but said that his opinion of Trump came from his "personal experiences" with the man.
G/O Media may get a commission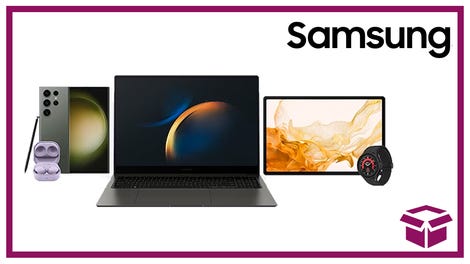 24 hour deals
Discover Samsung - Daily Deal
Again, the Brady had to be led by the hand to why some people, including women, might have a problem with this. Putting aside the Trump that Brady knows, what about Trump's behavior in the news, like, say, a video of him talking about groping women? Could Trump's boasting about sexual assault, which would not seem to be a partisan or political issue, be something that Brady at the very least can say he doesn't like? Brady couldn't even denounce the broadest, vaguest suggestion that Donald Trump has done some questionable things.
"I don't believe in—absolutely. I don't believe in—there's a lot of things. Not to denounce anything, it's just there's different things I feel like, you know, I've known Gerry [Callahan] for a long time and I would consider, I don't know friends, but would be very cordial if I saw you and I think we would have a lot of things to talk about. I don't agree with everything."
Keep in mind that Brady started this whole thing in 2015 when he put that fucking red hat in his locker and said it "would be great" if the country had President Trump. Before that, he was seen as just one of the many rich people who hang out with fellow rich people.
No one is shocked that some wealthy white male athletes would be inclined to support Trump, and they're obviously allowed their beliefs. Bears QB Jay Cutler received a couple of days of coverage for his joy days after Trump won the election, and everyone moved on. Nobody cares that deeply about Rex Ryan showing up to Trump events. Tom Brady, however, is so chicken-hearted that he won't even discuss a position he willingly displayed to the world—and seems offended that anyone would care about it. And Brady's most loyal fans probably don't. The overlap of Trump voters and people dumb enough to buy $100 infrared pajamas is probably substantial.
[WEEI]