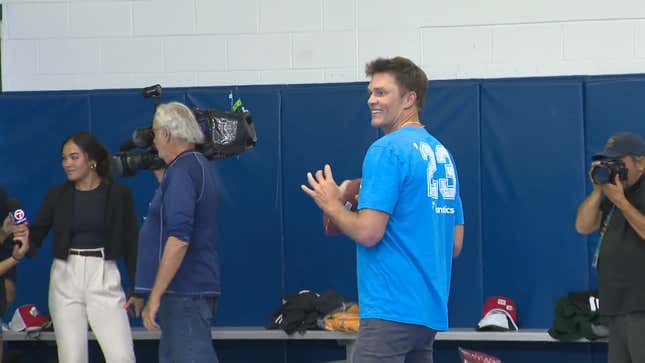 Ever since Tom Brady retired for the second time, some people are still waiting for the next comeback. The first time it took about a month for Brady to change his mind and reverse his decision to play one more season in the NFL. This time it seems like it might stick, but that doesn't mean we won't see Brady participating in football activities not associated with the NFL. Brady took part in a charity event in Miami recently and showed that he's still got some skills.

Tom Brady to the Raiders or Fox? What's next for the GOAT?
Brady was joined by the dynamic golf duo of Odell Beckham Jr. and DJ Khaled for a Fanatics event at a local Boys & Girls Club in West Park, Fla. The children looked thrilled to see the trio, especially Brady, who dropped back to throw a few passes to some of the kids in attendance. Brady even jumped on the defensive side, snagging an interception while one girl ran a 10-yard curl against the future Hall of Famer.
The G.O.A.T. looked like he still had something in the tank as he ran the INT back for a pick-six. While Brady may have gotten the best of these children and even showed them up a bit, this was nothing compared to how ruthless longtime rival Peyton Manning was in his Saturday Night Live skit during a pick-up football game with a group of kids. In comparison, Brady took it easy on the Boys & Girls Club kiddos.
Talk about laughing out loud. Oh, man. Good times. But in all seriousness, this encounter with Brady is something these kids will remember for the rest of their lives. Brady isn't perfect by any means, but it's always good to see superstars take time out for events like this and spend quality time interacting with those in attendance.