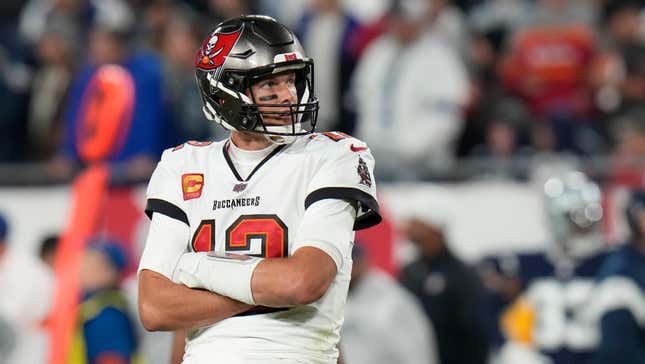 Tom Brady has officially entered the curmudgeon stage (of life, it would seem) after an exchange on his "Let's Go!" podcast with Jim Gray and Larry Fitzgerald. Gray asked Brady a general question, the same one every sports outlet is asking after Tom's 23rd season in the NFL. A simple question about a timetable was posed to Brady, and he reacted to Gray's question with a beyond snarky response.

"If I knew what I was going to fucking do, I would've already fucking done it," Brady said. "I'm taking it a day at a time. . . I appreciate you asking. Thank you."
Tom Brady has owned the Raiders since the Tuck Rule | The SEO Show
"You mad, bro?" As Richard Sherman once trolled Brady, Gray should've borrowed that page from the former All-Pro's book. As if Brady didn't "retire" only to return to the Buccaneers weeks later. Even if it wasn't an official retirement, he sure led everyone to believe he was calling it quits. Now, 11 months later, he's got the audacity to get his boxer briefs in a bunch when somebody asks him which way he's leaning.
Will he or won't he retire? Enough already...
Unless he stays off the airwaves and out of the public eye until he's had enough time to make a decision, this is something he's got to live with. Brady will be asked about his pending decision to come back for year 24 or hang up the cleats for good. When you're a player of his caliber, the media, fans, and others in the football world want to know your every move.
It doesn't matter that your season ended horribly with you getting smacked down by the Dallas Cowboys at home. Nobody cares about that. Everyone wants the scoop on where Tom Brady's future will lead. Is it another year on the field or finally heading home to be with his children?
Brady knows this, and the fact that it was Gray, someone he's had a rapport with for many years, probably led to him lashing out. He likely wouldn't have taken the same tone with a random local reporter or even a national radio/tv host with whom he doesn't have a long-standing relationship. While Brady has the right to be annoyed, it was excessive and made him look like a jerk.
Undoubtedly, the future Hall of Famer is frustrated by Tampa's season, but hopefully, he realizes a lot of that is on him. Brady isn't 25 or even 35 anymore and clearly can't put the ball in places he once could as precisely. Others have taken the blame, like offensive coordinator Byron Leftwich and others, but when they were winning the previous two years, there was no problem. Suddenly, Leftwich is the "main" issue, but few want to point out Brady's flaws. Some might not want to admit that, but many of his throws this year were off target, and it wasn't always the receivers' fault.
But of course, Brady got a pass there, and he'll get one here with Gray. Had this been almost any other player, it may have been seen as a verbal attack. Gray probably won't mention it publicly, but he probably wasn't happy with Brady's response, and you could hear it a little bit in his follow-up to Tom's tantrum. Since they are buddies, it's probably already water under the bridge, but it didn't paint Brady in the most generous light by any means.