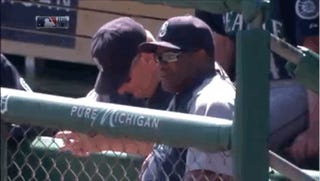 Tony Randazzo ejected Seattle manager Lloyd McClendon Saturday night for arguing balls and strikes and he just tossed him again today for waving his hand in disagreement with a check swing call on Alex Avila. Last night, McClendon was tossed before he could step onto the field, but when he did Randazzo said "I've seen your act before." Things clearly carried over into today.
"I was most upset that I got thrown out of the ballgame, and [Randazzo] thought it was me that was saying something and it wasn't me," McClendon said. "Then when I went out there to ask why was I thrown out, he said, 'I've seen your act before.'"

McClendon felt that was an unjustified comment.

"I don't think that was called for," he said. "That's not fair. If you think I said something about a ball or strike, throw me out of the game. I get that. But to talk about past history — that's not fair. It is what it is. It's over with. Just move on."
So, today, Randazzo was manning third base and was called on to rule on a check swing on a 3-2 count on Alex Avila in the seventh inning. Randazzo said no swing and awarded Avila first. McClendon reacted in the dugout, by waving his hand in disagreement. Randazzo tossed him immediately. It's almost as if he was looking for a reaction from him. You can watch it here, since it's not embeddable yet.
Let's rewind to 2005 and a June game between the Yankees and Pirates. Then Pirates manager, McClendon was tossed by Tony Randazzo after Randazzo blew a call that extended the game and led to a Yankees win. Randazzo called Gary Sheffield safe on what would have been a game-ending double play. The Yankees tied it shortly thereafter and won in the 10th. McClendon was pissed.
"Isn't it amazing that the game's over with and that umpire's looking at me?" McClendon said. "Think about that. You tell me: Why is he looking in the dugout at me? Why would he be looking at me in the dugout when the game is over and the only thing he has to do is make sure that runner touches first, then head off the field to the umpires' room? Now, explain that one to me."

McClendon, who never left the dugout to dispute the call, said the only time he addressed Randazzo was when he was glaring at him.

"I asked him what the hell he's looking at."

McClendon said Randazzo also made a shooing motion with his hand, as if to suggest he go to the clubhouse.
It sounds like a near carbon copy of today. There is really no other explanation for today's ejection, especially, that does not include this previous history. McClendon surely plays a part in these episodes, though. He developed a reputation for having a hot temper while he managed a terrible Pittsburgh team and famously stole first base after disputing a call.
So the existing animosity, and both men's reputations (players and managers find Randazzo to be aggressive), resulted in a comical scene where a hot-tempered manager got tossed for dismissively waving at a hyper-sensitive umpire from the bench.