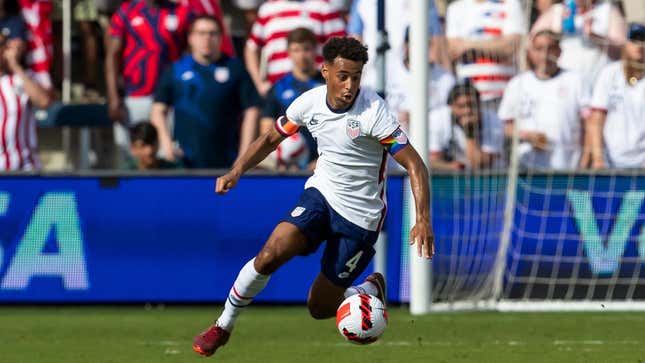 How American soccer players are treated in the Premier League has always been an interesting conundrum. Unless you're a goalkeeper or somehow wind up at Fulham, heightened levels of scrutiny are at your doorstep that don't appear in other top leagues around the world. There have been a few other safe havens, like Leeds United last year, or whenever Landon Donovan would go on loan to Everton. Other than that, you're thrown into the deep end with the sharks. 
Christian Pulisic calls out lackluster attendance at USMNT friendly
Even Christian Pulisic wasn't immune during his 4-year stay at Chelsea. Captain America had great moments. The Blues don't win the Champions League two years ago without him. While his play didn't set the world on fire and Pulisic did have some unforced errors, the combination of wearing No. 10 and being from Pennsylvania made him an easy scapegoat. And shipped him out to a team that's actually playing Champions League football in a different country. Chelsea's history with American players is terrible, with Pulisic representing its best showing. Matt Miazga? Two-first team appearances and five loans in seven seasons. Gabriel Slonina is 19, but just got loaned out to Belgium. Kyle Scott never played a single game with the first team. That history shouldn't get in the way of the next American wearing the crest having a great spell at Stamford Bridge.
United States men's national team captain Tyler Adams was never going to stay at Leeds past this month due to the temporary American safe haven being relegated. Brenden Aaronson and Weston McKennie have already found first-team football elsewhere. And now Adams has too, reportedly staying in England on a transfer to Chelsea. The move makes a ton of sense for the Blues, who drastically need to reorganize their midfield to stand any chance at returning to European football next season. Adams' arrival frees up Enzo Fernandez to his best position. Why Frank Lampard and Graham Potter liked playing him so deep never made sense.
Departing Chelsea's midfield were Ruben Loftus-Cheek, Mateo Kovacic, Mason Mount, and N'Golo Kante, while no quality reinforcements have come into the club yet. The midfield was far from Chelsea's only, or biggest, problem last season, but Adams should blanket one of the biggest holes the team had, a true defensive midfielder. Adams was the most indispensable player for the USMNT over the last 18 months, more so than Pulisic or new Nottingham Forest signee Matt Turner. Much like Chelsea, the Americans had no true replacement at the position for Adams. The amount of fires Adams' put out during World Cup qualifying or in Qatar itself are in the hundreds. Doing the same in London should garner Chelsea several points that were dropped last season and vault it back into the top half of the table easily.
While new-ish Chelsea owner Todd Boehly bought players like he was Oprah giving away Garrett Popcorn in January that led to zero turnaround, the signing of Adams is a low-risk, high-yield investment. It's not flashy, it won't garner headlines around the world, but it doesn't break the bank either. Maybe most importantly, Adams is 24 and has been an integral part of several teams since 2016. The spotlight that comes with playing at Chelsea hasn't dwindled, even if midweek Champions League football is currently a thing of the past, won't affect Adams. He's nonchalant about that kind of stuff, which endeared him to American soccer fans and made him worthy of being the youngest USMNT captain at a World Cup ever. With that attitude, his stay at Stamford Bridge has all the tools to be a success.