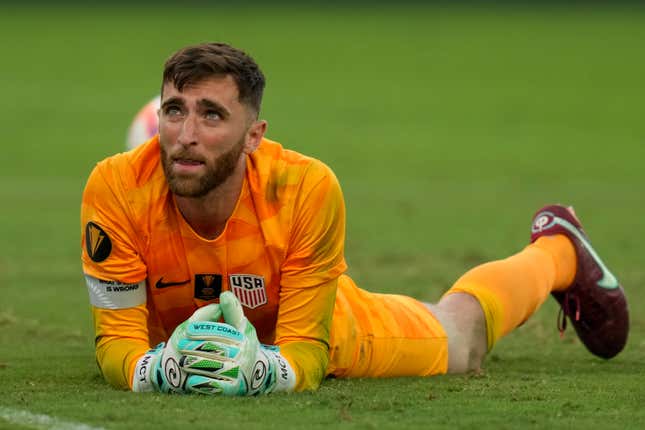 The reinforcements won't be coming from this group. Outside of goalkeeper Matt Turner — whose status as the unquestioned No. 1 goalkeeper for the United States men's national team didn't change after five games in this year's CONCACAF Gold Cup — what player from this American squad that only defeated lowly Trinidad and Tobago, as well as Saint Kitts and Nevis, deserves playing time in the next round of important USMNT games? None, zero, zilch. And don't say seven goals from Jesús Ferreira in the Gold Cup is enough to vault him into the discussion. At best, he's the third-choice US striker despite scoring in Wednesday's penalty-kick semifinal loss to Panama.
Christian Pulisic calls out lackluster attendance at USMNT friendly
What outfield players improved their status the most with the USMNT after this tournament? Chris Richards, Walker Zimmerman, and Cameron Carter-Vickers, none of whom played a second in the Gold Cup. They're the three center backs with a chance to start for my money in next summer's Copa América. Aaron Long proved why he didn't play in the World Cup despite being called in by Gregg Berhalter, who will take the helm of the Stars and Stripes again for September's pair of friendlies. Matt Miazga proved why he made two first-team appearances for Chelsea in six seasons with the team and was loaned away from the London club five times. And no one's USMNT stock fell more than Miles Robinson in this tournament. I know he's still working his way back up to prime fitness after suffering a ruptured Achilles tendon last year, but his pair of performances in the knockout round were dreadful.
The Gold Cup is now a secondary North American tournament for the region's heavy hitters, and no one brought less to this year's edition than the United States. Take away Turner, and who is a reputable name with the national team? Maybe DeAndre Yedlin because he's been called up here and there over the last decade, but he's never been an integral talent. The answer might also be Sean Johnson, who played in one game in the tournament and backed up Turner in net. He didn't allow a goal to Saint Kitts and Nevis, hooray! Congratulating the backup goalkeeper isn't a great sign for how the last three weeks went for the USMNT.

And while no one jumped off the page to claim a spot with the US' A-team, a few players had their stocks raised and could be a fringe player for the top guys moving forward. Djordje Mihailovic had been away from the USMNT for so long and deserves another chance moving forward, same for Gianluca Busio. Neither comes close to the talent the Americans already have in midfield like Weston McKennie, Tyler Adams, and Yunus Musah, but they're only one peg down, which is better than the rest of their current teammates. Jalen Neal was a center back not mentioned above, because he got injured in the quarterfinal win against Canada and didn't play on Wednesday. He's only 19 and has ways to go to excel at the international level, but the early returns are promising. Same goes for Cade Cowell, who should be much more consistent in front of goal in a few years.

Sunday will be the first Gold Cup Final not to feature the United States since 2015, when it also lost in the semifinals against a lesser opponent in Jamaica. And here's the sad truth for the rest of the region — the USA are still the king of CONCACAF. Nothing about this tournament was ever going to change that. Mexico has its legs back and Panama looks like a resurgent power. And it doesn't matter. Neither of those teams would beat Christian Pulisic and the full US roster. Yet, it's alright to feel a little disappointed from Wednesday's USMNT defeat. At least Matt Turner played well.