Kerry Perry, we hardly knew ya. This is mostly because in the nine months that you were in charge of USA Gymnastics, you avoided the media like it was the plague and you had a high deductible health insurance plan. But just because Perry, who was asked to resign by USAG's board on Tuesday, never really said hello doesn't mean we can't say goodbye.

Over Labor Day Weekend, the USA Gymnastics board of directors teleconferenced to deal with the latest scandal for an organization that has produced scandals at a staggering rate. This time it was the appointment of Mary Lee Tracy, an elite coach and gym owner, to USAG's developmental coordinator position. Back in December 2016, after 50 women had come forward and said that Larry Nassar had abused them, Tracy was still speaking positively about the former doctor to the media.
The backlash to that decision, unsurprisingly, was swift and fierce—Aly Raisman and Rachael Denhollander both criticized the choice online. Former athletes, including 2000 Olympic team alternate Alyssa Beckerman, described how bad it was to train with Tracy back when they were elite gymnasts.

Tracy was asked to resign just three days after her appointment was made public. And Perry was asked to resign by the board three days after that. That was just three days after Sarah Hirshland, the new USOC CEO, used her first public comments to suggest that a leadership change at USA Gymnastics was needed.
G/O Media may get a commission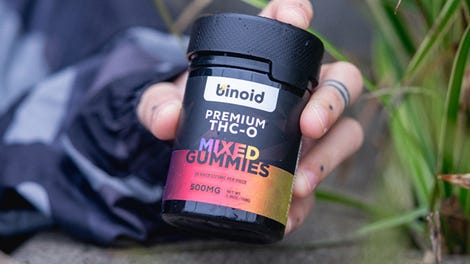 25% Off + Free Shipping
Binoid THC-O Gummies
This latest USA Gymnastics scandal was completely avoidable. Simply doing a Google search on Tracy would've pulled up the problematic statements she made to the press about Nassar. Even the smallest possible amount of public relations or marketing acumen would have told Perry how poorly Tracy's hiring would play in the sport, online, and in the media. This was, to put in the parlance of tennis, an unforced error.
And in that sense, it was perfectly Kerry Perry. During her brief and tumultuous period at USAG Perry was, at best, totally incompetent. She seemed to lack the requisite knowledge about gymnastics for the job—when she was hired she described herself as a fan of the sport—and she was unable or unwilling to take control of an organization in crisis which had been without a CEO for nine months. (Steve Penny had been forced to resign in March 2017 and Perry started in December 2017.) Perry was criticized for failing to reach out to survivors and shunned the media for most of her tenure. While the role of CEO/president hadn't previously been a public facing one, it should have been clear that, in the post-Nassar USA Gymnastics world, the job required more outreach than it had in past years, which in Perry's case meant talking to membership and the media in order to communicate that she 1) recognized the organization's problems and 2) was working toward solutions. She never truly did that.
She probably couldn't have pulled it off if she'd tried. Judging from Perry's wooden tone and posture in the USA Gymnastics-produced SafeSport videos and her appearance in front of the media at last month's national championships, it seems clear that Perry is ill-equipped to convey basic human feeling, much less do the tougher work required of USAG's leader at this particular moment. Given her struggles at mouthing platitudes on a closed set, offering support to the survivors of horrific long-running abuse—or even reassuring the current generation of athletes and the overall membership of USA Gymnastics that there was a firm, steady hand guiding the organization—was probably beyond her.
When Perry's hire was announced last November, I wasn't impressed with her professional credentials, which didn't seem to be those of a person who would be able to steer this ship away from the iceberg. Before coming to USA Gymnastics, Perry owned her own sports marketing firm; she had no experience inside the Olympic sports movement or crisis management.
Still, I was prepared to give Perry a chance. I couldn't imagine that excellent candidates had been lining up around the block to take the reins of an organization that had enabled a serial sexual abuser for decades and was in total chaos. (I mean, I know that serial sexual abuse didn't stop various cardinals from trying to become the pope, but at least in the church you get the cool hats.) Perhaps, I thought, Perry was the best they could find who was willing to take a job that would entail having to testify repeatedly in front of a Senate subcommittee. Maybe an outsider's perspective was necessary.
It didn't work. To say that Perry underperformed is an understatement. Aside from the fact that she was rarely available to the media, choosing instead to release identikit statements—they used some variant of word "empower" so often that it became a joke in the gymnastics community— Perry failed to reach out to survivors and membership. It turned out that the outsider was also just as reactive, as opposed to proactive, as the insiders she'd replaced. For instance, she announced the closing of the training camps at the Karolyi Ranch only after Simone Biles came forward as a Nassar victim and stated that it "breaks my heart even more" to return to the site where she was abused. Perry also abruptly fired the women's program senior vice president in the middle of a training camp she was running, leading to the cancellation of the rest of the camp and causing more grief to the young athletes who had already dealt with so much instability over the past year. The Athlete Task Force Perry created didn't include a single Nassar survivor.
It was also difficult to discern any sort of consistent through line in Perry's decision making. Faehn is gone, but chief operating officer Ron Galimore, whose emails show him helping Nassar cover for his absences at major competitions in 2015 after Maggie Nichols told USA Gymnastics about the abuse, is still there.
USA Gymnastics issued a statement about Perry's forced resignation today in which board chair Karen Golz is heavily quoted. She said:
"Over the past nine months, USA Gymnastics has been in the midst of a major transition as it implements recommendations made by Deborah Daniels in her report, following her independent review of the organization's safe sport policies and procedures, as well as directives of the USOC," continued Golz. "These changes have included amending the organization's by-laws and the appointment of an entirely new board of directors, made up of eight independent members and seven from within the gymnastics community. Most importantly, USA Gymnastics has been focused on athlete safety and well-being and ensuring that programs and protocols are in place to prevent all forms of abuse and to encourage athletes to speak up. This process has been challenging, and painful, but is a necessary step in moving the community forward."
It's important to note that the board that effectively fired Perry is not the same one that hired her; that board was forced to resign in January 2018, under threat of decertification from the USOC.
The statement also noted that a management committee will be formed to provide oversight on the nonprofit's day-to-day operations. The board announced that they are in the process of installing an interim CEO and putting together a search committee to fill the position permanently.
This will not be an easy task; if it was hard to find good candidates before Perry, it will be even harder after she spent nine months digging an even deeper hole for USA Gymnastics.