Here's where we're putting the GIFs of the week, from Wes Welker getting housed to Robert Griffin III looking super human.
Atlanta 23, Oakland 20: You morons can tackle each other all you want: at the end of the day, Matt Bryant is going to win it with his foot. He had to, too: nominal MVP frontrunner Matt Ryan threw three picks by halftime, and the rushing game never got going. The numbers looked better for the Raiders, but not where it mattered, and both teams largely derped their way to a tie-score at the end. On the strength of Matt Bryant, who hit a 55-yard field goal to win it, the Falcons remain unbeaten, while the Raiders stay very much beaten.
Cleveland 34, Cincinnati 24: The Browns, America! The fucking Browns. You heard it here first—"the ostensibly hapless Browns ought to win," we said on Thursday. We don't like to gloat, but you see that score? The Browns. Andy Dalton and A.J. Green continued the best QB-WR connection in the league and it looked like anyone's game until late in the fourth quarter— until the Browns proved just to have too much all over the field. No, really: Brandon Weeden threw two touchdowns, the team rushed for over a hundred yards, and Andy Dalton threw three interceptions into the teeth of the revitalized Cleveland defense. It all started with this 71-yard Brandon Weeden early-bird special to Josh Gordon in the first quarter:
G/O Media may get a commission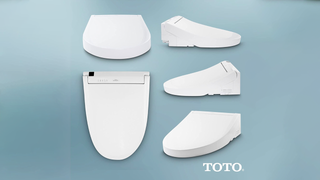 44% off
Toto Washlet Electronic Bidet Toilet Seat
Miami 17, St. Louis 14: Not only did Sam Bradford live through the play below—reports out of Miami suggest he's still able to walk and talk like a regular person who didn't nearly have his head ripped off and his back broken in half—the Rams also completed the two-point conversion on the play. [Note: We read the score backwards the first time. Oops.] It wouldn't be enough, though, as a 66-yard Greg Zuerlein field goal to tie went wide left. Rams lose, but Bradford survives the scariest table-topping of all time:
New York Jets 35, Indianapolis 9: Are the Jets the Tim Tebow of football teams? Just when you thought they were out! Shonn Greene ran all over the Colts, and the Jets moved the ball in ways that seemed impossible a mere two weeks ago, and pretty unlikely a mere one week ago. Coming off a huge win in Green Bay last week, Andrew Luck completed only half of his passes and threw two interceptions, and the Colts defense somehow got duped into going for a fake punt despite Tebow lining up in the backfield. Just that kind of day in East Rutherford:
Detroit 26, Philadelphia 23: Ow. The Eagles were up 10 points with about five minutes left in the game—this 70-yard TD from Vick to Maclin put them there—but it was not to be: the Lions took less than two minutes to march down the field to get a score that put them within three, and after a three-and-out from the Eagles, 42-but-he-looks-54 Jason Hanson tied the game with threee seconds left in regulation. The Eagles recieved in OT, but the Lions sacked Vick on the first two plays from scrimmage for a combined 21 yards lost. The Eagles punted, and the Lions got close enough for a 45-yard field goal. Jim Schwartz is happy, sure—but just remember that for every over-the-top Schwartz celebration, Andy Reid needs another bucket of fish.
Baltimore 31, Dallas 29: Dallas ran for the most yards ever against the Ravens (227) and threw up some gaudy offensive numbers, but blew a chance at a two-point conversion to tie the score late and field goal to win even later. With Ray Rice rumbling for two touchdowns, Joe Flacco was just elite enough (as in, OK) to keep the Ravens from falling behind. Below: Vonta Leach, a robust 260 pounds in a slight six-foot frame, making defenders miss and setting up the touchdown that would put the game out of the Cowboys' reach. That would have been an awesome tackle by Morris Claiborne if jumping was not allowed in football. In fariness to Morris, not many knew Vonta Leach was that fleet-of-foot.
Tampa Bay 38, Kansas City 10: I'm not sure we're going to be able to say it much better than the official play-by-play for this one:
(Punt formation) M.Koenen punt is BLOCKED by S.Draughn, Center-A.Economos, recovered by TB-M.Koenen at TB 0. M.Koenen to TB 1 for 1 yard (S.Draughn). FUMBLES (S.Draughn), RECOVERED by KC-E.Jones at TB 11. E.Jones pushed ob at TB 1 for 10 yards (Q.Black). The Replay Assistant challenged the runner broke the plane ruling, and the play was REVERSED. (Punt formation) M.Koenen punt is BLOCKED by S.Draughn, Center-A.Economos, recovered by TB-M.Koenen at TB 0. M.Koenen to TB 1 for 1 yard (S.Draughn). FUMBLES (S.Draughn), RECOVERED by KC-E.Jones at TB 11. E.Jones for 11 yards, TOUCHDOWN.
Yeah...that. A tough loss for Chiefs fans, who watched their hero Brady Quinn rack up a very ugly 46.7 passer rating, while the defense allowed 37 points to a Bucs team that had been averaging 19 per content. But at least this was fun:
Buffalo 19, Arizona 16: The Bills had to go to overtime to beat the Cardinals because they decided to be stupid at the end of regulation. With a three point lead and three minutes to go, the Bills thought it might be a good idea to bring Brad Smith in and go for six. It was intercepted by Patrick Peterson in the endzone. Jay Feely would go on to hit a 61 yard field goal with a minute left to tie the game at 16-16. This Bills fan has the right idea in getting out of Buffalo. He has the wrong idea in pissing off the 100 or so people surrounding him after Larry Fitzgerald scores a touchdown with 4:47 left in the second quarter to make it 10-9 Cardinals. Bills fan, 0.
Seattle 24, New England 23: The Patriots loss gets two GIFs because there's an east coast bias. Russell Wilson threw a game winning, 46-yard touchdown pass to Sidney Rice with seconds left in the game and Tom Terrific was no match. But enough of that. Let's watch Wes Welker getting absolutely trucked. He almost gets hit off the screen.
Then, for shits and giggles, here are the Seahawks doing their best Yakkety Sax video accompaniment with this botched punt attempt at the end of the first half.
Just kidding, this loss gets three GIFs! Woohoo!
New York Giants 26, San Francisco 3: The Giants thoroughly dominated the 49ers this afternoon. Alex Smith had three interceptions—two of which landed in the hands of Antrelle Rolle—and 200 yards passing. Victor Cruz did his dancing thing and Carlos Rodgers felt like a jerk some more. Unfortunately we were unable to get a GIF of Jim Harbaugh dictating a memo so this leaping Hakeem Nicks catch will have to suffice.
Washington 38, Minnesota 26: Showing no ill effects of his concussion from last week, Robert Griffin III threw caution to the wind when he ran this one in and dove head-first for a touchdown midway through the third quarter. The score was then 24-9.
He would later add a 76-yard touchdown run late in the fourth quarter to make it 38-26. He finished with 139 yards rushing. Earlier in the fourth, Madieu Williams added his own touchdown when he took a Christian Ponder interception 24 yards. The game ended on another Ponder interception, this one to DeAngelo Hall.

Green Bay 42, Houston 24: Good lord this was an ugly game. The Packers went binging on touchdowns and said fuck you to field goals. Aaron Rodgers had six touchdowns. Six. To put that in perspective, Matt Schaub had zero touchdowns. He did throw an interception in the endzone midway through the fourth quarter. So there's that. Here's a GIF of an offensive lineman maybe, kinda/sorta taking a cheap shot at a defender. The Houston Texans are again involved.