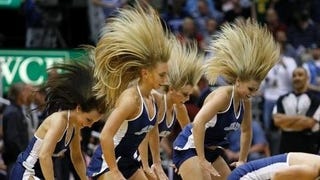 Back in July, a federal judge said cheerleading isn't a sport as a stand against Quinnipiac University using competitive Spirit Getting to nix the women's volleyball team via gender-equity requirements.
Or something like that.
If you insist on understanding the intricacies, click this.
Well yesterday, the Gymnasts of America said the judge should get his hat, and coat, and leave. From the Associated Press ...
USA Gymnastics will sanction events held by the National Collegiate Acrobatics and Tumbling Association.

The college group is changing its name from the National Collegiate Stunts and Tumbling Association, and will now call what its athletes do "team acrobatics and tumbling" rather than "competitive cheerleading."

"What you are seeing is the birth of a new sport," Oregon coach Felecia Mulkey said.
Short-term impact: A lot of cable-show round-table segments featuring American Anthem's Mitch Gaylord and a bunch of other chicks prattling on and on and on and on and on about how tough acrobatics and tumbling are. Yeah!
Long-term impact: There's no telling how creepy fan Juan M. Melendez will react after being forced to update titles like "lithe brunette #274 cheerleading" to "lithe brunette #274 tumbling" more than 1,300 times.
That the type of thing that makes people snap.
(H/T Bob's Blitz)