A guide to the best and worst of the NFL slate (and to which fans are stuck with the most of worst). Maps via 506sports.com.
Last week's "winner," San Francisco, got extra-screwed—its one good day game turned out to be bad and its primetime night game turned into an absolute embarrassment for the 49ers. Bummer, guys! Here are your Week 3 NFL viewing maps:
CBS: Early
Unwatchable
Cleveland at Minnesota: Brian Hoyer is starting. Trent Richardson is gone. LeBron James is gone. Bank of America is gone. TRW is gone. John Q's is gone.
G/O Media may get a commission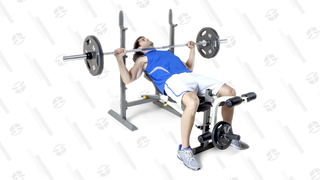 10% Off
Marcy Folding Weight Bench
Meh
San Diego at Tennessee: The Chargers are putting up 30 points a game; they're kind of fun to watch! The Titans are average 123 yards in the air per game; they are not fun to watch.
Houston at Baltimore: The 2-0 Texans were down 21 with five minutes left in the third against the Chargers, and down eight with three minutes left against the Titans. The Ravens got blown out by the Broncos and beat the Browns, 14-6. Has-beens.
Must-See-TV
None.
---
CBS: Late
Unwatchable
Jacksonville at Seattle: The Jaguars have scored a total of 11 points this season, worst in the NFL. The Seahawks have allowed just 10 points this season, best in the NFL.
Buffalo at NY Jets: A huge matchup between the two most electric rookie QBs in the league! I miss last season.
Must-See TV
Indianapolis at San Francisco: Trent Richardson got to Indianapolis Thursday morning and flew out to San Francisco Saturday afternoon. If he has a decent game against the 49ers, then everything we've been told about how hard it is to master complex NFL offenses is total bullshit.
---
FOX
Unwatchable
Tampa Bay at New England: The Buccaneers are 0-2 and have scored 31 points–27th in the league. The Patriots are 2-0 and have scored 36 points–tied for 25th in the league.
Meh
Arizona at New Orleans: The first time Drew Brees faced Carson Palmer, he threw for 510 yards. That's a lot of yards! For example ...
St. Louis at Dallas/Atlanta at Miami: ... it's more yards than the Rams, Cowboys, Falcons, and Dolphins have managed to gain on the ground this season, combined. They stand at 505 total, or 63 yards per game.
Detroit at Washington: Last week, Fox switched away from Washington-Green Bay in the middle of the third quarter, and it was just the saddest. Mike Shanahan's offense hasn't scored in the first half yet.
NY Giants at Carolina: Disappointment vs. disappointment, both fighting to stay out of that 0-3 hole. This could actually be a fun one.
Must-See TV
Green Bay at Cincinnati: Tom Mantzouranis and Don Banks of SI both think that this is a Super Bowl preview. People are hyped about the Bengals, for reasons I can't totally grasp.
---
Who's Getting Screwed?
This week's winner is Wheeling, W.V. Wheeling is an hour southwest of Pittsburgh and roots for the Steelers, just like all but one West Virginia county. Here's what the city gets:
Cleveland at Minnesota: This was going to be a dud well before the Browns pulled a Week 3 controlled roster implosion.
Buffalo at NY Jets: Wheeling is the only TV market outside of Northeast to carry this game, perhaps because Geno Smith is a WVU grad. That didn't make a difference for the rest of West Virginia, all of which is watching Texans-Ravens.
Green Bay at Cincinnati: Hey, this is a great matchup! Except that Wheeling roots Steelers. It's not fun to watch a division rival–particularly a division rival who just beat you–play in the "Is Team X a contender?" game of the week.