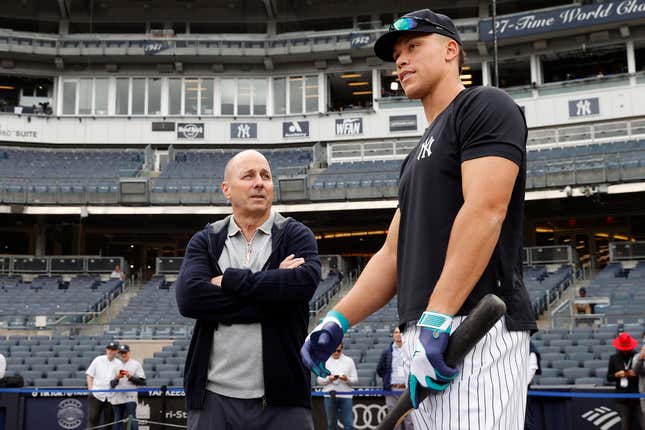 Atlanta has been a menace to New Yorkers of late. First, they dribbled the New York Mets all over Citi Field. Off the diamond, their District Attorney pinched Rudy Guiliani and Donald Trump in a RICO case, then the Braves continued their streak by lopping off the Bronx Bombers heads in three consecutive games. The series sweep dropped the Pinstripes to below .500 after 120 games for the first time since Sept. 5, 1995. In a season of nadirs, they're approaching Oceangate depths.

Should the Yankees send Anthony Volpe down to AAA?
To gain some perspective on how long ago that was, think about this, Derek Jeter was only 13 games into his career the last time a Yankees team was this bad this late into the season. The '95 Yankees found their way in September and advanced to the ALDS, which lit the fuse for their four World Series victories in five seasons. That was a young up-and-coming roster, though. These Pinstripes are the AL's oldest roster and even with the advantage of an expanded postseason, they have a 2.7 percent chance to reach the postseason according to FanGraphs.
What's gone wrong in the Bronx?
If there was one thing the Bronx Bombers were supposed to excel at, it was bashing homers, after leading all of baseball in dingers and nearly leading the majors in runs scored last season. But when they haven't been able to rely on Aaron Judge sending pitches into orbit, the 2023 Yankees have been allergic to scoring runs. Their lineup is old, decrepit, and unathletic. Luis Severino's ERA is pushing the limits of decency and Judge has been unable to carry an anemic lineup on his back.
Manager Aaron Boone's hot seat should be scorching, but he should be fine because the reservoirs of former Yankees-turned-managers whom Brian Cashman could hire have grown thin. It goes without saying that Daddy Steinbrenner would have canned Boone three times by now.
Cashman is even safer after signing a four-year extension last winter, which shouldn't be surprising. Cashman's leash is so long he'll probably have job security with the Pinstripes until he can fit into an urn, but his reputation is based mostly on Jeter-era glories. His only two managerial hires have been ex-Yankees, his free-agent successes have been hard to come by, and he can't stop trying and failing to draft the next Jeter. This is arguably the beginning of the most crucial stretch of his three-decade stint.
The Orioles and Rays ascended to the top of the division by drafting talent. They'll be obstacles for the Yankees for years to come. Conversely, DJ LeMahieu is 35, Giancarlo Stanton is 34, Anthony Rizzo is 34, Aaron Judge is 31, and Josh Donaldson is 37. For every Judge the Yankees develop, there has been a litany of Clint Fraziers and Gary Sanchez archetypes who washed out. Rookie Anthony Volpe has been one of the most inconsistent full-time players in the majors while former prodigy Gleyber Torres is hitting into double plays at a disastrous rate.
No help coming from the minors
As a consequence of Cashman's repeated whiffs, 20-year-old Jasson Dominguez is the franchise's best hope to develop a prospect from within. Dominguez is the "Chosen One" in the farm system. Nicknamed "The Martian," since he was likened to Bo Jackson and Mike Trout as the most-hyped international prospect ever at the age of 16, Dominguez's development was stymied by the cancellation of the 2020 minor league season. The Martian is on track to become an everyday player next season and currently ranks as the 32nd-best prospect in the minors.
According to former minor league prospect, Ben Ruta, the Yankees' wayward minor league developmental system can be attributed to focusing too heavily on generating walks or smacking 95 mph pitches instead of base running, moving runners, and other fundamentals. In the midst of the Yankees hitting doldrums, hitting coach Dillon Lawson became the Boone-Cashman regime's mid-season sacrifice. The analytics department is the next scapegoat. Newsday's Erik Boland and the New York Daily News' Bill Madden have all circled the wagons around the analytics department, allowing Cashman to slip away from scrutiny again.
Something has to give though. Talent evaluation has evolved by leaps and bounds since Cashman's reign began. Meanwhile, the Yankees have been stuck in quicksand as he's struggled to find an advantage beyond the Steinbrenner checkbook. There hasn't been turnover at the top since Cashman was promoted to the top spot in 1998. Instead of looking at subordinates, it's time Hal Steinbrenner re-evaluates his front office from the top down.
---
Follow DJ Dunson on Twitter: @cerebralsportex