Each week during college football season we put the conventional polls to shame by ranking every FBS team from 1-125, by whatever standard we see fit. As always, last week's rankings were not consulted.
Ohtani has the WBC, but will Mike Trout ever lead the Angels to a championship? | Agree to Disagree
1. ALABAMA (5-0). Are the Crimson Tide so invincible we have to keep calling down the poor Jacksonville Jaguars to imagine a level playing field? From this vantage point, Bama strikes me less as thundering overlord than wily survivor. Statistically speaking, the first half of the season has already included the worst offensive performance (against Virginia Tech) and worst defensive performance (at Texas A&M) of the Nick Saban era. We've yet to see both sides in peak, Catholic-crushing form in the same game. For a team without Bama's blue-chip reputation—and with LSU, Auburn and the SEC title game still in front of it—that might be a red flag. For this team, the fact that it found a way to win those games anyway only seems to add to its aura.
2. CLEMSON (5-0). Tajh Boyd is at his most entertaining against really good defenses, when he feels obligated to throw his body around and put the entire offense on his back like a slightly pudgy Atlas. The rest of the time, it's just a little too easy. Against Syracuse, Boyd completed seven passes that covered at least 24 yards, including four touchdowns that covered at least 40 yards, in a 49-14 blowout that was effectively over in the first quarter. (He had another TD pass that traveled a mere 17 yards.) As a group, his front-line receivers averaged 28.5 per catch. The Florida State game cannot arrive quickly enough.
G/O Media may get a commission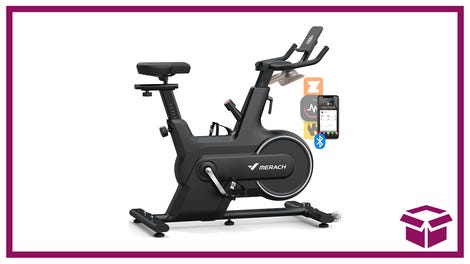 14% off + Coupon
Merach Indoor Cycling Bike
3. FLORIDA STATE (5-0). On that note, FSU quarterback Jameis Winston compared playing the 25th-ranked team in the nation in his fifth collegiate start to playing in a Little League game. The 63-0 margin over Maryland matched UCLA 66, Texas 3 in 1997 as the most lopsided loss ever endured by a ranked team.
4. STANFORD (5-0). A win is a win, especially when it's a hard-fought win over a ranked division rival. But Stanford's 31-28 nailbiter against Washington exposed a couple of potential issues that could bite the Cardinal down the line, both of them a reflection of their emphasis on the line of scrimmage over the speed positions. On offense, Stanford managed just two "explosive" plays—a 26-yard run by receiver Ty Montgomery on the first play from scrimmage, and a 39-yard touchdown pass to Montgomery in the second quarter—and aside from the latter the Cardinal did not have another reception longer than 12 yards. (Only one completion in the entire second half, also to Montgomery, even went for a first down.) On defense, the corners were repeatedly beaten on contested balls by Washington's receivers, who accounted for well over 300 yards. In all, the Cardinal were outgained by a huge margin, 489 to 279, and needed a borderline replay decision to avoid overtime, at least, in a game they led by double digits going into the fourth quarter. Credit for degree of difficulty in a must-win conference game, but plenty to worry about re: balance and sticking the landing.
5. OREGON (5-0). We'll get to the Jadeveon Clowney situation in due time, but while the punditocracy felt obliged to flip its collective shit over Clowney's no-show against Kentucky, Oregon tight end Colt Lyerla quietly dispensed with the pretense and called it a career Sunday to get a jump on the 2014 draft. Lyerla and coach Mark Helfrich both said in a statement that Lylerla is leaving "on good terms," a dubious claim given some recent friction between the two that spilled into the local press. (Lyerla had his issues under Chip Kelly, as well, and was reportedly suspended for Saturday's obliteration of Colorado for being repeatedly "late or absent" for team obligations. He also has a serious Vladimir Putin vibe going on.) At any rate, the upshot here is that a more or less guaranteed draft pick just said to hell with this campus bullshit in the middle of a season, having barely scratched the surface of his potential. For reasons discussed below, this has some implications beyond the specifics of Lyerla's relationship with his coach.
(Oh, and far as dropping Oregon from its former position at No. 2 is concerned, it's just a routine reassessment of their strength of schedule: Six weeks into the season, the criteria are becoming more descriptive than predictive, and we're not going to do the reflexive thing where being No. 2 one week means you get to stay there just because. Right now the Ducks' résumé is arguably the weakest in the top 10 in terms of teams they've actually beaten—when your best wins have come at the expense of Tennessee and Virginia, how you've beaten them counts for only so much. But it's early still, and Washington this weekend is a chance to change that equation.)
6. OHIO STATE (6-0). OSU played much of September with Braxton Miller (injury) and Carlos Hyde (suspension) on the bench, but they were pretty much the entire show against Northwestern: Out of 74 offensive snaps, all but five were runs or passes by the two headliners, who combined to account for 97 percent of Ohio State's total offense in a 40-30 win. The result wasn't a masterpiece, by any means, but it was typical of the 18-game winning streak under Urban Meyer—disregarding the Buckeyes' final, meaningless touchdown on the last play, it was the eighth time in that run they've survived by a touchdown or less, and the fifth time they've rallied from a deficit or tie in the fourth quarter.
7. GEORGIA (4-1). The Bulldogs went into Tennessee with their best receiver out for the year and the best tailback in the country on ice due to a bum ankle, and they proceeded to lose both of their replacements against the Vols to season-ending ACL tears. Against Missouri, the offense is expected to be without Todd Gurley for the second week in a row, and will definitely be without receiver Michael Bennett, another injury casualty in Knoxville, leaving exactly one skill player—wide receiver Chris Conley—who has started a game this year. Just how many more 57-yard runs out of nowhere does Aaron Murray have in him?
8. OKLAHOMA (5-0). Which says more about Oklahoma: That the defense held TCU without a first down until well into the third quarter, or that the outcome was still in doubt well into the fourth?
9. LSU (5-1). The Tigers continued their evolution into an offensive juggernaut against Mississippi State, bombing the Bulldogs for more yards (563) than they've gained against any SEC opponent since 2002—hail Saban!—and more points (59) than they've scored in a conference game since 1997. For the moment, the offense ranks eighth nationally at 7.4 yards per play, and Zack Mettenberger leads a crowded field of SEC quarterbacks in passing yards, touchdowns, and efficiency.
10. TEXAS A&M (4-1). A weekend off that doesn't include any tabloid-baiting, eligibility-threatening headlines from Johnny Manziel is a victory in itself.
11. BAYLOR (4-0). If you're still a skeptic after a 73-42 annihilation of West Virginia—the same West Virginia that held Oklahoma to 16 points and Oklahoma State to 21—try thinking of Baylor's over-the-top start as a continuation of last year's over-the-top finish. In that context, the Bears have won eight in a row, three of them over ranked teams, outpacing opponents by 293 yards and 35 points per game. That includes a 52-24 ambush of undefeated Kansas State last November that knocked the Wildcats out of the BCS title game, followed by a 49-26 romp over UCLA in the Holiday Bowl that wasn't nearly as close as the final score. (Neither was Saturday's romp over West Virginia, for the record.) Who's been better in that span? Only Ohio State, Stanford, and Alabama are on longer runs, and not by nearly the same margins.
Or you can look at this way: Baylor is currently outdistancing the No. 2 offense in the nation, Oregon, by 149 yards and 11 points per game, while breaking even less of a sweat than the Ducks. If all four of the Bears' games had been stopped at halftime, as a couple of them probably should have been, they'd still lead the Big 12 in scoring. We can only imagine what it would look like if they hadn't had the decency to stop themselves.
12. UCLA (5-0).
13. MIAMI (5-0).
14. WASHINGTON (4-1). Actually, I didn't think the "controversial" call that clinched the Huskies' loss at Stanford was all that close, and was surprised by the number of people (including the broadcast team, Brad Nessler and Todd Blackledge) who seemed to think it was. The ball pretty clearly hit the ground on replay ...
... and the best forensic analysis on Twitter confirms it.
Great effort at the end of a great rally against a very tough defense and everything, but come on, that's an incomplete pass.
15. SOUTH CAROLINA (4-1). How did a few sore ribs turn into an existential crisis? The notion that Jadeveon Clowney not only could sit out the rest of the season to preserve his draft stock, but that he actually should, defies so many basic assumptions about the existence of college football that even acknowledging it runs the risk of veering into a 4,000-word essay. If you're the kind of person who could really give a damn about college football, the prospect of an extraordinarily high-profile player opting out in the name of his earning potential probably sounds like a much-needed, market-oriented blow to an ossifying system that deserves a taste of its own, exploitive medicine. On the other hand, if you're the kind of person who'd rather see the "amateurism" problem addressed in a way that preserves the sport in some recognizable form, the precedent that maximizing profits in the pros is the first and only priority is straight poison. (If you're a schmuck who thinks there's any room on the scales for such mortifyingly quaint considerations as loyalty, fraternity, or rites of passage opposite pure, self-interested profit motive, then you may have already noticed you're in the wrong century.) That's some big, fundamental shit that goes back 100 years.
For his part, Clowney insists he's still committed to the Gamecock cause, rendering the debate at least temporarily academic. For their part, though, NFL types have made it pretty clear they couldn't care less as long as he looks the part at the combine. (Apparently they don't care much that his production through four games is only a fraction of his sophomore output, either.) If not Clowney, then some other precocious freak of nature coming right behind him; if not now, soon. It's clear enough that the reality for above-the-fold stars like Clowney and Johnny Manziel makes their status as "amateurs" untenable when they are anything but. It's also clear that being viewed only as a readymade pipeline to the pros is a worst-case scenario for the college game, which is only as popular as it is because it evolved as a unique culture unto itself long before television and the point spread birthed the NFL. If that culture can't find a way to keep the best players interested, it won't be long before it has the same problem with its audience.
16. LOUISVILLE (5-0).
17. VIRGINIA TECH (5-1).
18. FLORIDA (4-1).
19. TEXAS TECH (5-0).
20. MISSOURI (5-0). Mizzou is going to get a lot of underdog attention against Georgia, and the Tigers may deserve it: Statistically, the offense is back in its Big 12 heyday, ranking among the top 10 nationally in yards and points per game, and both of the Tigers' best wins, over Indiana and Vanderbilt, have come by wide margins on the road. (The Indiana win, in particular, looks a lot better all of a sudden after the Hoosiers' ambush of Penn State.) If Georgia's rapidly thinning depth chart is as serious an issue on Saturday as it was at Tennessee, it's a real opportunity to turn the SEC East race on its ear.
21. MICHIGAN (5-0).
22. OKLAHOMA STATE (4-1). What is up with the OSU offense? Two weeks ago, the Cowboys handed in their worst effort in terms of yards per play (4.98) since 2009, turned the ball over three times, and lost as 18-point favorites at West Virginia. Last week, they finished with their fewest total yards (330) since '09, and needed five second-half takeaways to escape another upset against Kansas State. Mike Gundy seems dead set on standing by sophomore J.W. Walsh as his starting quarterback, and every goal is still within reach. At this rate, though, the Clint Chelf fan club is adding non-blood relatives by the game.
23. FRESNO STATE (5-0).
24. AUBURN (4-1).
25. NORTHWESTERN (4-1). I don't gamble, but I did advise degenerates who do to take Ohio State Saturday with a seven-point spread. So that random, meaningless touchdown by the Buckeye defense on the final play, which inflated the final margin from four points to 10? Just more proof that everyone should always listen to me about everything.
26. NEBRASKA (4-1).
27. NOTRE DAME (4-2). Saturday's 37-34 win over Arizona State managed to combine in a single game everything good about Notre Dame (wide receiver T.J. Jones, the blue-chip defensive line, Brian Kelly cursing out his quarterback on national TV) and everything bad about Notre Dame (Tommy Rees throwing a pick-six, the secondary getting torched for 362 yards, the self-importance of the "Shamrock Series"). But most satisfyingly of all, it served to reaffirm USC's decision to leave Lane Kiffin at the airport.
28. MICHIGAN STATE (4-1). Nothing in the Big Ten this year was as much fun as making sport of Michigan State's plodding, inept offense, and it turns out the Spartans hate fun so much they've taken that away from us, too. Against Iowa, quarterback Connor Cook passed 44 times (!) for 277 yards and two touchdowns, solidifying his hold on the starting job in a 26-14 shootout. The touchdown passes, covering 46 yards to Macgarrett Kings and 37 yards to Bennie Fowler, respectively, are MSU's longest plays from scrimmage this season.
29. NORTHERN ILLINOIS (5-0).
30. ARIZONA STATE (3-2).
31. OLE MISS (4-2).
32. WISCONSIN (3-2).
33. CENTRAL FLORIDA (4-1).
34. HOUSTON (4-0).
35. MARYLAND (4-1).
36. EAST CAROLINA (4-1).
37. ARIZONA (3-1).
38. OREGON STATE (4-1).
39. UTAH (3-2).
40. BYU (3-2).
41. RUTGERS (4-1). The Scarlet Knights had to go to triple overtime to beat SMU after blowing a 21-point lead in the fourth quarter, primarily because they had no answer for Mustang quarterback Garrett Gilbert. Tune in for Thursday night's trip to Louisville, where Teddy Bridgewater and the B-team from Mythbusters will test the exact threshold at which a secondary bursts into flames.
42. WASHINGTON STATE (4-2).
43. GEORGIA TECH (3-2).
44. IOWA (4-2).
45. PITTSBURGH (3-1)
46. NAVY (3-1).
47. INDIANA (3-2).
48. TEXAS (3-2). The Longhorns are 2-0 in the Big 12 and bracing for the worst. Even without the bogus ending, wins don't get much more deflating than last week's one-point escape at Iowa State, which may have been even worse than the lopsided, halfhearted flops against BYU and Ole Miss in the sense that Texas actually seemed to care about this game. There were a couple chances against the Cyclones to send up the same white flag the Horns waved in those other losses, but they kept playing hard. It turns out they're just kind of terrible. With starting QB David Ash on ice, coaches called on pedestrian backup Case "Not Colt" McCoy to throw 45 times in a close game, limiting UT running backs to 23 carries. (Of course they averaged more yards on those carries than McCoy on his passes, as if that were some kind of consideration in the play-calling.) In the second half, the defense allowed a go-ahead, 97-yard touchdown pass on third-and-9, and the offense lost fumbles on back-to-back possessions in its own territory. Had the game-winning touchdown for Texas in the final minute been negated by a game-killing fumble a few plays earlier, as it probably should have been, it would have been the most appropriate possible ending. That's just the kind of team Texas is right now.
49. USC (3-2).
50. PENN STATE (4-2).
51. TCU (2-3). Pick a statistic, any statistic, and Saturday's loss at Oklahoma was the worst performance in that category by the TCU offense since [insert eye-opening date to emphasize futility]. In three losses, the Horned Frogs have managed only three touchdown drives that didn't start on their opponents' side of the field.
52. BALL STATE (5-1).
53. OHIO (4-1).
54. BOWLING GREEN (5-1).
55. BOISE STATE (3-2).
56. ILLINOIS (3-2).
57. BOSTON COLLEGE (4-2).
58. ARKANSAS (3-3).
59. TENNESSEE (3-3).
60. UTAH STATE (3-3).
61. MARSHALL (3-2).
62. WEST VIRGINIA (3-3).
63. KANSAS STATE (2-3). The Wildcats are this week's occupants of the CRATER OF MEDIOCRITY, the unadorned hole at the dead center of the rankings, which actually sounds like the safest place to take cover when you're preparing to play Baylor without your two best wide receivers.
64. MISSISSIPPI STATE (2-3).
65. MINNESOTA (4-2).
66. CINCINNATI (3-2).
67. WESTERN KENTUCKY (4-2).
68. RICE (3-2).
69. VANDERBILT (3-3). If Vanderbilt had any hope whatsoever of matching last year's nine-win breakthrough against a tougher schedule, the two games it had to win were Ole Miss and Missouri: Barring a major upset against one of the "Big Three" of the SEC East, or (even less likely) at Texas A&M, the difference between sustained success and a regression to the bottom half of the league hinged on those two games. How does the math look now that the Commodores have lost both of them? Well, they're 0-3 in conference games heading into a bye, after which they've got Georgia, A&M, and Florida in consecutive weeks. On the bright side, all of those old "6-6 OR BUST" bumper stickers Vandy fans have been trying to peel off their cars are totally relevant again.
70. SYRACUSE (2-3).
71. VIRGINIA (2-3).
72. DUKE (3-2).
73. WAKE FOREST (3-2).
74. N.C. STATE (3-2).
75. NORTH CAROLINA (1-4).
76. IOWA STATE (1-3).
77. CALIFORNIA (1-4).
78. LOUISIANA-LAFAYETTE (3-2).
79. TULANE (4-2). I triple-checked this record and affirm it is true: With Saturday's last-second win over North Texas, the Green Wave are in fact two games over .500 for the first time since early 2003. This is such a momentous step there may be sightings of actual Tulane fans in New Orleans outside of the occasional extra on Tremé.
80. TOLEDO (3-3).
81. SAN JOSE STATE (2-3).
82. TEXAS STATE (3-2).
83. WYOMING (3-2).
84. COLORADO (2-2). Early in the Georgia-Tennessee game, CBS broke in with a giddy update informing SEC viewers that Colorado had gone ahead of Oregon, 10-8, on a trick play that worked for a long touchdown. An upset brewing in Boulder? There were no further updates when the first quarter ended Oregon 29, Colorado 10, or when the game ended Oregon 57, Colorado 16. I like to imagine some SEC fans who get their non-SEC news exclusively from in-game CBS updates and are still relishing the schadenfreude of watching the Ducks struggle with the worst team in their conference, whichever one it is.
85. BUFFALO (3-2).
86. SAN DIEGO STATE (2-3).
87. NEVADA (3-3).
88. UNLV (3-2).
89. MIDDLE TENNESSEE (3-3).
90. KANSAS (2-2).
91. KENTUCKY (1-4).
92. PURDUE (1-4).
93. SMU (1-4).
94. NORTH TEXAS (2-3).
95. KENT STATE (2-4).
96. TULSA (1-4).
97. ARKANSAS STATE (2-3).
98. TROY (3-3).
99. COLORADO STATE (2-3).
100. TEXAS-SAN ANTONIO (2-4).
101. FLORIDA ATLANTIC (2-4).
102. SOUTH ALABAMA ( ).
103. MEMPHIS (1-3).
104. ARMY (2-4).
105. NEW MEXICO (2-3). The Lobos owned their annual showdown with New Mexico State—"a rivalry unmatched by few"—rushing for 541 yards and seven touchdowns in a 66-17 rout. Ten different New Mexico backs had at least one carry for 10 yards or more, leaving UNM as the No. 1 rushing offense in the nation.
106. SOUTH FLORIDA (1-4). The Bulls didn't score an offensive touchdown, but they did win a game, somehow, taking a blocked field goal and a fumble to the house in a 26-20 upset over Cincinnati. This weekend, they're five-point underdogs at UConn, a winless team playing its first game under an interim head coach.
107. LOUISIANA-MONROE (2-4).
108. CENTRAL MICHIGAN (2-4).
109. AIR FORCE (1-5).
110. LOUISIANA TECH (2-4).
111. UAB (1-4).
112. AKRON (1-5).
113. CONNECTICUT (0-4).
114. EASTERN MICHIGAN (1-4).
115. UTEP (1-4).
116. HAWAII (0-5).
117. IDAHO (1-5).
118. TEMPLE (0-5).
119. FLORIDA INTERNATIONAL (1-4). FIU rebounded from a 72-0 debacle at Louisville to upset Southern Miss, 24-23, extending the Golden Eagles' losing streak to 17 games with a blocked field goal to win on the final play. As a Southern Miss alum, I can report that this is without a doubt the single most humiliating loss in my lifetime.
120. MASSACHUSETTS (0-5).
121. WESTERN MICHIGAN (0-6).
122. MIAMI (OHIO) (0-5). The RedHawks ditched their head coach, Don Treadwell, on the heels of a 21-9 loss to Central Michigan, the fifth time in five games this season that Miami has failed to score more than 14 points. When Treadwell was hired, in 2010, Miami was coming off one of the greatest single-season turnarounds ever, having somehow transformed from a 1-11 doormat in 2009 to MAC champions in one year. Since then, they're 8-21 with 11 losses in their last 12.
123. NEW MEXICO STATE (0-6).
124. GEORGIA STATE (0-5). The Panthers were not mangled, strangled, dismembered, buried alive, or otherwise grievously injured in a 45-3 loss at Alabama, which for this week makes them the most successful outfit in Atlanta sports.
125. SOUTHERN MISS (0-5).

---
Matt Hinton writes about college football for Football Outsiders and SB Nation's Football Study Hall. Follow him on Twitter @MattRHinton.