« Previous entry | Next entry »
From: Barry Petchesky
To: Josh Levin
Oh god, here we go. We're about to get into a big discussion of the unwritten rules of football. And if you're not a fan of baseball, where this flares up every few months, it's going to be miserable, and I'll tell you exactly how it's going to go. It's a seven-step process:
G/O Media may get a commission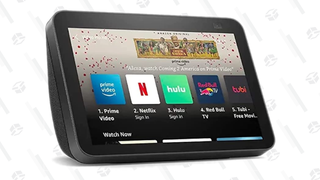 For the second year in a row, Slate and Deadspin are teaming up for a season-long NFL roundtable. Check back here each week as a rotating cast of football watchers discusses the weekend's key plays, coaching decisions, and traumatic brain injuries. And click here to play the latest episode of Slate's sports podcast Hang Up and Listen.
1.) Young coach does something that riles up old coach. In this case, Greg Schiano's Bucs failed to meekly let the Giants run their victory formation, and actually tells his defense to try to make a football play in a football game. With the Giants kneeling with five seconds left, the Tampa Bay line puts Eli Manning on his ass. There's pushing, there's shoving, but all in all, it's by an order of magnitude less violent than any other play all day.
2.) Old coach gets furious. A red-faced Tom Coughlin confronts Schiano in lieu of a friendly handshake, yelling things about "in my day" and "play the game the right way." Probably. This is a dog whistle for moralists, because if there's anything with more sanctity than a kneeldown, it's the post-game handshake. Gentlemen, take your marks.
3.) Aggrieved team makes its case. These postgame quotes tend to fall into two categories, neither possessing much in the way of logical argument against the action itself:
"You just don't see that."
Eli Manning: "That was a first."
Chris Snee: "It's just something you don't see at this level."
Sean Locklear: "It's nothing I've ever seen."
"You just don't do that."
Tom Coughlin: "I don't think you do that at this level."
John Mara: "You just don't do that in the NFL."
4.) Offending coach appeals to sense. "There's nothing dirty about it and there's nothing illegal about it," Schiano told reporters. "We crowd the ball—it's like a sneak defense and you try to knock it loose." That this is a novel concept—trying to force a turnover when a turnover is the only possible way your team can win—speaks to how unimaginative playcalling has gotten. And when a college coach arrives who's not yet ingrained with the bizarre gentlemen's agreements of the NFL, and offers a better alternative, what happens? He's vilified. Eh, save it. Football stopped being a gentlemen's game the day they decided to let people tackle each other.
5.) Crusty columnists support crusty coach because he's "old-school" and his teams "play the game the right way." This one's as predictable as the changing of the seasons. First the hometown, then the national columnists fight to be first in line to condemn anyone daring to offend the honor of the game. These are delightful—moral outrage indistinguishable from a pastiche of moral outrage.
Mark Cannizzaro, New York Post:
Schiano's behavior at the end of yesterday's bitter 41-34 loss to the Giants at MetLife Stadium, when his team failed to protect a two-touchdown lead late in the third quarter, was pathetic and unacceptable. Schiano's decision to order his players to bull rush the Giants offense while it was in the "victory formation'' to run the clock out on the last play of a game they already had won was something out of the WWE.
It also shows a lack of respect. It's sore-losership. You've been beaten, fair and square, in the part of the game in which both teams were competing honestly. To try to win it cheaply with a sneaky play after the opposing team (and any other opposing team you've ever faced or ever will face) justifiably believes it to have been decided is dishonest and dishonorable.
Yes, these are the same columnists who call for Coughlin's firing every season around Week 8 because he's not getting full effort from his players.
6.) Someone points out that the "dirty play" is just smart football. Ooh, I'll do it! Anyone remember Troy-Oklahoma State in 2010? (Former Trojan and current Giant Jerrel Jernigan sure does.)
O.K. State had the ball with a minute left and a three-point lead, and attempted to kneel to run out the game clock. But Brandon Weeden fumbled the snap, and the Trojans, sending their front three over the top, recovered the ball.
They'd fumble it back on their first play from scrimmage, but that's not the point—the point is that they never would have had the chance if their linemen had just stood up when the Cowboys entered the victory formation.
What's being missed is that the Bucs' rush wasn't designed to force a fumble (not nearly enough time for that, if the snap goes smoothly), but rather to be able to jump on a loose ball should the Giants inexplicably put it on the ground. Which has been known to happen around here. In a game in which Eli Manning had already turned the ball over three times, why not force him to make one final play? Yes, a kneeldown is a play—and the fact that it's covered by the written rules ought to be enough to keep this out of the realm of the imaginary.
7.) Everyone yells for a while and then goes home. We've got, like, two more days of this before everyone forgets it ever happened. (The NFL has already said it has no issue with the play.) The unwritten rules are allowed to remain unremarked upon until the next time an old coach invokes them.