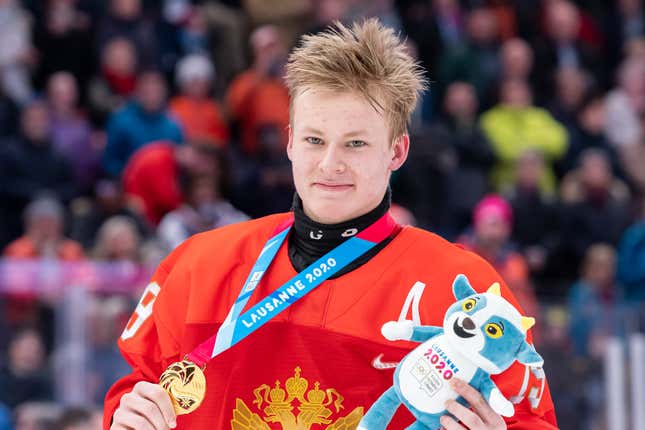 The NHL Draft, which takes place tonight and tomorrow, isn't quite the NFL Draft. Most of the players taken won't show up for a season or two with their NHL teams. It's also not the MLB draft, where it'll be a long time either and everyone spends those middle years going off Twitter videos from various minor league truck stops. It's somewhere in between. This version of the NHL Draft has a lot of drama beyond the No. 1 pick, which is a given to be Connor Bedard to the Chicago Blackhawks (cry about it). But after that, no one is sure what's going to happen, and there are multiple difference-makers at the top of the draft, which is pretty rare for the NHL draft. And fueling most of that mystery is figuring out which team is going to take a player they haven't really seen, Matvei Michkov.
Should the NFL adopt a draft lottery? | Agree to Disagree
Why some are so high on Matvei Michkov
That's right, some team is going to take a player they have little info on. It's something of a shot in the dark, though not completely. We'll get the knowns out of the way when it comes to Michkov. It's generally agreed that in a different time, or if he were from anywhere else but Russia, he would be the unquestioned No. 2 pick. There'd probably be a hipster push this past week to suggest that he should even go No. 1, just to stir shit up like some in the hockey community like to do. Most everyone will tell you that he's a game-breaking winger. Wingers aren't as valuable as centers or No. 1 d-men, and teams built around wingers tend to stall out before the parades. But then if you have Alex Ovechkin, it might work. And Michkov might be that. No one's willing to say he isn't, at least.
Offensively, he might already be the finished product. Incredible hands to weave out of traffic, vision to set up his teammates, and lethal finish. He might be Leon Draisaitl if he were a full-time winger. Might be, no one's sure. Because…
And now the problems
What the NHL Draft has over every other draft is that it occasionally has to deal with and get around international intrigue. Such is the case with Michkov.
In another season, Michkov would have come over to Canada last Christmas for the World Juniors, simply lit up Denmark and Slovakia or whatever, quite possibly showed out against a real team like the US, Canada, or Sweden, and every hockey fan would know exactly what they were dealing with when it comes to Michkov.
Except he didn't. Russia wasn't allowed to play in the WJC because of the invasion of Ukraine. Michkov hasn't been seen in a top-tier international tournament since 2021 and the U-18 WJC, where he punted everyone's colon through their stomachs to the tune of 16 points in seven games. But that was two years ago, that was children (at least more so than the WJC), and isn't a strong barometer.
What we do know is that he's been playing in a men's league the past season, which none of the other possible top picks can say. He played in Russia's KHL, putting up 20 points in 27 games as a 17-year-old playing against professionals and players 10, or 15, or 20 years his senior. It says a lot.
Of course, the other problem is that Michkov is locked into the KHL for the next three seasons, signing a contract with SKA St. Petersburg until then. While there's a way if there's a will for anything, the NHL very much is not into KHL contracts being broken to get players to the NHL, and KHL teams are even less about it. Michkov, barring something unforeseen, isn't going to be arriving on these shores until 2026.
When would the NHL see Michkov?
Now, drafted players not reaching the NHL for three seasons isn't that abnormal…if they're third-rounders or below. Top five picks might go back to their junior or college team for a season, but then they usually do not pass Go and come straight to their NHL team. Using a top-five pick on someone your fans won't get to see for three seasons is…dicey. Maybe the reward is worth it, but it's an awful lot of waiting for teams that generally suck ass already.
And that's if a team thinks that it'll be a smooth transition that Michkov will automatically throw up deuces to SKA as soon as his deal is up and head for sunny Anaheim or…whatever Columbus is or somewhere in between those San Jose. He wouldn't be the first Russian player to author some very complicated negotiations on his status. No one knows for sure, and predicting what the world's view of Russia will be by then is even less certain.
In a lot of years, there's a team that's landed in the top five through a trade that already has something going, and can afford to wait three seasons for this type of player and sell him as the final piece or just a great addition. That isn't the case this year, though. All teams 2-5 need all the help they can get. The Jackets can excuse themselves because they desperately need the No. 1 center they have never had in their existence. The Ducks can say they can wait because they do have Trevor Zegras and taking Adam Fantilli would be redundant as a center, but no team would ever willingly turn down having two #1 centers. The Sharks need everything, but are going the wrong way and would be very hesitant to miss on the chance to get something long-term to The Tank immediately. The Habs have more than these other teams, maybe, but it's also Montreal, and waiting isn't something Montreal fans and media usually do, or even spell.
All teams have to go on with Michkov is his stat sheet and whatever their Russian or European-based scouts tell them. They haven't seen him against the top international competition like every other prospect. They won't get him on their teams for a long while. And yet the talent level and potential might make it all worth it. What makes it so fascinating is GMs having to balance whether he is or not without their normal amount of information. He's the biggest guess in recent draft history.
Generally, hockey GMs talk big but piss down their leg when it comes to a big swing. What if Michkov starts slipping? Can the Yotes, while battling their area for a new arena, pass on the chance of having a diamond to sell immediately? But once you get past 5 or 6, we're talking about players that probably aren't going straight to the NHL. Is there a huge difference between waiting one year or three? The Flyers are miles from anything, and at 7 Michkov will be by far the best player available should he slip that far? Flyers fans say they're ready for a total rebuild. Are they that ready? Will the Caps see "heir apparent" written all over him at No. 8? That might make the next few years in DC pretty ugly, but…worth it?
And if you wait three seasons and Michkov is…just OK? Good? You'd have to get pretty much every other move in the interim right to buy the margin for error you need. There's so much to consider for a player barely anyone's seen. He's a whisper. He's a hunch. He's a wager. He's anything. It may not be like this for any player again, at least for a while. And you can bet every other GM behind Chicago's Kyle Davidson is hoping the other guy takes the decision out of their hands.
---
Follow Sam on Twitter @Felsgate.