After negotiating his own contract with the 49ers last week, Richard Sherman came in for some particularly heavy scrutiny:
Sherman used to be repped by Ben Dogra, one of the sport's big-name agents. Last month, Sherman told ESPN that having an agent was "overrated at this point." He subsequently expanded on that in an interview with Business Insider:
"I didn't feel like I needed one," Sherman said. "I can have conversations with general managers and understand my value in comparison to other players in the league."

Sherman continued, saying it would be cheaper to hire a lawyer and pay a one-time fee rather than give a cut of his next contract to an agent.

"A one-time fee to any contract lawyer, there are many lawyers that work with the league and through the NFLPA," he said, adding, "There's nothing that an agent could do for me that I couldn't do for myself or I couldn't hire someone to do at a smaller fee."
G/O Media may get a commission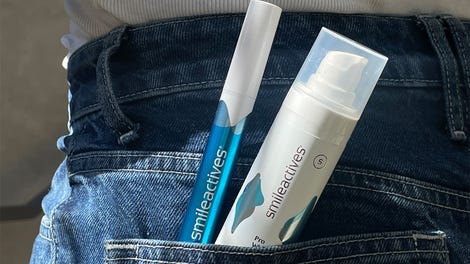 58% off
Whitening Powerhouse Pen & Gel Duo
(Agents are entitled to anywhere from 1.5 percent to 3 percent of a player's earnings.)
The initial report on Sherman's Niners deal—max length of three years, max value of $39.15 million—was wildly inflated, but most NFL contracts are wildly inflated when they're initially reported, regardless of whether they're brokered by an agent. A closer look at the specifics unearthed by Mike Florio of Pro Football Talk revealed Sherman's contract is chock full of bonuses and incentives, with just $3 million in full guarantees, $7 million in practical guarantees, and up to $9 million in earnings if he simply manages to stay healthy for the entire 2018 season, with nothing guaranteed beyond that. Which doesn't seem like a lot. But there's also a lot to consider, not the least being the reality of NFL contracts in general.

Before he was released last week by the Seahawks, Sherman was due to earn $11 million in base pay in 2018, the final year of his deal, with zero guarantees. He turns 30 at the end of this month, and he's had surgery on both of his Achilles since November. Those factors alone were likely going to keep him from earning anywhere close to $11 million in 2018. (Trumaine Johnson got the biggest deal on the cornerback market this offseason, a reported $34 million in full guarantees from the Jets. But Johnson is 28 and had played the last two seasons on the franchise tag. He had significant leverage.) To compensate, Sherman bet on himself by leaning on the incentives.
Sherman got a $3 million signing bonus—the only part of the deal that's fully guaranteed. If he passes a physical at the start of training camp, he'll collect another $2 million. His 2018 base salary is an additional $2 million. And $2 million more can be earned if he's on the 46-man (i.e., active on game day) roster each week ($125,000 per game). Just that there gets him to $9 million—something only 18 other cornerbacks average on a per-year basis. After that, Sherman can earn up to $4 million more in performance incentives: $1 million for playing 90 percent of the defensive snaps, $1 million for making the Pro Bowl, and $2 million for making the Associated Press All-Pro team.
In a pointed critique of Sherman's deal, Ben Volin of the Boston Globe called that 90 percent play-time percentage "insanely high." But in every season from 2012 through 2016, Sherman played no less than 94 percent of the snaps in Seattle. If he's healthy—a big if, granted—chances are he can do that again.
Again, too, when it comes to Sherman's health: He was still playing at a high level before he got hurt in Week 10 of last season. To wit:
Sherman has been to four Pro Bowls—most recently in 2016—and he's been an All-Pro three times, though not since 2014. These are going to be difficult benchmarks to achieve, especially now that Marcus Peters and Aqib Talib have joined the Rams, ratcheting up the competition in the NFC. But these are still incentives that could bring Sherman's earnings either back to or above what he was scheduled to earn in Seattle in 2018, anyway. (Again, assuming he's healthy.)
Nothing in Sherman's deal is guaranteed beyond 2018. His 2019 base salary is $7 million, though it becomes $8 million if he makes it to the 2018 Pro Bowl. He again has per-game roster bonuses totaling $2 million, though that number is reduced to $1 million if he makes the '18 Pro Bowl. Qualifying for the '18 Pro Bowl also would make Sherman's 2019 base pay guaranteed for injury on the third day of the '19 league year (sometime in mid-March) and fully guaranteed on April 1, 2019. As Florio noted, this would not keep Sherman from getting cut after '18 if he were to get hurt in '18, since the injury protection would only kick in next March. The playing time and performance incentives in '19 are the same as in '18. And that entire 2019 pay structure is the same in 2020.
There are substantial risks here for Sherman. He'll have to stay healthy and play at a high level to earn a lot of what he's contractually owed. And, as Volin wrote, if he were to become an All-Pro again in 2018, he'd be locked into a below-market contract. Which is true: A one-year deal with (possibly) a bigger guarantee would have allowed him to test the market again in a year, with significantly better leverage.* But keep in mind that Sherman told Peter King of Sports Illustrated that San Francisco was an attractive destination, both for off-field reasons and for the opportunity he'll have to play the Seahawks twice a year. ("I'm vengeful in that way," Sherman said.) Volin viewed this as emotion influencing Sherman's decision. But he's certainly not the first player to choose a free-agent destination for reasons that go beyond money.
Sherman also isn't the first player to represent himself. Former Louisville quarterback Lamar Jackson is heading into the draft on his own, and Chargers offensive tackle Russell Okung also serves as his own agent. This website dunked on Okung twice (here and here) for the team-friendly deal he negotiated with the Broncos in 2016. But Okung had bet on himself. Last year, he parlayed that bet into $25 million guaranteed and $12 million in Year 2 guaranteed money with the Chargers. Until Nate Solder and Andrew Norwell surpassed him this week, Okung had gotten himself the richest average annual value ($13.25 million) of any offensive lineman in the league.
Critics of Sherman's negotiating prowess ignore how prevalent team-friendly details like injury splits, per-game roster bonuses, automatic voids, and one-year deals have become in today's NFL—on contracts being bargained by agents! Volin held King's tick-tock of the Sherman-49ers talks against Sherman, seizing on certain moments in the negotiations that ostensibly revealed Sherman's naiveté. But granular descriptions of bargaining sessions are rare, and frequently they're told from the agent's side, with an emphasis on how well the agent used his advantageous bargaining position. (Agent David Canter's description of the Olivier Vernon talks with the Giants in 2016, and Team Revis's walkthrough of Darrelle Revis's 2015 dealmaking with the Jets come to mind.) But when players get rolled by teams, we never get the inside dirt on where an agent might have tripped himself into a major concession.
An example: Three years ago, cornerback Antonio Cromartie, who was relatively healthy and about to turn 31, returned to the Jets on a deal initially reported to be four years, $32 million. Turns out, only $5 million of that was fully guaranteed, with a practical guarantee of $7 million. Nothing was guaranteed beyond Year 1. Cromartie didn't play well, and the Jets cut him after one season. He collected $7 million—the same practical guarantee Sherman is getting from the Niners in 2018. Cromartie's agent? The same Ben Dogra who used to rep Sherman. Look, Florio is correct that every player needs a good agent. But in a league where it's commonly understood that the system favors management, Sherman is being held to a standard that rarely, if ever, applies to individual agents by name.
Florio rapped Sherman for loading up on $2 million in per-game roster bonuses by pointing out that Aaron Rodgers and Jimmy Garoppolo have much smaller pay-as-you-go features built into their deals. But Rodgers and Garoppolo are also star quarterbacks, the one group of players with enough leverage to funnel significant compensation into a more secure structure. It's no accident that Kirk Cousins—a quality quarterback, even if he's not on par with Rodgers or Garoppolo—broke the ice by strong-arming his way into a fully guaranteed deal. A league with four years of fixed costs for drafted rookies just isn't going to view a 30-year-old cornerback with a recent history of leg injuries the same way.
Sherman's critics haven't suggested what specific better terms he could have gotten with an agent. Volin pointed out that an agent could have waited longer to gauge the market as free agency unfolded, while Florio said an agent could have expertly played competing offers off of what the Niners presented him. But, as Sherman told King, three different teams told Sherman the incentive package he had on the table in San Francisco was too rich for them. What's to say something significantly more substantial was going to materialize?
Is some of Sherman's ego talking there? Of course. And none of this is to suggest Sherman bargained for the best contract imaginable. He could have asked for a smaller Pro Bowl incentive, instead shifting some of that money into the per-game bonuses. He could have put more of that performance bonus into a workout bonus, or a Week 1 roster bonus. He could have staggered the playing-time percentages a bit (e.g., one benchmark at 70 to 79 percent, another at 80 to 89 percent, a third at 90 to 100 percent). And he could have insisted that any future injury guarantees kick in immediately after he's selected for the Pro Bowl. But beyond that, it's hard to see exactly what Richard Sherman could have done that was significantly better.
* This sentence was changed after publication. An earlier version incorrectly stated that Sherman would have security in Year 2 if he were to play well in Year 1, which is actually something that would work against him, as a commenter noted.