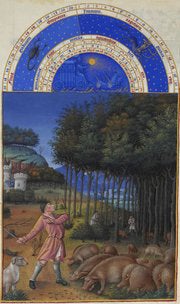 We're reviewing each month of the past year leading up to New Years Day. We call it, imaginatively, "Year In Review." Enjoy the trip down the lane of diminishing memory!
NOVEMBER HIGHLIGHTS
• November 9. We proudly introduced the planet to ammo with flavor.
• November 9. The SHOTY Tournament kicks off. Yes, it has been going on that long.
• November 11. Insanely, "You're With Me, Leather" is written into a scene on "Las Vegas." This was like waking up and watching Matt Lauer reading our college term papers on the air.
• November 17. On the eve of the most heated Ohio State-Michigan game in recent memory, former Wolverines coach Bo Schembechler dies. Even the Dead Schembechlers bow their heads in tribute.
• November 21. Bobby Bowden is attacked by the eBay.
• November 22. Michael Irvin explains to us the magical source of Tony Romo's power.
• November 29. The Rory Fitzpatrick campaign allows NHL fans to stuff the ballot box by being one of the few human who vote for the NHL All-Star Game.