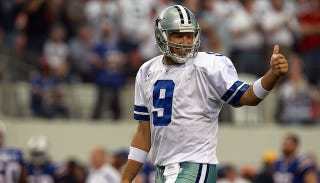 This is definitely the downer out of today's three NFL games—but if you're a good American, then you're in a food coma by now, so just keep drinking and everything will go by in an easy blur.
Tony Romo somehow has the Cowboys (6-4) on a three-game winning streak; the 3-7 Dolphins are on a three-game streak of not Sucking For Luck as much as usual. It's a Thanksgiving miracle.
Talk about the game here. Make sure you talk to your grandma, too.