Yesterday, to help you out with your pool, Grierson made predictions in all the technical Oscar categories. Today, we both make our predictions for the eight major categories, the ones you actually care about. Let's go to it.
BEST ADAPTED SCREENPLAY
Argo, Chris Terrio.
Beasts of the Southern Wild, Lucy Alibar & Benh Zeitlin.
Life of Pi, David Magee
Lincoln, Tony Kushner
Silver Linings Playbook, David O. Russell
Leitch: When I first saw Lincoln, I assumed this award was Kushner's to lose. It's a smart, literate, well-structured and funny script, one that Steven Spielberg seems to slavishly follow, a rarity for him. But then the Argo groundswell hit, and even though I'm still skeptical it's going to be the sweep everyone else thinks it will be, the fact that it's threatening Kushner in this category is a sign of how far opinion has changed there. That said, I'm going to go with Lincoln here.
Grierson: With Argo's momentum building, it's very possible it'll pull off the win in this category as well. But one of Lincoln's selling points from the beginning was its rich screenplay by Tony Kushner, who won a Tony and a Pulitzer for his play Angels in America. At this point, picking against Argo for anything is risky and Chris Terrio's Argo script could pull off the upset, but I think Lincoln gets a win here.
BEST ORIGINAL SCREENPLAY
Amour, Michael Haneke
Django Unchained, Quentin Tarantino
Flight, John Gatins
Moonrise Kingdom, Wes Anderson and Roman Coppola
Zero Dark Thirty, Mark Boal
G/O Media may get a commission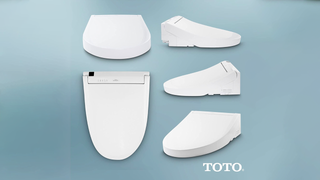 44% off
Toto Washlet Electronic Bidet Toilet Seat
Leitch: No obvious favorites, though in a my perfect world, Zero Dark Thirty is sweeping everything. The goodwill, not to mention the financial success, of Django Unchained is the pick here; it will sure be more fun to watch Tarantino give a speech than Michael Haneke. (Though I'd love to see the Fake Haneke Twitter account win.)
Grierson: I think the easiest to eliminate as possible winners are Flight and Moonrise Kingdom. That leaves three options. Amour introduces us to two well-drawn characters, but this is a foreign-language picture, which very rarely win the screenplay award. Django Unchained is full of colorful scenes and dialogue, but it's also a bit long. Zero Dark Thirty is the most meticulous and absorbing, but the film was hit hard by controversy over its supposed pro-torture argument. This might be the most difficult call in an Oscar season that's full of them. I'm going to go with Amour.
BEST SUPPORTING ACTRESS
Amy Adams, The Master
Sally Field, Lincoln
Anne Hathaway, Les Miserables
Helen Hunt, The Sessions
Jacki Weaver, Silver Linings Playbook
Leitch: The easiest pick on the board. Anne Hathaway had this in the bag halfway through her "I Dreamed A Dream" solo.
Grierson: If Lincoln hadn't run out of gas, Sally Field might have had a legitimate shot at the upset. But Anne Hathaway is going to win. I'm sure this won't make the internet mad at all.
BEST SUPPORTING ACTOR
Alan Arkin, Argo
Robert De Niro, Silver Linings Playbook
Philip Seymour Hoffman, The Master
Tommy Lee Jones, Lincoln
Christoph Waltz, Django Unchained
Leitch: There has been a late charge by De Niro, but I'm really hoping he doesn't win; he's fine in the movie, and I know De Niro wasn't won in a while, but I'd rather him win for a movie when he really brings it, rather than just tags along. I think it's down to Jones and Waltz, and as much as Jones is the conventional choice, I think people just love Waltz too much. As I mentioned in my Django review, Waltz was born to recite Tarantino dialogue. Christoph Waltz is the pick.
Grierson: In a category where there are five previous winners, there's no plucky underdog to champion. It's my hunch that the Academy goes with Robert De Niro for the simple fact that they want to reward him for a comeback performance after too many years in too many bad movies. Even a couple of weeks ago, I was convinced Tommy Lee Jones was going to win. Not anymore.
BEST ACTOR
Bradley Cooper, Silver Linings Playbook
Daniel Day-Lewis, Lincoln
Hugh Jackman, Les Miserables
Joaquin Phoenix, The Master
Denzel Washington, Flight
Leitch: So Daniel Day-Lewis has played three roles in six years, and he's going to win Oscars for two of them. He's terrific — new, yet familiar — as Lincoln, but he's so admired you almost expect, if someone else wins, that actor to proclaim it an accident and just give Day-Lewis the Oscar anyway.
Grierson: People may have cooled on the movie, but everybody still loves the man who plays the main character. By the way, if Daniel Day-Lewis does win, it'll be the first time any actor has won an Oscar for appearing in a Steven Spielberg film.
BEST ACTRESS
Jessica Chastain, Zero Dark Thirty
Jennifer Lawrence, Silver Linings Playbook
Emmanuelle Riva, Amour
Quvenzhané Wallis, Beasts of the Southern Wild
Naomi Watts, The Impossible
Leitch: Definitely the most competitive category: Only Watts and Wallis don't seem to have much of a chance. Riva is the sentimental choice, and I think in a weaker year she wins. But Chastain and Lawrence are beloved young stars in big, ambitious movies, with roles that let them show off just how great they are. Both actresses will have plenty more chances, but I still think it's going to be Jennifer Lawrence. She's now huge because of The Hunger Games, which only helps her, and she's been such a fun presence on publicity tours that everybody loves her. It doesn't hurt that she absolutely kicks that movie's ass.
Grierson: The popular upset pick in this category is Emmanuelle Riva, who will turn 86 the day of the Academy Awards. She's a screen legend, she had never before been nominated, and she plays a dying character in Amour. Plus, frontrunner Jennifer Lawrence is incredibly young (22) and there's an expectation that she might have other chances to win in the future. I'm still going with Jennifer Lawrence anyway. Hers is the central performance in a movie that has a lot of support. Even more than De Niro, she has the best chance of benefiting from the Academy's love for Silver Linings Playbook.
BEST DIRECTOR
Michael Haneke, Amour
Benh Zeitlin, Beasts of the Southern Wild
Ang Lee, Life of Pi
Steven Spielberg, Lincoln
David O. Russell, Silver Linings Playbook
Leitch: With Ben Affleck, Kathryn Bigelow and Quentin Tarantino famously left out of the nominees, there's really no one left to give it to other than Steven Spielberg.
Grierson: It seems unlikely that Benh Zeitlin will pull off the upset, but all the other four nominees have a legitimate shot at winning. Life of Pi and Silver Linings Playbook both inspire more passion than Lincoln, which gives, respectively, Ang Lee and David O. Russell a chance. And the Academy could decide to honor Michael Haneke for Amour as a way of celebrating his body of work. But with Argo not in the running, Best Director this year feels like Second Prize, which I still think is Lincoln as far as the voters are concerned. So it's Steven Spielberg.
BEST PICTURE
Amour
Argo
Beasts of the Southern Wild
Django Unchained
Les Miserables
Life of Pi
Lincoln
Silver Linings Playbook
Zero Dark Thirty
Leitch: I'm a purist about this stuff, and it will drive me crazy if Argo wins. Not because it's not good or it doesn't deserve it, but because of generational consistency; typically when a movie has won without its director being nominated, it's because it's bland anyway and the director doesn't bring anything to the table. (Driving Miss Daisy being the prime example.) But Affleck's directing might be what I love most about Argo. I dunno. It feels wrong. Argo is probably your best bet if you're laying down money, but I still think Lincoln is gonna pull it out.
Grierson: After all is said and done, it turns out that Roger Ebert was right all along. Back on September 10, he predicted that Argo was going to win Best Picture. When Ben Affleck didn't get nominated for Best Director, it seemed like Argo was doomed, but just about every guild award since then has gone to his Iran-hostage thriller. Lincoln is more of the "prestige" pick. Silver Linings Playbook is more of the cheerful crowd-pleaser. Amour may appeal to the Academy's older membership. Life of Pi is emotional, Zero Dark Thirty is stirring, Beasts of the Southern Wild is uplifting, Django Unchained is unbridled. But none of them possess the perfect combination of slick entertainment value, precise craftsmanship and clear emotional payoff that Argo does. Honestly, why did we ever think it wasn't going to win?
Grierson & Leitch is a regular column about the movies. Follow us on Twitter, @griersonleitch.