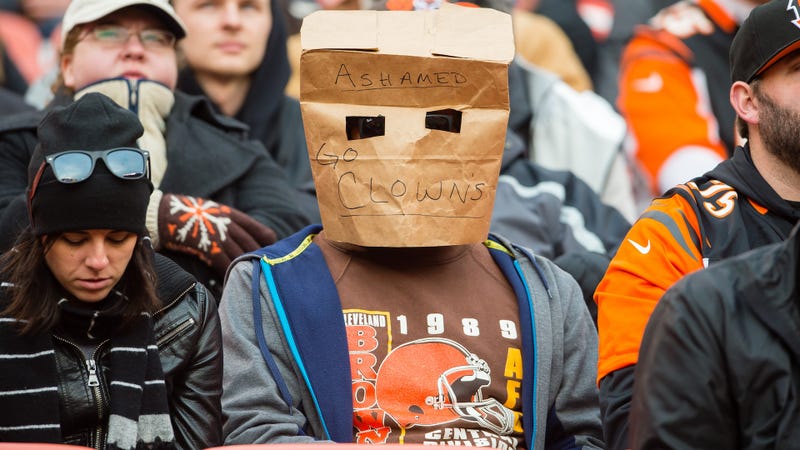 Tony Grossi—a former longtime Cleveland Browns beat writer and current talking head on ESPN 850 WKNR and contributor to ESPN Cleveland—wrote this morning on ESPN.com about the Browns' upcoming decision with the number one draft pick, and how "analytics complicate it." Minutes before the publication of this post the column was taken down; you can see an archived copy here.
Where the piece gets especially strange is when it speculates that the Browns are at the very least basing personnel decisions on Grossi's ESPN colleague Bill Barnwell's columns, and asserts that there's reason to think that Barnwell is secretly working for the Browns. (There really isn't.)
According to Grossi, the obvious thing for the Browns to do is draft Texas A&M defensive end Myles Garrett with the first overall pick and figure things out from there. At least, that was the obvious thing to do "until Bill Barnwell struck again."
Grossi notes that Barnwell's Sloan Conference biography says that he has consulted for NFL and MLB teams, and then writes, "Although there is no mention that Barnwell has served as a consultant to the Browns, the circumstantial evidence is that he has, or does."
The evidence Grossi cites is Barnwell's having consulted for teams; a December column in which Barnwell proposed the Browns absorb Texans quarterback Brock Osweiler into their cap space and acquire a few draft picks for their trouble, months before the Browns made a very similar trade; and the fact that the Browns "failed to fully explain the origination of the unconventional trade"—as if paranoid NFL teams usually give in-depth explanations of the thinking behind complex trades.