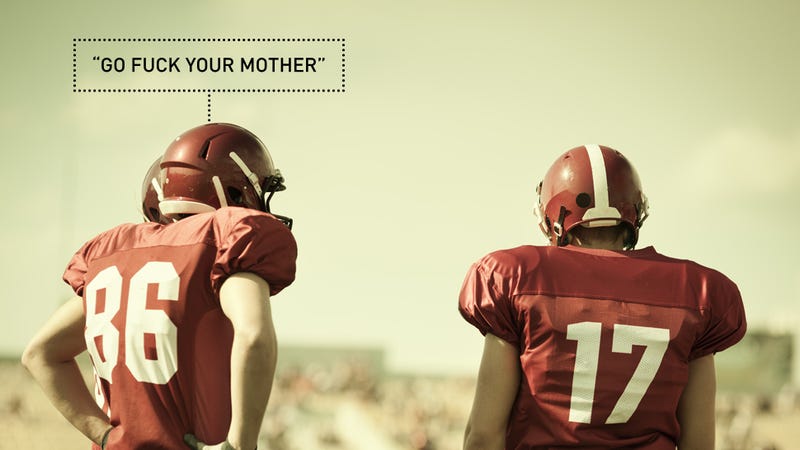 We were sitting around in Jimmy's* room one night during second semester and Jimmy told me I had to have a nickname. I was excited for this. I really wanted a nickname. I thought having a nickname would make me cool as shit. Maybe my nickname would be Margarita, which kind of sounded like my last name! Or maybe it would be Blade. Or Skull. Or Big Ox. Something real badass.
"Your nickname is fucking Doughboy."
Oh.
"I don't wanna be Doughboy," I said. Never tell people that you don't want a certain nickname, because then either that nickname gets further entrenched, or people come up with something even worse. Jimmy chose the latter.
"How about Waste Of Fucking Life?"
"I'm not wild about that one either."
"How about Loaf? You fat fucking loaf of shit?"
"Eh... okay."
"LOAFFFFFFFFFFFFFF!"
And that was my nickname for much of my college career, something I agreed to for reasons that escape me.
I was not the target of bullying by my teammates at school. There were no death threats. There were no broomstick sodomy hazing rituals. I didn't have to pay $30,000 for a team dinner. I got into scraps with teammates, but that was usually as much my fault as theirs. One time, I was purposely annoying a teammate in the school grill and he jumped on top of me and started slamming my head into the ground because I was disrespecting him. And yet I still wanted to be friends with that dude after he beat my ass, because that's how the sociology of football works.
Jonathan Martin knows this. He's the test case for just how strange the bond between guys on a football team can get. Whether or not you want to put the label "bullying" on it is beside the point, because it's a lot more complicated—and potentially more fucked up—than that.
Football teams are cliquish in the same way that any sports team can be cliquish. Part of the reason I played football (okay, all of it) was because the sport seemed to present a ready-made clique for me to join. I could play football, tell people I was on the team, wear the team jacket to parties, and then they would automatically assume that I had friends, and that would make me cool! My cool teammates and I would win games, chase tail, and get into any number of KRAYZEE shenanigans, I tell you!
But that's not how your average football team works. They can be subdivided into any number of social circles. On your average college football team, cliques can form based on your year (guys who come in together as freshmen, and maybe even tour the campus together as prospects, often become joined at the hip), your race, your religion, and/or your position. The latter is especially true of offensive linemen, where both Martin and his alleged tormentor—Richie Incognito—play. Coaches love an offensive line that is cohesive on and off the field. You are encouraged to become a clique. You are encouraged to see your line as a team within the team. A band apart. A faction of the team that is even teamier than the team itself. You're even given your own collective nickname. YOU GUYS ARE THE DIRT DOGS, or whatever the fuck. You are encouraged to be brothers in arms.
You are socialized to be with these people and not other people. Those who aren't on the team are a waste of time. And that's where shit can get dicey, because a football team is just as random a collection of personalities as any workplace or student body. You're not always going to like your teammates, and they most certainly aren't always going to like you. If you're as weak-minded as I am, the latter fact can ruin you. Imagine being Martin and experiencing the horrific sensation of having to be—perhaps wanting to be—blood brothers with a guy who calls you a half-nigger.
I went to a boarding school that accepted a lot of post-graduate students, guys who had already finished public school but went to boarding school for an extra year to help improve their college prospects. I was not a PG, but I desperately wanted to be one. When there was room at the table, I sat with them at lunch. I would do that weird thing where you show up to a guy's dorm room unannounced and just hang out on the couch because you don't know what else to do with yourself. One time, my friend(?) John dared me to eat an entire jalapeno at dinner, and I did just so he'd think I was all right. The fire burned so hot that I threw up all over the dining hall floor. To a small group of guys on the team, I was known as Jalapeno after that. (Not a bad nickname! MISSION ACCOMPLISHED.)
After boarding school, I spent a disastrous semester at Michigan before transferring to Colby College, a tiny liberal arts college up in Maine. They had a football team at Colby, and I figured that the easiest way to make friends would be to join the team for my sophomore year. I remember seeing a group of freshmen guys in COLBY FOOTBALL winter shell jackets sitting on the hill when I first showed up in second semester of that freshman year. There were maybe five or six guys. THESE ARE MY GUYS!, I thought. So I spent the rest of the semester doing offseason workouts with them and again doing that thing where you pop into a dude's dorm room and just sit there like a moron. I was with the group but not of them, and I pretty much stayed that way for the next three and a half years.