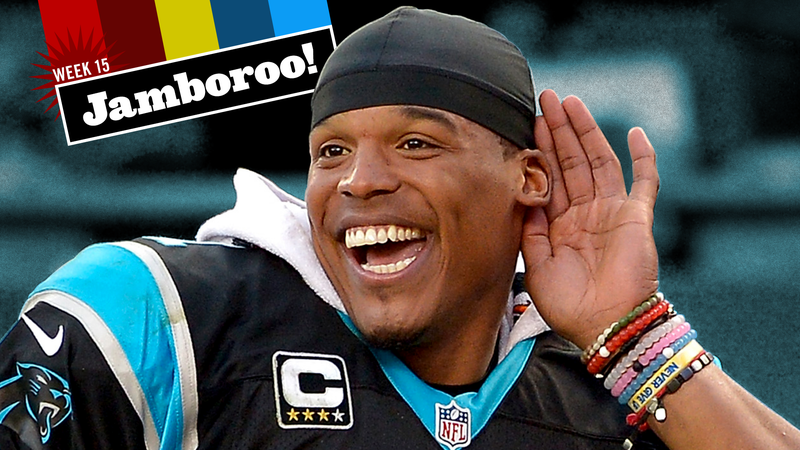 Drew Magary's Thursday Afternoon NFL Dick Joke Jamboroo runs every Thursday during the NFL season. Email Drew here.
You know, it wasn't that long ago that the football world was obsessed with Cam Newton's negative body language. Steve Smith, then a teammate, commented on his "sulking". Hell, even I made fun of Cam rocking a grandma sweater in a postgame press conference and looking like he just wanted to find a bowl of hot soup. Outside of RG3, I'm not sure any player has ever has his every word and every microscopic expression as heavily scrutinized as Cam Newton. And it's been this way since the beginning of his career. Remember the infamous Nolan Nawrocki scouting report?
Very disingenuous — has a fake smile, comes off as very scripted and has a selfish, me-first makeup. Always knows where the cameras are and plays to them. Has an enormous ego with a sense of entitlement that continually invites trouble and makes him believe he is above the law
And Peter King's "icon" tweet?
Outside of politics, sports is the main field where people love to construct a profile for other people based upon the flimsiest of visual and audible evidence. I know this because I do it ALL THE TIME. Why does Bill O'Brien's face look like that? He must be a real asshole! And for some athletes and coaches, an unwarranted reputation can have a real and detrimental effect on your career. Sometimes all the haterade is too much to overcome. And it seemed, for a while, that this would be the case with Newton.
Which is why it's been such a great surprise, perhaps the only great surprise of the 2015 season, that Newton has not only broken through and become the most valuable player in the NFL, but that he's done so by EXPLOITING the very same body language that people used to crush him for. Newton is now the best player in the game, AND he's the most expressive, and it's not crazy to think those two qualities feed off one another.