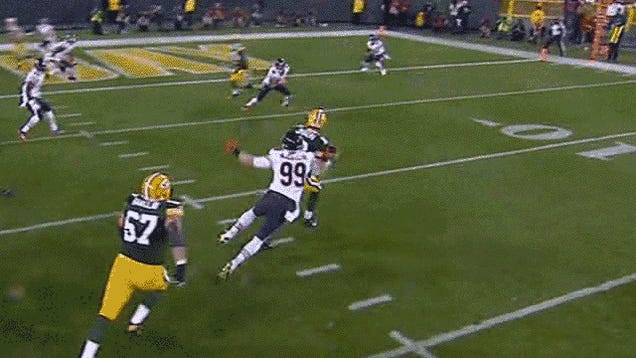 Losing Rodgers to major injury would be the nightmare of all nightmares. He makes everyone's job easier. Yet, no organization would be better equipped to handle it than Green Bay. Fools will cry that I'm jinxing Rodgers and the Packers by writing about this.
This is a pretty remarkable coincidence. It gets even more remarkable.
Having spent much of the week researching the long career of No. 2 quarterback Seneca Wallace and the brief career of practice-squad quarterback Scott Tolzien, the guess here is that even if the Packers were to lose Rodgers early Monday night against the Chicago Bears they'd find ways to finish 11-5.
Rodgers went down three minutes into the game; the article basically calls the injury and the timing. The only thing it gets wrong, really, is the entire thesis, which is that the Packers can survive without Aaron Rodgers. Why is a columnist openly hypothesizing about an injury to Rodgers? No idea! It's a weird thought experiment-cum-love letter to the Packers front office and coaching staff.
A great deal of time is spent discussing how the Packers have been able to weather the storm of a series of injuries on both the offensive and defensive sides of the ball to still field a competitive team. Wide receivers get hurt, the next guy steps in and does the job. Ditto the running backs. Green Bay lost its defensive leader in Clay Matthews and continue to win. Over the years, the Packers have drafted and selected free agents and coached those players in such a way that these losses are minimized. It's a convincing argument.
Except all along the quarterback has been Aaron freaking Rodgers. In 2011 he played 15 games, the fewest he has ever played since being named starter in Green Bay. He threw 45 touchdowns. Nine percent of his pass attempts were touchdowns that year. Last year he slowed down a bit and only threw 39 touchdowns. In seven years he's thrown 50 interceptions. The guy is never hurt and always awesome.
Mike McCarthy said in his post-game comments that an official diagnosis has not yet been made. It's possible he's out for a couple of weeks and Green Bay can just plug Seneca Wallace in and wait for Rodgers to return while fattening up on the likes of the Eagles and Giants.
Most of Wisconsin is certainly hoping that because no matter how ably he fills in, the difference between Wallace and Rodgers is an ocean. By comparison, the difference between literally anyone else on the Packers and the guy behind him is just one atom of hydrogen. It's great that the Packers survived the loss of Randall Cobb, but that's because it doesn't matter nearly as much who's catching if Aaron Rodgers is throwing.