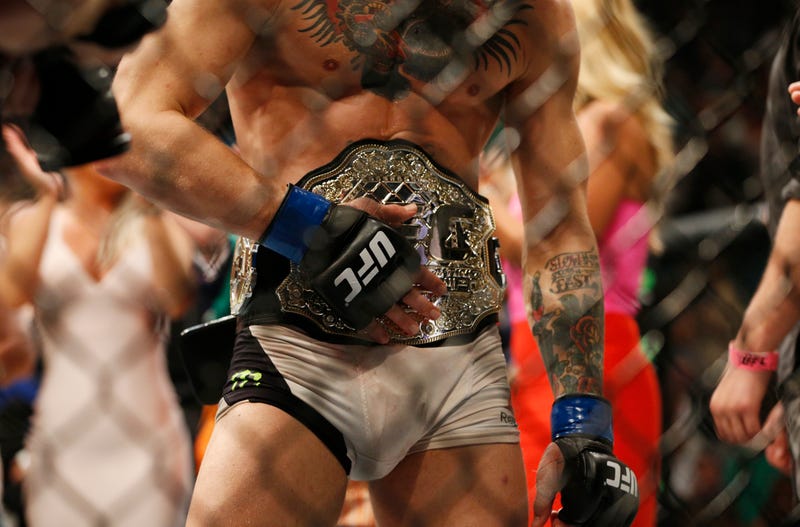 Over the next few days, the Ultimate Fighting Championship is running what it hopes will be the biggest and best weekend of fights in the history of the sport, a weekend that will determine the near future of the biggest and best promotion in mixed martial arts. The UFC has scheduled three straight fight cards, which will culminate with the long-awaited featherweight title bout between Brazilian champion José Aldo, one of the very best fighters in the sport's short history, and Irishman Conor McGregor, perhaps the most popular man in the promotion.
There's history here. The UFC identified McGregor as a potential star before his first UFC fight against Marcus Brimage in April 2013. McGregor knocked Brimage out spectacularly, and then beat Max Holloway in a decision a few months later. The Irishman, hobbled with a knee injury, had a poor performance against Holloway, but he talked shit through it all, and the Boston crowd ate him up. This is when UFC president Dana White, who'd already taken a liking to McGregor, started actively positioning him as one of the sport's future superstars. The UFC carefully curated his next few fights. McGregor is a striker with a somewhat suspect ground game, and the promotion pitted him against three smaller, foolhardy or limited featherweights who could only stand and trade shots with him. He knocked them all out after leadups to the fights that cemented him as one of the brashest, most magnetic personalities in all of sports.
His rise almost perfectly coincided with the emergence of women's bantamweight champion Ronda Rousey as a crossover phenomenon, and the fall of Jon Jones, the great light-heavyweight champion who had his belt stripped when he was arrested following a car accident in Albuquerque, N.M. earlier in April. Suddenly, McGregor was alone at the top of men's MMA.
McGregor, in some ways, is a perfect star. He's an unabashed self-promoter who talks magnificent shit and does so in English. In the cage, his eerily smooth, powerful punches and kicks are virtually unique, and spellbind fight experts and casual fans alike. His two losses came before anyone was looking, and so his highlight reel finishes afford him an air of invincibility.
On sporting merits, he didn't really deserve a title shot this summer against José Aldo, but he got one anyway. The UFC threw all its weight behind him, and spent a fortune to fly McGregor and Aldo to eight cities in five countries around the world to promote UFC 189, on July 11.