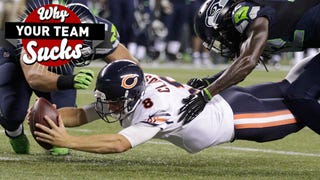 Some people are fans of the Chicago Bears. But many, many more people are NOT fans of the Chicago Bears. This 2014 Deadspin NFL team preview is for those in the latter group.
Your team: Chicago Bears
Your 2013 record: 8-8.
Your coach: Marc Trestman, who has turned out to be pretty good! Sure, the defense is abominable, but look at all those deep passes that are actually completed! NICE. Trestman's emergence as a sound football mind means we can now move on to the part where the Bears nickel-and-dime him at every turn, until he finally gives up and walks away. That's how it works in Chicago. Either you're a shitty coach and you fail, or you're a decent coach who gets lowballed and suffocated by management ... and you fail.
Your quarterback: Jay Cutler. Still. Thirty years from now, Bears fans will still argue about whether they kept the wrong quarterback. If you put Cutler up against Josh McCown in a blind taste test, McCown would probably win. He had a better completion percentage last year, a better TD/INT ratio, more yards per attempt. He's more durable, and he's not a prick. But Cutler was a first-rounder and the Bears traded away the blue-and-green side of the Monopoly board for him, so they peer-pressured themselves into keeping him around. These are the Bears, so any decision they make will be wrong.
Earlier this year, I got a drink with a friend of mine named Mike, who's a big Bears fan. I asked him what he thought about Cutler. Here was his reply: "I really like Jay Cutler. I think he's a pretty good quarterback, and I'm dead certain that we will never ever win a Super Bowl with him." So there you have it.
By the way, meet your new backup QB:
That photo never gets old. I hope they engrave it on Jimmy Clausen's tombstone. I think the Bears signed Clausen specifically because he is the one QB in football who is a less appealing person than Jay Cutler, so that people never root for Cutler's backup again.
What's new that sucks: The team brought in 9,000 free agent safeties, mostly to prevent this from happening again:
Oof. That is hard to watch, man. It's like they weren't even trying. You can split the middle of this defense like it's Carmella Bing. The Bears also lost Julius Peppers to free agency (the same Packers team celebrating above, actually) and replaced him with Jared Allen. I am a Vikings fan, and so it hurts me to know that Jared Allen is gone. However, I also know that everyone DESPISES Allen's lasso sack dance, and that analysts will stumble over themselves to give Allen a rimjob anytime he runs 40 yards down the field to tackle a ballcarrier that got free because he failed to keep contain in the first place. And now you Bears fans will have to pretend as if none of this bothers you. I did it for a while, and you'll adjust in no time.
Also, Devin Hester is finally gone. You can stop pretending like he was some remarkable secret weapon now. Bragging about special teamers is like bragging about your nose mole being a distinguishing mark.
What has always sucked: I lived in Chicago for three years, and even if they grew up in the super-white, John Hughes parts of Chicago like I did, dipshits from Chicago will always ACT as if they grew up near Cabrini Green and spent their formative years bootlegging for Al Capone. HE PULLS A KNIFE, YOU PULL A ZIMA. The whitest areas of Chicago are basically Portland, with douchey experimental restaurants where people eat food foraged from public parks, but you get to pretend you're HARD because 82 people get shot every weekend seven miles and 19 police jurisdictions away.