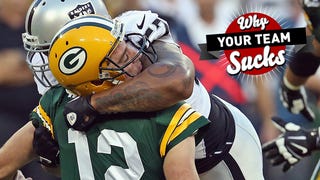 Some people are fans of the Green Bay Packers. But many, many more people are NOT fans of the Green Bay Packers. This 2014 Deadspin NFL team preview is for those in the latter group.
Your team: Green Bay Packers
Your 2013 record: 8-7-1. For some reason I thought they had a better record than that, even with Aaron Rodgers hurt, but nope. That was their weird record. They were the only division champ last year with a negative point differential.
Anyway, the Packers season ended with a loss at home from the Niners in the Wild Card round. Maybe next time, The Beav will teach you guys how to properly block a kick.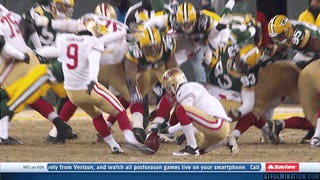 Nothing brings me more delight than watching the Packers get owned by the Giants, Falcons, and/or Niners in their supposedly impenetrable cold weather. You people think your stupid frozen tundra, which is NOT tundra, somehow gives you a magical edge over all other opponents and fanbases. And then moron Eli Manning rolls in and cockslaps you all over the place. God, just thinking about it makes me wanna take my pants off. Did you know that Green Bay is SOUTH of Minneapolis? It's true. I know the Vikings play inside, but don't go pretending you guys are hardy Eskimo warriors when other people's cold is just as cold as your cold.
Your coach: Mike "The Beav" McCarthy, still reeling from those bad reviews he got for his lead role in Tammy. Anyway, the Beav's main job is to stand there while Aaron Rodgers does everything, and to let Dom Capers call 500 ill-advised blitzes per game. Dom Capers is the guy who thinks it's a brilliant idea to run the PUNT BLOCK as a defense in Madden.
Your quarterback: Aaron Rodgers, shown here sucking on some toes…
Would a gay man chow down on a dirty lady foot? I think not. Aaron Rodgers loves himself some ladies, even if it means swallowing a few loose flakes of old toenail polish.