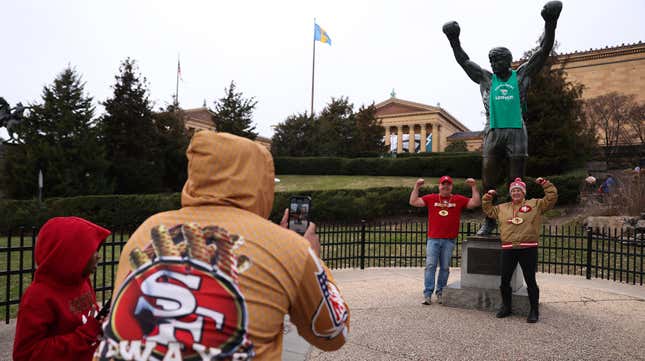 The San Francisco 49er faithful came prepared to Philadelphia, bringing more beef from the bay area than an authentic Philly cheesesteak sandwich. In the days leading up to this clash for the NFC title, Niners fans have trolled through the city of brotherly love spreading disrespect like funk in a gymnasium. It began when the first wave of west coasters arrived, and some anonymous fan draped red and gold Niners gear over the Rocky Balboa statue.

Best Division in the NFL in 2022? | Agree to Disagree
Even former Eagles running back LeSean "Shady" McCoy was annoyed by the blatant disrespect displayed by visiting fans who had the audacity to mock a fictional character like Rocky. That's right; he's only real in the mind of Philly folk. But Niners Nation apparently doesn't care about that or the city of Philadelphia's feelings.
G/O Media may get a commission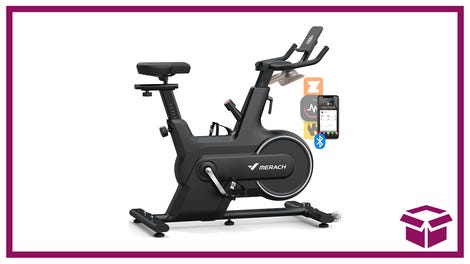 14% off + Coupon
Merach Indoor Cycling Bike
49ers fans with the ultimate show of disrespect
Not only did 49ers fans dress Rocky in San Francisco gear, but they've also dubbed their rookie quarterback "Brocky" for the weekend. All Eagles fans could do was sit back and watch their beloved "hero" be desecrated by the so-called wine and cheese crowd. These bay area fans are ruthless and have shown up to Philly ready for a takeover.
Niners fans even brought in a body double for Kyle Shanahan and filmed him mocking Rocky again by jogging up the museum stairs and celebrating at the top. This crop of 49ers won't stop until they see their team back in the Super Bowl, winning championship No. 6. They obviously don't care who they play or where it is. In their minds, it's time for the Philly takeover.
With all that said, the actual 49ers on the field need to be stomping into Lincoln Financial Field with the same energy. Run up in their spot like it belongs to San Francisco. The fan base is already on it. Now the players need to get on that hype. Bring the pain, bring the noise, and show Philly the deal.

If the Niners don't win this battle, the trolling from Philadelphians will be of the most epic proportion on the heels of all the disrespect shown toward their city the past few days. Some viewed the Eagles as overrated this season based on schedule, but they were the best team in the NFC record-wise all year.
San Francisco is the only NFC team equipped to beat Philly in a game of this magnitude. The only other team that had a chance was the Dallas Cowboys, and we saw them fold again under the bright lights against the Niners. Now it's up to the 49ers and Brock Purdy to end this five-month reign of terror that we've all been forced to endure from Eagles fandom.