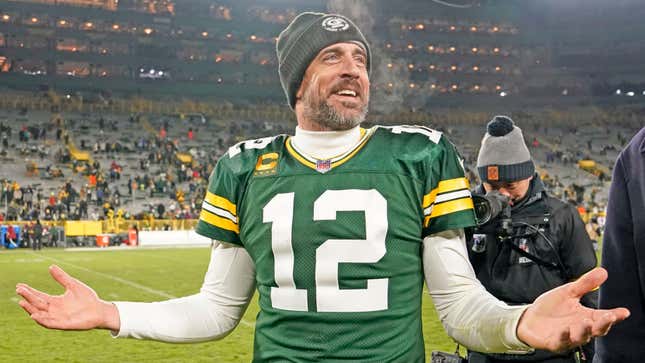 Aaron Rodgers is still the quarterback for the Green Bay Packers. More than a week after telling the football world he wants to be in New York taking snaps for the Jets next season, there's been very little noise out of East Rutherford, N.J., regarding Mr. Rodgers — just the other additions the team has made. This feels like a story that's almost destined to have a very anticlimactic ending. It sounds a lot like an April Fools' day joke.
Aaron Rodgers on the brink of disaster | Trash Talkin' Tuesday
That would be the most incredible twist possible to this saga. A Vince Russo-esque swerve for all the wrestling fans out there. (IT WAS ME, AUSTIN AARON!) The world knows Rodgers wants to wear Jets green in 2023, and now the ball is in the Packers' court. They hold the key to when this gets done. However, a nicely timed tweet unveiling how they've fooled us all and plan to move forward with A-Rod instead would send the sports media world into an uproar.
All the wasted time and resources spent by everyone following this story in hopes of getting the scoop. The demands of certain players the Jets need to sign to make Rodgers happy. Nathaniel Hackett was brought in as the Jets' new offensive coordinator. Call it what you want, but that will always look like a move made to attract Rodgers because of their relationship. Adam Schefter and other insiders would be cursing Rodgers and Green Bay's name for putting them through all this, only to have no real outcome. Rodgers even went as far as telling Schefter to lose his number.
The looks on people's faces would be priceless once they found out this was all an elaborate ruse. Of course, we know the actual resolution will be far less entertaining. They have been affectionately dubbed the No Fun League for a reason. In the age of instant gratification, this whole ordeal is taking way too long for most. By the time this finally gets done, the breaking news will happen on a Friday afternoon when half the country won't even notice.