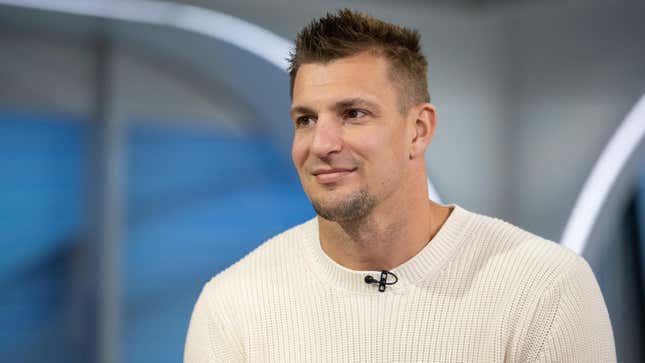 Former Super Bowl-winning tight end Rob Gronkowski has never been shy about sharing his opinion. The four-time Super Bowl winner was on Up & Adams with Kay Adams this week, and she asked Gronk about Aaron Rodgers' recent comments about winning more MVP awards. Rodgers said that he thinks he can win another MVP in the right situation ahead of winning another ring, which is what Gronkowski took exception to.

Aaron Rodgers on the brink of disaster | Trash Talkin' Tuesday
"Why are you thinking MVP?… It should be Super Bowls, you should never be thinking MVPs…"
Winning the highest individual accolade in the NFL is a great accomplishment, but football remains a team sport, and Super Bowls should be the goal for a future Hall of Fame quarterback like Rodgers. So, Gronkowski's response to Rodgers' quote is spot on. But this is also on brand for Rodgers, who's been all about himself for his entire career.
Rodgers has always been that guy
It's always been about Rodgers and what he could gain or accomplish, not what he could attain in helping the Packers. He did a better job hiding his selfishness from the public early in his career. We've heard whispers about this for years, whether from former teammates, general managers, or members of Rodgers' estranged family.
As Adams mentions in the clip, Tom Brady would never say anything like this. At least he wouldn't do it publicly, and Brady has three MVP trophies. Brady wants to add Lombardi No. 8 to his Hall of Fame resume, while Rodgers is destined to retire with only one. That one comment from Rodgers gives great insight into the different mentalities of players.
Most fans outside of New England or Tampa Bay can't stand Brady and some with good reason. But you can't say he hasn't given his all to win as much as humanly possible during his 23 seasons in the NFL. Hell, Brady sacrificed his marriage to win. Rodgers seems more worried about stats and what suits him best. Gronk has that goofy persona, but he gets it.
Having played for Bill Belichick and alongside Brady for a decade, you learn a few things. It can't be about the individual if you want to win as much as they did in New England. The team needs to come first. If you're an elite player like Rodgers, Brady, or Gronk, then awards will follow. But it should always be about winning championships, not awards.