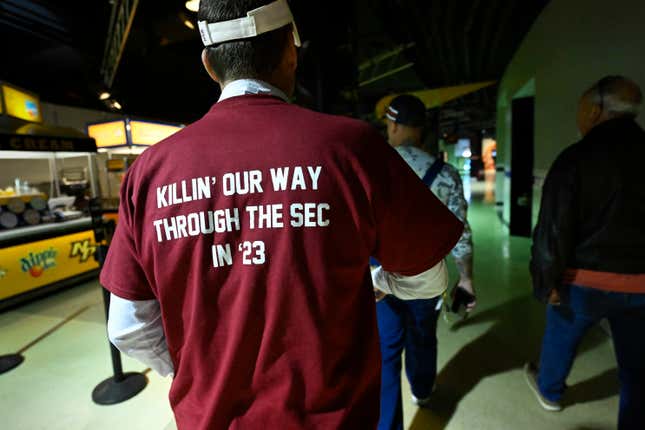 In this iteration of fans disgracing their teams, an Alabama Crimson Tide basketball supporter showed up at the SEC tournament on Saturday wearing a T-shirt with GOATS on the front, and "Killin' our way through the SEC in '23" on the back.

Kansas head coach Bill Self's legacy is 'untouchable' | Comedian Rob Riggle
I understand that mullets are making a comeback, but this takes party in the front, sleaze in the back to a whole new level. If you're unaware why it's so heinous, there's an open investigation into a capital murder, and former Tide player Darius Miles and his friend Michael Davis have been indicted by a grand jury.
Brandon Miller, Bama's best player and a projected lottery pick, and teammate Jaden Bradley were interviewed as witnesses in the case that left 23-year-old Jamea Jonae Harris dead. The university hasn't sat down either player for a game, and Tide head coach Nate Oats might as well join the defense team. Through his attorney, Miller has denied any previous knowledge of or involvement in the shooting.
However, this Alabama group is really good, and not just for Alabama. They beat Missouri on Saturday to advance to the SEC title game, and will have a 1 seed all but locked up with a win Sunday. (And probably without it.)
Yet this dumbass fan/fully grown adult thought it'd be hysterical to be that guy. You know the one who makes an inappropriate joke right after someone dies, and then laughs at it despite the joke not being funny or clever. The worst part about the shirt is how insensitive it is to the family of the bereaved, and in a distant second is that the joke was hacky.
It's along the same vein as the Cleveland Browns idiots who welcomed Deshaun Watson with a rape joke, or Tiger Woods gifting Justin Thomas a tampon after outdriving him. I'm sure a few sons of the South are classifying the backlash as cancel culture, and I'd like to be the first to commend them. Because, yes, it is cancel culture, and that visor-wearing fuck deserves to be shredded by internet sleuths.
According to AL.com, the SEC brass is well aware of the shirts:
SEC spokesperson Herb Vincent told AL.com that the fans would not be allowed inside Bridgestone Arena with the shirts on Sunday and that if the fans put them on at any point inside the arena, they would be asked to leave. The SEC fan ticket policy states that tickets are revocable if "user is disruptive, endangers others or uses vulgar, threatening or demeaning language."
Arizona, Texas, and Duke take home conference tourney titles
March Madness is rapidly approaching, so it's time to start taking inventory of who's trending up right now. So, let's do an extremely brisk rundown of the power five conferences that held title games Saturday.
Texas beat Kansas by 20, 76-56, but Jayhawk coach Bill Self missed the game as he's been out due to an undisclosed medical procedure since the eve of the quarterfinal. He's expected to be back for the tournament, and the Longhorns are projected as a 2 seed.
Duke outlasted Virginia to claim the ACC tourney in a game that didn't give either fanbase a ton of optimism for the Big Dance. It was 24-17 at the break, and there were multiple stretches early in the second half when neither club hit a shot or a free throw. It was Blue Devil coach Jon Scheyer's first ACC tournament appearance (and win), and he has his guys on a nine-game win streak heading into the Madness.
UCLA led Arizona by as many as eight in the second half yet couldn't hold off the Wildcats. Neither club could create separation in the final 10 minutes after Arizona closed the gap. It was Zona's Courtney Ramey who played the hero, hitting a three with 18 ticks left to give his team a two-point lead. Following 1 for 2 showings from both teams at the stripe, Bruin Dylan Andrews got an open look from behind the arc for a game-winner, but the shot was a little wide, and the Wildcats won their second straight Pac-12 tourney.