From now until the end of the season, we'll be posting a number of clips from the previous weekend's English Premier League games. If there's a goal, save, dive, lip-read profanity, or hocked sputum we should know about, drop us a line at tips@deadspin.com. (You might also enjoy our better-late-than-never EPL guide.)

An emotional win as the Wanderers come home (Bolton Wanderers 2, Blackburn Rovers 1)
It was a sunny Saturday afternoon in Bolton, but a shadow hung over the Reebok Stadium. Although it felt like much longer, it'd only been a week since Fabrice Muamba's heart stopped in Bolton's FA Cup tie with Tottenham.
Somehow, Muamba is alive, taking, eating, joking. He wanted his team to go on. There was this minute of applause before kickoff, not in memory, but in support. Everyone in the stadium, Blackburn and Bolton supporters alike, chanted Muamba's name. It was the emotional and less-stressful follow-up to the scene last weekend, when the crowd at White Hart Lane chanted similarly, but in a plea for salvation as Muamba was carried off the field without a pulse.
There was a game to be played, however, and an important one at that. Blackburn and Bolton have been living dangerously near relegation all season. Three points either way could decide who remains in the Premiership next year. No one could have blamed Bolton if they weren't ready to play soccer again only a week later. How could they be? But they were. Helped by a crowd in full voice, they controlled the game, and got two headed goals by, of all people, defender David Wheater. Bolton is now two points clear of relegation. We hope manager Owen Coyle was right when he said of Muamba after the match, "He would have got a tremendous boost from it."
G/O Media may get a commission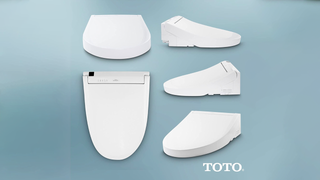 44% off
Toto Washlet Electronic Bidet Toilet Seat
Peter Crouch (yes, Peter Crouch) scores the Goal of the Year (Stoke City 1, Manchester City 1)
As if we weren't going to show you this again. Peter Crouch's goals often resemble the man himself: ungainly, lacking flair, delivered in a jangle of bony right angles. I mean, he's 6-feet-7-inches—stick him in the box and fling some crosses in. But he's always been more graceful on his spindly legs than anyone gives him credit for. This goal proves it. He flicks the first header on off a goal kick, then perfectly strikes a 30-yard volley on its return. The ball doesn't touch the ground until it's on the floor of City keeper Joe Hart's goal. Poor Hart didn't have a chance.
We think it's the goal of the year so far. And Manchester City knows a thing or two about giving up wonder-goals that find themselves played in endless internet loops. Remember Wayne Rooney's bicycle kick goal last year? That was against Man City too.
Crouch's goal put not just the match but City's season in jeopardy. City needed at least a point to stay within shouting distance of United at the top of the table. Like last week, when they were down against Chelsea, City managed to equalize emphatically, thanks to Yaya Toure's long-distance bomb, which would have grabbed the headlines but for Crouch's strike. It's still a great goal. From a distance that even trigger-happy teammate Mario Balotelli would have found irresponsible, Toure unleashed a laser that didn't so much take a deflection off Stoke defender Ryan Shawcross as nearly decapitate him, before smashing through keeper Asmir Begovic's gloves to the back of the net, keeping City's title hopes alive along the way.
Wayne Rooney and Manchester United are back on top (Manchester United 1, Fulham 0)
It was never going to be easy for Fulham to beat United in Manchester. Fulham haven't even scored at Old Trafford since 2006. But here was Dempsey (and his teammates) on center stage where we've wanted him all along—under the bright lights against a big club, in England's version of Monday Night Football.
Fulham were up to the task and had the better of the first half hour. Dempsey found acres of space in United's midfield and forced keeper David De Gea into two good saves. Deuce's play prompted commentators Ian Darke and Steve McManaman (a much preferred MNF team to Tirico and Gruden) to put him in the player-of-the-year race, with Darke saying "No doubt Dempsey has been one of the top players in the Premiership this season. We, of course, agree.
But Fulham were bested by another POY candidate, Wayne Rooney. Fulham's backline fell asleep for a moment and Rooney took advantage. This goal brought his total to 21, only five behind the actual Player of the Year, Arsenal's Robin van Persie. It feels like one of the quietest 20 goal seasons I can remember in the EPL, but Rooney and United are back on top of Manchester City by three at what Sir Alex Ferguson called "an ideal time." Speaking of ideal, if the two Manchesters are still within three points of one another when they meet at the Ethiad on April 30th, it may be a de facto final. All the marbles. Deathmatch. We can't wait.
Bend it like Baines (Everton 2, Swansea City 0)
Since Landon Donovan went back to Cali to rejoin the Galaxy, the Toffees have been a bit off our radar. But they're having a late season renaissance. Over the weekend, they became only the third team to go to Wales and beat Swansea at the Liberty Stadium. And in a week of great goals, I think this Leighton Baines bending, diving, wall-evading upper 90 effort is the best free kick I've seen in the Premiership this year. Everton, sans Donovan, is only two points behind Liverpool for 7th, and the teams will meet in two weeks when they bring the Merseyside Derby to Wembley for the FA Cup semi-final. Somewhere in LA, Landon Donovan is jealous of Tim Howard, and David Beckham wishes he could bend it like Baines.