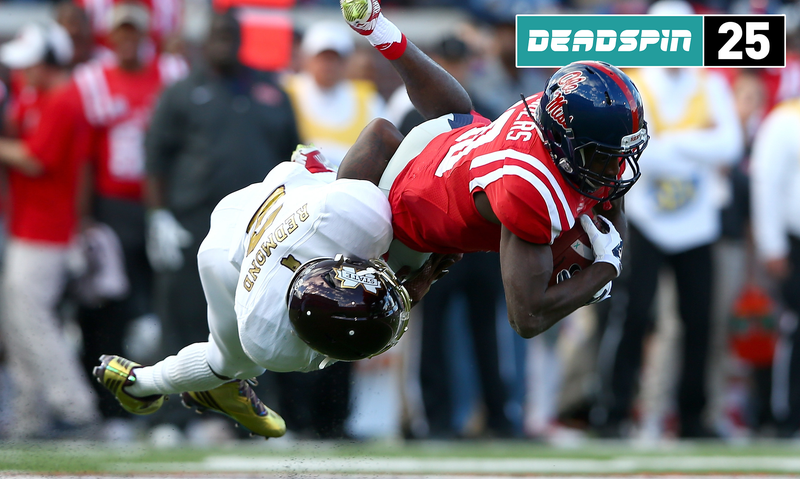 Welcome to the Deadspin 25, a college football poll that strives to be more democratic and less useless than every other preseason poll. Leading up to the college football season kickoff, we will give you previews of the 25 teams that you, the readers, voted to be most worthy of writing about. Now, No. 19 Ole Miss.
After raking in loads of uber-talented recruits and fans with an Ole Miss booster who was actually just some rando on Twitter, the Rebels made a huge jump in 2014, beating top-5 teams and actually fooling us into thinking, "Oh shit, Ole Miss might do this thing." Alas, they did not. But this year, even with @Rebel_AGP having departed for greener pastures, they just might, uh, do this whole thing.

The Rebels did the unthinkable and opened the season 7-0, upsetting then-No. 3 Alabama in a Week 5 contest in which the best tackle wasn't even made during the actual game and Katy Perry was out on the town throwing beers back with such pure form that it brought a single tear to the eye of every KA southern gentlemen in Oxford.
Ole Miss climbed all the way to No. 3 in those other dumb polls people use before crashing down to earth in Week 8, when they lost to LSU and absolutely ruined this girl's evening, who in turn ruined a poor, innocent jug of milk. The Rebels would proceed to go 1-3 in Weeks 8-11, sending them tumbling out of SEC West contention. But they did still manage to "Fuck The School Down South" when they shat on Mississippi State's shot at the division title in the Egg Bowl, so we can cling to that instead of TCU's 42-3 dismantling of the Rebels in the Peach Bowl.
Although the season didn't end on the highest of notes, it'd be foolish to not be impressed by Ole Miss' body of work. The Rebels' vaunted class of 2013 churned out three possible All-Americans, and with 16 starters back from last year's team, this year's squad will absolutely climb to near the top of those imaginary preseason polls once again.
Ole Miss had the No. 1 scoring defense in all of college football last year, and will make a run at repeating as the stingiest unit in the nation, as seven starters return for the Rebels. Safety Tony Connor finished last season with nine tackles for loss from the secondary and gives Ole Miss' defensive backfield a true hard-hitting identity, but none of the Rebel starters will be more important than defensive tackle Robert Nkemdiche. Although his 2014 numbers don't jump off the charts, this is a guy who was built to dominate 1-on-1 matchups and suplex quarterbacks.
On the other line, Ole Miss returns all five starting offensive linemen, including future top-10 Draft pick Laremy Tunsil, and brings back stud tight end Evan Engram, who averaged 17.4 yards per catch last season. Behind them will be senior running back Jaylen Walton.
Out wide, the Rebels had four players crack the 500-receiving yard mark last year, and three of them return, led by Laquon Treadwell. As long as everyone can stay healthy—a massive caveat, I know—the Ole Miss receivers will be among the best in the nation.
As nice as it is to have a squadron of dope receivers, they won't be much use until Ole Miss can find a starting quarterback. The training camp competition is currently open between true sophomore Ryan Buchanan and Clemson reject Chad Kelly. The two seem to be pretty close as of now, and head coach Hugh Freeze hasn't given too many hints as to who is going to be the starter yet. The Rebels should be fine either way, though. If the eventual starter can manage to just be competent, the rest of the talent on offense should be able to carry the load.
A Guy To Know
Laquon Treadwell has a chance to be college football's top wide receiver in 2015, something that is pretty incredible considering how horrifically his 2014 campaign ended, as you can see in the black-and-white opening to the above video.
If you were watching the game, there's no way you can forget the play. Treadwell had seemingly scored the go-ahead touchdown, but instead had his leg snapped and the ball knocked out of his hands at the 1-yard line. The play was then splattered on the cover of the Opelika-Auburn Dispatch, as it was the game's most important play, which prompted a uppity response from the smarmy Ole Miss athletic director. It was a whole ordeal.
Treadwell was lost for the season and wasn't able to even run again until February. But with his leg now fully healed, he will have a shot to improve upon a 632-yard, 9-game 2014 campaign. The only receiver that rivals him in sheer potential is Auburn's Duke Williams, but the Rebels have a deeper squad, so Treadwell—barring some horrendous quarterback play—will be the nation's top wideout in 2015.
Can They Make The Playoff?
Yes, Ole Miss very well could make the playoff, but it will require a whole lot of things breaking their way. The Rebels will need to avoid injuries to guys like Nkemdiche, Engram, and Treadwell, and they have to be perfect in close SEC games. And for God's sake, they can not lose 30-0!
But if those guys stay healthy, the biggest determining factor will be quarterback play. If Kelly or Buchanan can step in and actually do something with the weapons they have at their disposal and form the offense into a consistent unit, they can be as good as any team in the West, or the nation for that matter.
The defense will have to play like it did for the first two-thirds of 2014, and the offense will just need to partially live up to what it can be. But I'm dead serious when I say look out for the Rebels to run this shit. If Kelly or Buchanan can step in and get the ball to Engram and Treadwell at least 15 times a game, this team is going to be money. Nick Saban's is probably having nightmares about Ole Miss living up to its potential.
Is The Coach A Dick?
Hugh Freeze has worked some real wonders down in Oxford. After inheriting a team that went 2-10 in 2011, Freeze took the Rebels bowling with a 7-6 record in his first year. Then, in 2012, he managed get his squad ranked and won his second straight bowl game to finish 8-5. And of course, there was last year's fun ride, ending 9-4 with a not-so-fun crash in the Peach Bowl.
Freeze is an emotional guy, and as you can see in this video, sometimes that can work against him.
I don't know that getting in a shouting match exactly makes Freeze a dick, but it certainly doesn't make him a chill dude. C'mon, Hugh. Let it go, my man.
Will Ole Miss Do It?
Maybe! It really does all depend on how the eventual starting quarterback plays. The Rebels have all the other pieces necessary to challenge for an SEC West title and make a run at the playoff, but if the quarterback isn't able to consistently get the ball to Treadwell and Co., Ole Miss is going to run up on a 3-loss season again.
Schedule
Sept. 5: UT Martin
Sept. 12: Fresno State
Sept. 19: @ Alabama
Sept. 26: Vanderbilt
Oct. 3: Florida
Oct. 10: New Mexico State
Oct. 17: @ Memphis
Oct. 24: Texas A&M
Oct. 31: Auburn
Nov. 21: LSU

Nov. 28: @ Mississippi State