The Deadspin staff pick their favorite sports moments from 2015, and explain what made them so special. Here they are.
Stephen Curry's Existence
Two years ago, Steph Curry's defining performance was his 54-point strike in Madison Square Garden, but in 2015 there was no comparable moment. Sure, he was named the MVP while leading the Warriors to the NBA title—and looks to be even better this season—but there was no singular Curry moment. That's because every moment was a Curry moment. The 26-point quarters, four three-pointers in two minutes, jaw-dropping passes, and half-court miracles all blended into a singular cacophony of greatness from the most entertaining player in the sport.
So my favorite sports moment of the year was this. And this. And this, this, this, this, this, this, this, this, this, this, this, this, this, this, this, this, this, this, and finally this. - Kevin Draper
G/O Media may get a commission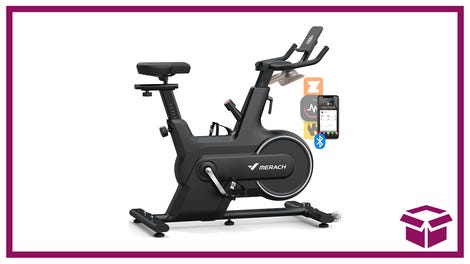 14% off + Coupon
Merach Indoor Cycling Bike
---
Carli Lloyd's Hat Trick
For 16 minutes, Carli Lloyd was the greatest player of all time. That's what Greg Howard wrote back in July, and at first I wasn't sure what else to say. Lloyd scored three goals in 16 minutes in a World Cup final, the last a nearly impossible shot from 60 yards out, a perfect strike over the keeper's hopelessly raised arms that sailed into the net.
It was the kind of insane, nearly-impossible-to-believe performance that makes cheesy music, sepia tones, and a voiceover intoning about rising to the occasion on the biggest stage feel appropriate. Which is to say if I told you this happened, without visual evidence, you might not believe me.
But it happened, and thank God it did, especially this year. For me, this has been the kind of year where it felt like most mornings I woke up to something reminding me that being a woman still puts me at a disadvantage. The Sony hacks started a discussion about the inexcusable dearth of women in power in Hollywood, especially as directors, and if women do hold any sway, they probably get paid less than their male counterparts. Women keep leaving the tech industry in droves. Even my own company got called out. There was the sad but steady beat of domestic violence through America, including its athletes. Bumbling college investigations of rape allegations involving football players continued. This week I read about how products sold to me cost more than the male version for no good reason at all. Being a woman is literally more expensive, just because.
Sure, any day of the week I could Google my way into an article about how my xx chromosomes were either reportedly or actually holding me back, but this year I didn't even have to do that. And while I'm glad there's so much reporting on this, because these issues need lights shined on them, some days it's just exhausting.
That's why Lloyd's three goals, but especially that last one, mean so much to me. In that moment, when Lloyd seems to say, "fuck it, I've got this" and lofts her third goal toward the Japanese net, none of that other crap matters. For 16 minutes, Carli Lloyd was the greatest player of all time. No explanation necessary. - Diana Moskovitz
---
R.J Hunter Topples Baylor, And His Dad
The NCAA tournament lends itself to theatrics, and the David-versus-Goliath storylines are pre-set in the seeding, yet every year one of sports' most memorable and unexpected moments comes in that opening round. And it happened again this year, as 14 seed Georgia State knocked off Baylor with a game-winning three by R.J. Hunter, one that knocked his dad—the Panthers' coach—off his stool. Maybe there was some acting, but every great drama has that. It's the perfect combination of in-game achievement and sideline joy that I'll likely spend all of 2016 looking to find again. - Tim Burke
---
Lionel Messi's Goal In The Copa Del Rey Final
There's always a point when watching a guy sprint through the heart of a defense, skipping past a defender or two and poking the ball along with him, where your mind drifts to the future. Boy, if he finishes this move off with a goal ... you think, knowing that as remarkable a passage as you've just witnessed, it won't be permanently seared into your memory unless someone manages to send it past the keeper.
It was about the time Lionel Messi snuck the ball and himself between three Athletic Club defenders and the touchline while making his way towards the box when my mind went there. The run—which started just past the halfway line, looped down the right wing, weaved past a good four Athletic players, and culminated in a dangerous but still-a-little-too-wide position in the box with two defenders closing down—was so stunning in itself that it deserved a goal to give it the proper memorialization it was due. As you know, he did it.
The run, the goal, and the stakes themselves encapsulated so much of what makes Messi Messi. Many talented wingers have never in their lives dribbled past so many players in such little space with such aplomb, let alone cap it off with a goal, let alone in a cup final. Messi did all three at once, and still it won't go down as the greatest moment in his freakish, almost unfathomably great career.
Watching Messi over the years means expecting him to regularly pull off the impossible, because you've seen it happen so many times. Watching Messi means preparing to see something you've never seen before, because he's conjured so many moments of exquisite magic that it's more than possible. Watching Messi tear down the flank, wiggling through a defense with a single-minded intent on not letting what's about to happen happen, and visualizing how he might just finish it all off with a goal is less about hope than anticipation. He doesn't score otherworldly goals every game (though he does basically score some kind of goal each time out), but if you keep watching for long enough, he will reward you with a moment you'll never forget. It's Messi. It's what he does. - Billy Haisley
---
The Packers Blowing The NFC Title Game
I am a Vikings fan, so the only way I know how to experience true joy is by watching the team next door—so rich in history and success and competent quarterbacking—fall on its ass. Every chickenshit fourth-and-one field goal attempt, every onside kick that slips through the hands of Brandon Bostick—those are the rare moments of coal-black happiness I require to get me through the long winter months. It's a hollow victory, but hollow victories are all I have. Fuck the Packers. - Drew Magary
---
Holly Holm Knocking Out Ronda Rousey
I remember the very second during the UFC women's bantamweight title fight where I realized that Holly Holm, one of the best women's boxers of all time, had a real, no-bullshit chance to beat Ronda Rousey. It wasn't 30 seconds into the fight, when Holm landed a left, a right, and then a left hook before flitting away. And it wasn't seconds later, when Holm connected on the first lead left straight down the the pipe to leave the champion red and wobbly.
Mouth agape and visibly frustrated, Rousey spent most of the first round chasing the longer, quicker boxer around the cage. She kept rushing in, and kept getting picked off as Holm set up just outside of Rousey's reach, planted her feet, and dropped shells on the champion, who had no answer. With about a minute and a half to go in the first round, Holm landed a series of four devastating lead lefts. And then Rousey struck.
Rousey is the greatest women's mixed martial artist of all time. She's an Olympic judoka who's translated the discipline to the sport of MMA at least as effectively as any man or woman before her. She's more athletic, more tenacious, and a better fighter than any woman she's ever come across. No matter how good Holm looked, I watched with dread knowing it was only a matter of time before Rousey got a shot off. With 55 seconds left in the first round, it came; a wild, looping left hook from Rousey that staggered the challenger. Dazed, Holm reacted instinctively, surging forward and throwing her arms around Rousey in a clinch. It was the absolute worst thing a boxer could do against a grappler as talented as Rousey. I thought this was the beginning of the end. And then Holm lifted Rousey off her feet and slammed her to the mat.
This is the first time I really entertained the possibility that Holm could Do The Shit. In truth, the fight was already over. Thirty seconds into the second round, Holm ducked under a desperate Rousey charge that brought the champion to her knees. Rousey waded, seemingly embarrassed, back into the fray. Then Holm connected with a straight left that spun Rousey. The champ seemed to freeze; Holm grabbed Rousey's waist to rotate her just so, and then unleashed a left kick to her head. Rousey crashed unconscious to the mat. Time slowed, but Holm didn't. Before anyone could react, Holm pounced on Rousey and landed three more violent shots. Then it was over. Holm was crying, and I was screaming, and we were both hugging anyone within arm's reach.
Holly Holm, a champion her entire career in one arena, walked into another, did the impossible, and left with the belt. Fighting bares the soul in ways other sports can't. It's often ugly and profane, but at its pinnacle, in moments like these, nothing is more beautiful. - Greg Howard
---
LeBron James In The Finals
There are almost too many ways to approach talking about LeBron James's performance in the 2015 NBA Finals. There are stats, like the historic usage rate, and the 35-8-13 he averaged while playing all but 24 of the series' 298 minutes. There are moments, like the triumphant, primal roar he unleashed after winning Game 2 in overtime. There are circumstances, like the fact that James scrapped out a 2-1 series lead while sharing the court with a bunch of sub-replacement level teammates. But the thing I keep coming back to when I think of that series is how LeBron made me believe. Not in his talent—only a moron could have still doubted LeBron's status as the best player in the universe heading into those Finals—but that something truly insane was about to happen.
LeBron James was a one-man team facing down one of the most unstoppable collection of players in NBA history. That Cavs team was an underdog the same way a cow is when it's staring down the bolt gun. And yet, after LeBron slapped a 40-8-12 on the table to give the Cavs a 2-1 series lead, I really thought they were going to win the whole thing. In hindsight, and even in the moment, this was a stupid thing to think, but that's LeBron James for you. When he's at his peak, he's good enough to convince me that the impossible will actually happen. What more could I want from an athlete? - Tom Ley
---
Cam Newton Dancing The Titans Into A Rage
This is the season of Cam Newton, even if the Panthers don't win the Super Bowl. While young and old quarterbacks fell apart all over the league, the enormous, perpetually smiling signal caller allowed his team to cruise over their opponents, and he's enjoyed himself while doing so. "There's greatness in the air," Newton said when asked why the Panthers dance and celebrate so much when they succeed.
There was definitely greatness in the air in November against the Titans. Newton took the ball in for a touchdown to give Carolina a 27-10 lead, and danced after scoring. To be specific, he dabbed. Titans linebacker Avery Williamson didn't like that, and stormed towards Newton. After an official and teammates separated the two, Newton did it again, and then a third time for good measure. It was a historic moment in football trolling. The hypothetical, 100-word oral history for this would be award-winning. Newton lacked the subtlety of Jeff Fisher, but to hell with subtlety. What's funnier than riling an opponent up with a celebration, then immediately celebrating in his face again? It was perfect. - Samer Kalaf
---
Peter Sagan Wins The World Championships
There has not been a rider as good and versatile as Peter Sagan in the pro peloton for decades, and yet that's held him back. He can win straight-up sprints against anyone and outmuscle bird-shaped climbers on mountain stages, but raw skill doesn't always (or even usually) translate to wins. The quirk of cycling is that it's inherently collaborative, and when every one of your would-be helpers knows you'd dust them in the sprint, nobody is gonna do shit to help you get there.
Take for example Sagan's Tour de France. He finished second five times, and got 10 top-10 finishes. He was in legitimate contention for every non-mountain stage, which is truly bonkers, yet he never won one. Never mind that he won the points jersey running away, even after the Tour changed the rules to try to let a pure sprinter win, or that his entire team was geared towards helping Alberto Contador win the general classification, this wasn't good enough for management. He showed up more or less alone and ended up a few meters away from five stage wins, then got his worth questioned by cartoon villain Oleg Tinkov.
Toss Tinkov's performative megalomania in with a year where Sagan got knocked out of a race by a motorbike and had a failed bike change cost him a shot at Paris-Roubaix, and you have what looked like a frustrating, lost season. And then he ripped off the best solo attack of 2015 and won the World Championships in authoritative fashion. The late move was such a show of force, he didn't even have to go on a climb. Sagan just sort of rolled away and snapped the elastic between him and the peloton. He was always going to win a world title, but to see him win it his way, without teammates, was proof that sometimes generational talent can overcome the mucky realities of cycling. - Patrick Redford
---
Malcolm Butler's Interception
When I was a kid, the Super Bowl was always terrible. Every year, it would be a blowout, and you just accepted it as a fact that American sports' biggest night didn't include a game worthy of the spectacle. About 15 years ago, that changed, and more often than not since then, the Super Bowl has been one of the best games of each year, close, with lead changes and memorable moments. I don't know if it's randomness or increased parity behind the string of exciting games, but it's a good reminder that a great game in February is something to be thankful for. This year's Super Bowl was a great game, with a truly immortal climactic play to cap it off.
Malcolm Butler's goal-line interception of Russell Wilson had everything. It hit on every conceivable angle, from athleticism to strategy, that will have it long remembered in NFL lore. There's the traditional underdog angle, with the undrafted Butler unexpectedly getting to play on defense, let alone win a Super Bowl. There's the superior coaching, with the Patriots saying they knew what was coming because they had worked on defending nearly the exact same pick play in practice. There was Seattle's questionable decision to pass with their all-world interior runner right there, leading to an eternity of second-guessing. Above all else, it was simply a great play, with Butler jumping the route and hanging on to the ball rather than settling for lighting up Ricardo Lockette.
The interception came out of nowhere. When the Seahawks marched down for a first-and-goal, after a miracle catch that would be on this Best of 2015 list if this entry didn't exist, it felt like a done deal. Marshawn Lynch would get the ball, four times in a row if necessary, and he'd punch it in for the Seahawks' second straight trophy and the Patriots would be title-less for a full decade. Everything—the game, the season, the historical evaluations of both teams—changed in a split second, on a playcall that no one saw coming, with an inconceivably decisive outcome. It was a thrilling ending to a dramatic Super Bowl that could have gone either way on the back of a single play. You can't ask for anything more from your sports. - Barry Petchesky
---
Browns-Ravens, Monday Night Football, Nov. 30
Hello, Browns fan here. Given the past 16 years of utter, brutal futility, having burned through approximately 95 would-be franchise-QB saviors and having lost football games both consequential and utterly, brutally inconsequential in a variety of fascinating ways, and seeing as our current would-be franchise-QB savior isn't good for much of anything other than generating amusing Deadspin headlines, I'm just glad this game didn't totally suck. It sure looked that way. But no, it was wildly entertaining, and our (my) boys fought valiantly, and the fact that they lost in the most shocking, bizarre, humiliating way imaginable, well, all I could do on my couch was laugh and laugh and laugh.

At least we entertained you people, right? Truth be told, it's the only Browns game I watched closely all year; it was so engrossing I forgot to watch Fargo. If we're nothing but comic relief to the world at large, well, by God, let's be the goofiest, most garish and pathetic clowns we can possibly be. It is our gift to the world. You're welcome. Please kill me. Thank you in advance. - Rob Harvilla
---
Jonathan Papelbon Choking Bryce Harper
The clip of Jonathan Papelbon choking Bryce Harper is the Zapruder film of the Washington Nationals' season. You see a detested old newcomer stalking the Nats' beloved Boy Wonder from one end of the dugout to the other then attacking him like a man tortured by much more than a younger teammate's pace on the basepaths.
Washington, the preseason chalk pick, was in first place when GM Mike Rizzo brought in the closer nicknamed Anus Mouth from Philadelphia. Everything went to hell and the Nats were struggling to finish over .500.
The only non-awful thing to come out of the Papelbon debacle is that it finally brought some heat to Rizzo. He's always gotten the kid gloves treatment from D.C. media, most famously in 2012, when he was allowed to bully anybody who questioned his voodoo-heavy explanation for sitting Stephen Strasburg while the season mattered. Rizzo's decorum recalled how another local guy, former war czar Donald Rumsfeld, dismissed all who in 2003 asked if invading Iraq again was really the only option. The 2012 season, remember, climaxed with a choke, too. - Dave McKenna
---
Jose Bautista's Righteous Bat Flip
It's been months, and I still have a hard time believing I saw a seventh inning in a playoff elimination game in which, among other things, the visitors took the lead in a tie game after a routine throw from the catcher to the mound deflected off the hitter's bat; the home fans pelted the field with trash and debris, leading to a delay of game and at least one baby being hit by a beer; the visitors' shortstop fucked three straight plays to load the bases; and the home team's no. 3 hitter, a former nobody who somehow reinvented himself as one of the game's most feared power hitters, came up with two on and the game tied and did the best thing any athlete in the entire world did this year.
Sometimes, we'll run an item extolling a bat flip or some other bit of on­field demonstrativeness and I'll hear from a reader or two who will say, in effect, Don't you have better things to do with your time than poking the sort of crusty traditionalist who really just can't stand that sort of thing? The baseball culture wars are over and your side won; take the victory! This actually isn't totally unfair, and to the extent that the internet—all media, really, but especially the internet—is principally a mechanism for signaling, in which the subtext of every expression of taste and opinion is I am and would like to be seen as the sort of person who likes this and not that, and thus allied with this sort of person and against this sort of person, reading anything about anything can get exasperating. What this misses, though, is the thing itself. Jose Bautista isn't positioning himself against his rhetorical enemies right there; he's joyful and proud, exulting in his own dominance and the adoration of tens of thousands of delirious fans, happy that of all the things that could have happened, he made this one, the best one, happen. What do you watch sports for if not to see people do that, and let you know how it feels? - Tim Marchman