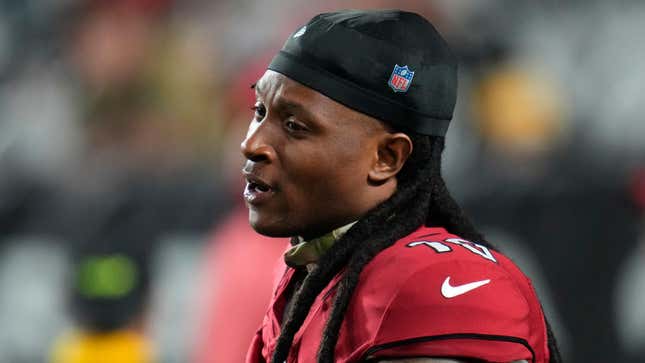 Former All-Pro wide receiver DeAndre Hopkins is still an Arizona Cardinal. There's been buzz around a potential trade involving Hopkins all offseason, and still no movement. On Sunday afternoon, D-Hop pulled a move that's become infamous among the professional athlete community where someone posts a tweet, then deletes it minutes later like it never happened.
The Brooklyn Nets suck at super teams
Hopkins tweeted this out, saying he isn't looking for a raise. And, of course, it's already been taken off his Twitter page, but the message is out. We've seen it now. Many internet sleuths were on it, immediately taking screenshots. The message is interesting, as trade rumors about Hopkins have been out there for a while. Could this be his way of further confirming that he wants out of Arizona?
The other aspect is how this form of cryptic messaging from pro athletes has become the norm on social media. Then they delete these cryptic messages many times for some odd reason. This isn't even a controversial or scandalous tweet. The Cardinals' front office might not like it, but again, Hopkins has supposedly been on his way out of Arizona for the last couple of months. At least, that's been the talk around NFL circles.
Not too long ago, Hopkins was seen in a video on social media alongside former Dallas Cowboys receiver Dez Bryant speaking on how he'd heard folks in Big D saying his name. That move to Dallas hasn't happened for Hopkins and probably won't, following the Cowboys' trade for Brandin Cooks. There are already quite a few mouths to feed in Dallas, and bringing in
Hopkins wouldn't be a sign of confidence in Ceedee Lamb, their current No. 1 target.
Ultimately, it's up to the Cardinals if they are truly interested in trading Hopkins, as he doesn't have much say in the decision. D-Hop can hint all he wants, but as usual, it'll come down to what Arizona can get in return for his services. But all the tweeting posts and deleting them soon after is silly. It's the internet. Once posted, it's there regardless of deletion on one's page. And people online are so quick now that even if it's up for 30 seconds, someone will have captured the post, and saved it already.
---
You can find more not-so-cryptic Arizona Cardinals news here!