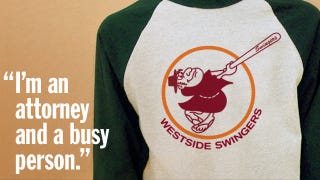 When you don't know all but one of your teammates, and your team has yet to play a game, it's probably best not to try to hijack the process of designing a team t-shirt. If you do try to hijack the design process—"I'd suggest some muted colors, like maroon/beige/forest green/wine"—and people get annoyed with you, try not to fire back with a complaint about how much time you spent on your uninvited design. READ »
More Bitchy, Overwrought Rec-League Emails

Softball guy brags on company email about driving drunk. "I found it only natural to vomit about 3 more times on the lovely Buick Enclave beside my car."

Real estate broker demands FOCUS from softball players. "Every time you don't get ON BASE from your at bat IT WILL COST YOU $1."

Softball commissioner heaps praise on his accomplishments as commissioner. "I used surplus league funds to purchase field lining equipment and our silver "Italian Championship Cups" and the trophy case."

Company-team softball pitcher explains why he melted down and brawled with a teammate. "I understand that you mean well, but when I am concentrating, calls to 'pump it in there' or 'put it over' just sound like demands."

Flag-football coach demands his players learn to flag-grab, stop disappointing him. "It was also completely my fault for leaving some of your incompetent asses on the field as long as I did."
Soccer coach calls for more intensity while describing his sweaty MCL rehab. "I have no intention into turning this to a high pressure environment like that of my college playing days."

Embarrassed over-competitive softball ringer apologizes to his girlfriend and her team. "I made an ass of myself and worst of all I made an ass of the one person that I love the most."

Kickball player fumes about having a weekday-league playoff game on the weekend. "I'm NOT wasting my Saturday for the games that we've been playing lately. Ive already been wasting my Thursday nights."

Kickball captain tears apart his team, player by player. "Some of you guys are striking out, others can't catch a pop fly, others don't even know which base to throw the ball to. Are you guys adults."