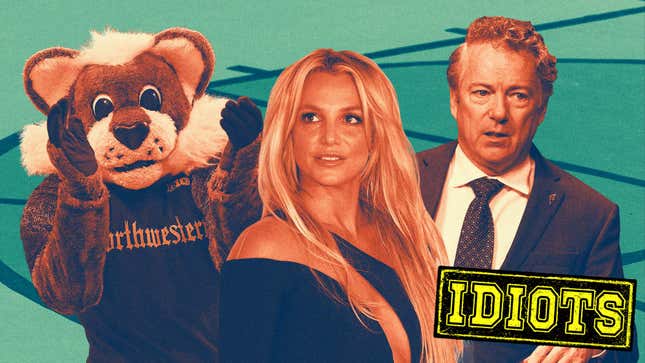 Welcome to Deadspin's IDIOT OF THE MONTH! Ugh!
5. Tommy Tuberville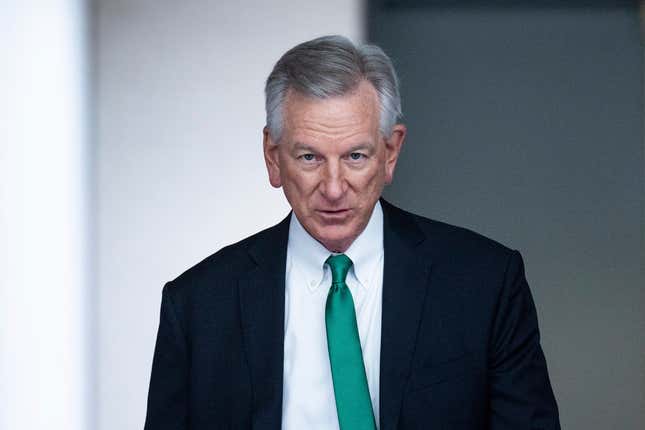 Everything this man does is stupid, but this one was especially so. The man inexplicably elected by Alabama voters to the United States Senate went on record to defend white nationalists in July, claiming that it was merely "some people's opinion" that racism was innately tied to the ideology. He quickly retreated from that position, but, jeez, what a moron. Great job, Alabama.
4. Rand Paul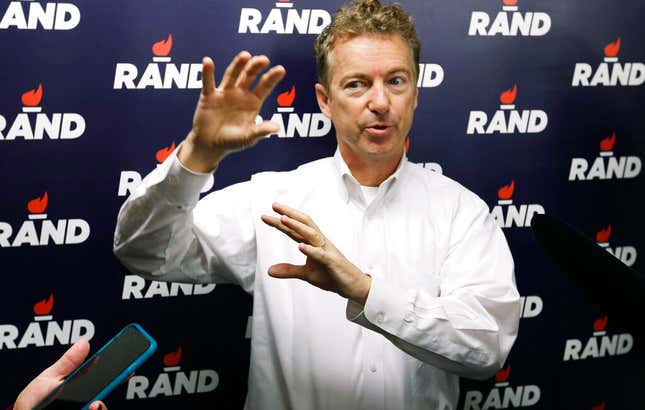 Moving on to another inexplicable member of the United States Senate, Paul had NIL legislation in his crosshairs recently when he mused that college athletes would soon end up more closely resembling rappers than students, what with their newfound ability to be paid for their work. Apparently this second-generation dumbfuck is all about laissez-faire government policy until it puts money in the pockets of young people, specifically those of color.
3. Northwestern University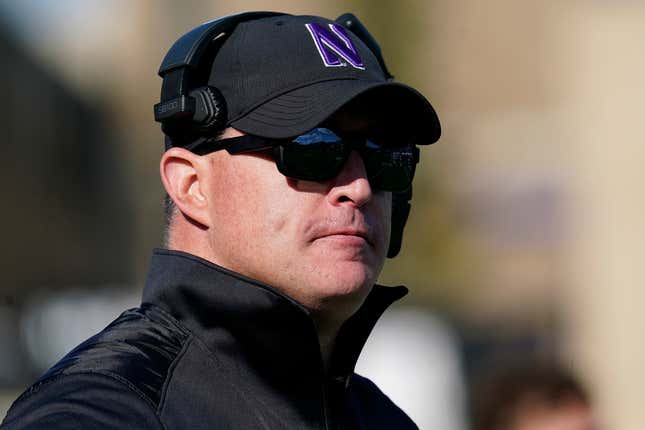 For those not in Big Ten country, Northwestern is in college athletics purgatory. When the Wildcats are good, they're easy to be your second-favorite team. No one really hates Northwestern that much and when it stinks in certain sports, the Chicago-area school doesn't set off enough alarms to be lambasted. So when The Daily Northwestern broke the news on July 8 of the rampant hazing going on inside the football program, it came as a complete shock and dominated news coverage during the part of the sports calendar where anything tantalizing that isn't Major League Baseball is obsessed over.
Let's be clear: This is a major scandal where an unknown amount of people were hazed and/or subjected to negative activities outside the norm in college football. And one of the "good guys" in the sport, Pat Fitzgerald, a Northwestern alumnus with more than a quarter-century of Wildcats affiliation as a player, assistant coach, and most recently 17 years as the program's head coach, was given a pink slip faster than a two-dollar hooker. Or a Lamborghini, whatever fits your mojo better. Fitzgerald was fired with cause, meaning Northwestern didn't owe him his buyout, which is believed to be more than $40 million dollars. Fitzgerald's representatives have said they'd sue to recoup that amount. Fitzgerald and other Northwestern dignitaries have also been named as defendants in lawsuits in the program's hazing scandal.
Turns out Fitzgerald wasn't the only Northwestern coach being reviewed by the school's legal and human resources departments, as Jim Foster was removed as the Wildcats' head baseball coach on July 13 for allegations of bullying and a toxic team environment. ESPN reported Foster would've been fired earlier if it wasn't for a shift from Northwestern's legal and human resources team to focus on Fitzgerald. So what was the school's excuse for the previous several weeks? Safe to say things are going smoothly in Evanston, Illinois.
2. Britney Spears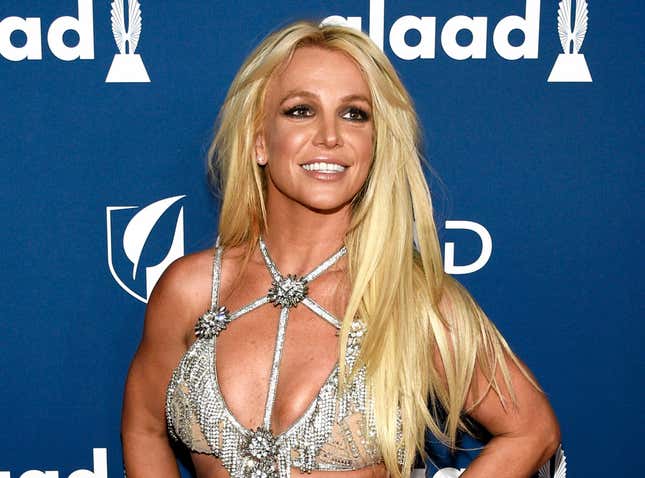 Victor Wembanyama was wrong because he made something out of nothing when he embellished a story to the press. But, we'll give him a semi-pass because he's a 19-year-old kid from France who was just days into his new job in America — and boy did America welcome him in the "American way."
Britney Spears was wrong because she knew she could make something into a bigger something because of who she is. And as a 41-year-old grown woman who fully understands how the media can work — for the bad — she used all of her white woman privilege to play the victim.
Just because you want to meet someone, it doesn't give you the right to feel you deserve to be acknowledged by them, let alone touch them. Black people aren't animals. This isn't a petting zoo.
Did you all learn nothing from Lena Dunham?
"I owe Odell Beckham Jr. an apology. Despite my moments of bravado, I struggle at industry events (and in life) with the sense that I don't rep a certain standard of beauty and so when I show up to the Met Ball surrounded by models and swan-like actresses it's hard not to feel like a sack of flaming garbage," she wrote in a 2016 Instagram post after she projected her insecurities onto him when she claimed that the he ignored her at the event — as if she was someone who demanded his adulation. "This felt especially intense with a handsome athlete as my dinner companion and a bunch of women I was sure he'd rather be seated with. But I went ahead and projected these insecurities and made totally narcissistic assumptions about what he was thinking, then presented those assumptions as facts."
Leave people alone, and keep your hands to yourself.
Victor was wrong. Britney was "wronger." Two things can be true at the same time.
1. Silly Man With Funny Hat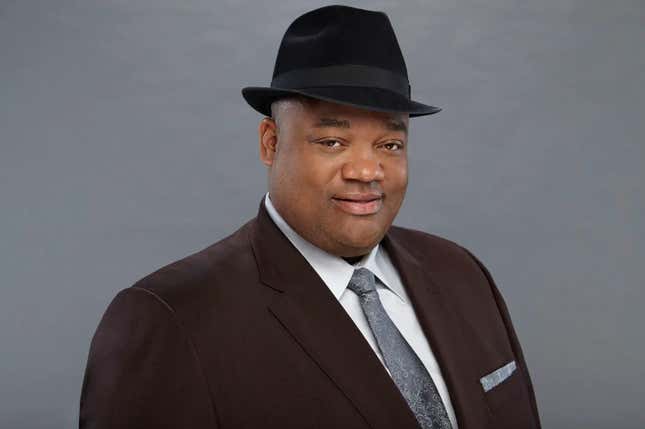 The narrative following Bronny James' cardiac arrest during a USC basketball practice in late July was as predictable as it was mind-numbing. Anti-vaxxers came out in full throat, quick to blame the seemingly healthy young adult's misfortune on the vaccine. It's easy to find a COVID conspiracy for all of society's ills, and it's gotten so lazy that one can readily identify, and then avoid, wading into conversation with Dr. Mantis Stockton.
However, there are performance artists among us who just see things so idiotically, so completely wrong that engaging with them is unavoidable. Out of the most morbid bit of curiosity, you have to look, knowing full well that it will not only leave you speechless, but also severely dumber.
"I don't believe LeBron or his family took the vaccine," wrote a silly man with a funny hat on X. "I believe most elite athletes faked taking the vaxx. No way men in prime physical health injected a rushed vaccine into their bodies. I refuse to believe that. That's my conspiracy. I don't know what happened to Bronny."
So, to paraphrase, the silly man doesn't know what happened to Bronny because he believes elite athletes faked the vaccine. Look at the big galaxy brain on this guy. Not only are anti-vaxxers wrong, but so is everybody else.
Yes, all of us, the royal us, are the dumbasses, and not the guy who wears fedoras. Perhaps this silly man's signature hat is the same one used by Matt Damon in the time-traveling epic The Adjustment Bureau, and he's 17 million steps ahead of the rest of the world because he's seen every timeline.
That, or he's just a fucking moron.