OK, so this probably won't go over as well as the SSW, but hey, we might as well have some sort of Tuesday NFL Roundup. I would like to say I've come up with some sort of brilliant conceit, some new way of looking at the NFL that had never occurred to humanity, but I don't. I'm just gonna rank the teams. Deadspin: Perpetually coming at sports from shocking, groundbreaking directions. I'm calling this the Buzzsaw countdown because I've spent the last 20 years of my life reading power polls and scrolling down forever to find my beloved Arizona Cardinals. I was always pleasantly surprised when they weren't last. To save fellow fans of perpetually struggling teams, I'm starting from the bottom and heading down. Or up. Or whatever direction that would be. I hope this list blows your freaking mind. 32. Oakland Raiders (0-1). They have to bring back Art Shell soon, right? The more and more I look at him, doesn't Jamarcus Russell have the feel of a guy who's gonna look just like Art Shell in 20 years? 31. St. Louis Rams (0-1). The above picture, from the St. Louis Post-Dispatch, pretty much sums up how Sunday went for the Rams. Scott Linehan is the new Wayne Fontes; I hope they never fire him. 30. Detroit Lions (0-1). There will never be a better metaphor for life as a Detroit Lions fan than the coach who goes through drive throughs with no pants.. At least Jon Kitna had a sense of humor about it.
29. Cincinnati Bengals (0-1). My favorite part of Peter King's column this week? His revelation that "Ocho Cinco" actually means "Eight Five" in Spanish, rather than "Eighty Five." I love it when journalists discover the Babelfish translator. 28. Kansas City Chiefs (0-1). You know, if the Chiefs can figure out a way to have the opposing quarterback leave in the first half of the first quarter every game this season, they've got a chance to go 6-10. 27. San Francisco 49ers (0-1). I watched this whole game (of course), and I can say that J.T. O'Sullivan isn't actually that bad. What do you think is going to happen when Mike Martz is (inevitably) fired from this job? How's he going to find a way to be captured by the camera on the sidelines, looking all sinister? I think it's the only thing keeping him alive at this point. 26. Miami Dolphins (0-1). You wouldn't know it from every paper in this stupid city I live in, but the Jets almost lost this game. It sure is nice having Joey Porter still around, isn't it?
25. Seattle Seahawks (0-1). I'm pretty sure that this is the lowest they'll be all season, but man, seriously: If the Buzzsaw can't win the NFC West this season, they're never, ever winning the NFC West. 24. Washington Redskins (0-1). Anybody else get an immediate, and overpowering, Charlie Weis vibe from watching Jim Zorn the other night? I felt like I was watching another guy realizing that being a head coach is a lot freaking harder than he'd thought. 23. Houston Texans (0-1). I kind of love that Ahman Green is being used as a change-of-pace back. He's a perfect change-of-pace guy, considering the other running backs are actually upright and moving forward. 22. Cleveland Browns (0-1). OK, so the Cowboys looked awesome, but it sure is cloudy in Cleveland right now, isn't it? It's like everyone forgot that they didn't, actually, make the playoffs last year. 21. Tampa Bay Buccaneers (0-1). Couldn't agree with Clay more: Chris Simms is a hot commodity now? Really? Maybe everyone just wants him to get another tattoo.
G/O Media may get a commission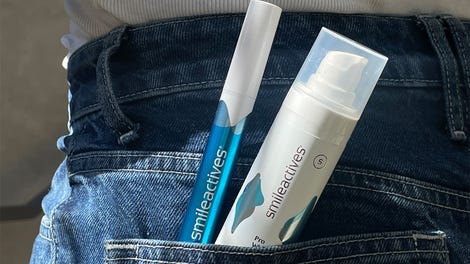 58% off
Whitening Powerhouse Pen & Gel Duo
20. The Buzzsaw That Is The Arizona Cardinals (1-0). Nope. Not buying it. 19. Baltimore Ravens (1-0). I guarantee you Joe Flacco will never, ever run that far for a touchdown the rest of his career. Flacco. Flacco! 18. New York Jets (1-0). You know, imagine if Favre would have just waited a few weeks to demand that trade. Think Belichick would have signed him? And would you ever, ever be able to watch ESPN afterwards? 17. Denver Broncos (1-0). I don't think there's a more boring storyline in the NFL than Mike Shanahan's "revenge" against Al Davis for reneging on a contract. People don't care about player contracts; now they're supposed to care about a coach? By the way, and I feel a little bad admitting this, but I actually didn't hate Mike and Mike as broadcasters. Shoot me in the face. Oh, and in case you missed Sussman's live blog last night:
16. Jacksonville Jaguars (0-1). OK, so I thought this was supposed to be the Jaguars' year? Or was that last year? It's all so difficult to keep up with. 15. Atlanta Falcons (1-0). The last couple of years, Kevin Jones has been the bane of the Football Outsiders' crew's existence. After yesterday's performance, and after reading their Pro Football Reference guide, I wonder if it'll be Michael Turner now. 14. Minnesota Vikings (0-1). I know the first half was scary, but Tavaris Jackson looked like, eventually, during a season when the Vikings aren't hoping to legitimately contend, be a halfway decent quarterback. So that's a start. 13. Tennessee Titans (1-0). So, which embarrassingly photographed Titans quarterback do you like more? This one or this one? I'll go with the latter. 12. San Diego Chargers (0-1). Because everyone's feeling nice, this loss is being classified as a fluke. But coffee's on, Norv. 11. Carolina Panthers (1-0). I'm going to a Panthers game later this year, and I was looking at their schedule to pick one. I have a wedding to go to when they play the Buzzsaw, so that one's out. I realized that the Panthers have an absolutely awful home schedule this year. Sorry, Charlotte residents: Still nothing to do there.
10. Indianapolis Colts (0-1). That didn't really happen, right? By the way, that stadium looks to be the most boring new NFL stadium to open since ... well, since every other NFL stadium. 9. New Orleans Saints (1-0). Here's a bet that if anyone asks Reggie Bush about Matt Cassel, his old USC teammate, Reggie has no idea who he is. 8. Chicago Bears (1-0). I've surveyed every Bears fan I know, and none of them have the slightest clue of what the hell was going on Sunday night. I hope they taped it. By the way, I was looking at some Deadspin referring pages stats this morning — I can do this now that I don't work here — and "Kyle Orton" is coming up a BUNCH.
Oh yeah. 7. Green Bay Packers (1-0). You know, having a game where Aaron Rodgers scores the winning touchdown and then does the Lambeau Leap, on "Monday Night Football," is honestly just doing ESPN too many favors. 6. Buffalo Bills (1-0). I've been spending a lot more time in Buffalo than I would have thought I would, so I've been following these closer than I might otherwise. I am excited, and not just because every person I talk to in Buffalo says, "We're a dying city. WE NEED THE BILLS!" Yeah, well, they say the same thing in St. Louis, and we don't get any sympathy about it either. 5. New England Patriots (1-0). Can't drop them until they actually lose. I bet Matt Cassell has sent some very amusing text messages to Matt Leinart this week, asking the bench player to pick up some towels, or grab him a water or something. 4. New York Giants (1-0). At this point, I remind you that Brandon Jacobs went to Southern Illinois. Go Salukis!
3. Pittsburgh Steelers (1-0). It's hard to root for my Illini Rashard Mendenhall when he's never getting off the bench. Remember when Willie Parker just came out of nowhere, when every fantasy player thought he was just starting that first game of the season? Well. 2. Dallas Cowboys (1-0). You know, it's fitting that Terrell Owens would choose to impersonate the one sports Americans weren't watching during the Olympics. It would have been fun to watch him do the breaststroke. 1. Philadelphia Eagles (1-0). I would highly recommend not standing directly in front of Daulerio and saying the words "DeSean Jackson." Trust me.