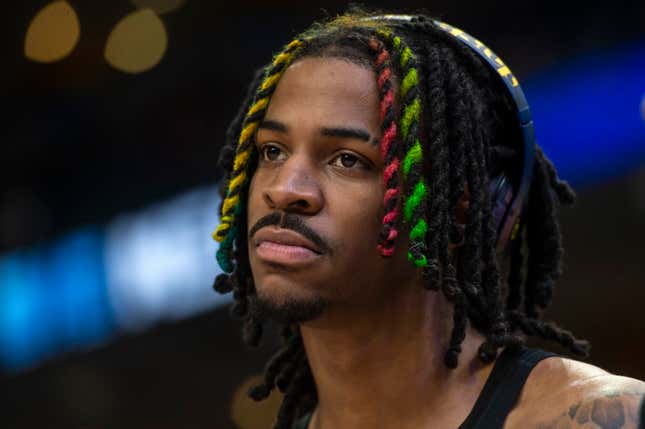 There is no obligation for Tee Morant to address his superstar son's off-court troubles. Ja Morant's firearm antics on social media are national stories, but for those two it is family business. However, at his basketball camp in New Orleans, Tee decided to use it as a teaching moment not only for kids in that gym, but also worldwide.
Ja Morant or Zion Williamson: Who is having a worse offseason? | Agree to Disagree
He gave a brief lecture — that of course in 2023 was recorded and posted on social media — about decision making. For a second it sounded like he was going to give the "show me your friends, I'll show you your future," speech, but he brought it full circle.
Tee told the campers that it was Ja's decision-making that got him in trouble. He advised them about the importance of good decision-making, and to be aware that people are always watching. If they make even one poor choice, a great loss can be a result. At points while he was talking, he had to gather himself as his voice was beginning to break.
"The smallest thing you can do, can make the biggest difference in your life," Morant said at his camp. "I don't like talking like that. I can curse y'all out all day and have fun with you, but when I am talking like from life living, I get kind of emotional. So I kind of fall back off that, but I'm just telling y'all, just make the right decisions."
While Ja has taken much criticism for his behavior, both rumored and recorded, his father has not escaped blame either. He is always courtside, with his sunglasses on indoors, being a part of the show.
It was cool when he and Karl Towns Sr. were playfully going back and forth with each other during a first-round series between the Memphis Grizzlies and the Minnesota Timberwolves. When he had to be separated from Shannon Sharpe in Los Angeles, though, that was too much, regardless of them reconciling later in the game.
Then when Ja gets suspended for the eight games, and commits the same offense two months later which results in him missing a quarter of the 2023-24 regular season, people are going to wonder if Tee is being too much of a friend as opposed to a father.
Even though Ja is a very young man at 24 years old, he is an adult. Tee cannot tell him to do anything, especially after signing a nine-figure NBA contract. On top of that, outsiders should not make assumptions about the Morant family dynamics because they don't know those people. How the Morant family deals with family business is none of ours. However, that speech did allow the public to see past the shades and more fully understand who Tee is.
He likes to have a good time and talk trash whether it's to Ja, Karl Sr., or a group of campers. Tee is outgoing and gregarious, but he is dealing with something heavy on his heart. His son embarrassed himself in front of the whole world with poor decision-making.
When loved ones figuratively, and almost literally, shoot themselves in the foot, it is painful to witness. No one wants to see a person who they care about suffer. And when that person could have easily avoided that suffering by making the obvious smart decision, being helpless to stop the resulting disaster is a special kind of sting.
Tee doesn't need to show this vulnerable side of him to anyone outside of his family, but it was nice to see. He was always more than just a dad running up and down the sidelines high-fiving fans, and dapping up Stephen Curry following a Grizzlies playoff loss. Now the other side of him is on the internet forever. Tee admitted to enjoying being the life of the party but he very much knows when it's time to get serious.