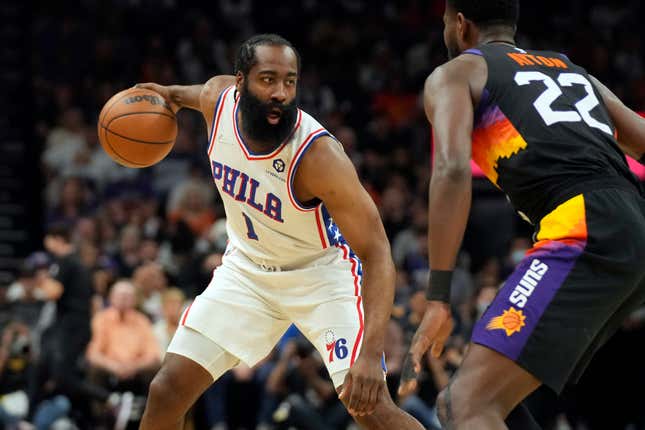 Just when you thought super teams were fading away, ESPN's Ramona Shelburne dropped this bomb on us. The senior NBA writer says to keep an eye on James Harden making his way to the Phoenix Suns, as this bombshell comes just a day after news broke about Chris Paul being shown the door. This is another example of how teams are still willing to take the quick-fix route when that hasn't been the best way of winning a title in recent years.
"The Phoenix Suns don't waive Chris Paul unless they feel pretty good about somebody else," Shelburne said. "And I want you to keep your eye on James Harden. I don't want to report anything, but that was in the wind for the past month or so."
Undoubtedly, many Suns fans would welcome another star guard into the fold alongside Devin Booker and Kevin Durant. But is this version of Harden, the player who should fill that roster spot? Probably not. If this happens, the Suns still need depth. At this point, you have to wonder if Harden actually wants to do what it takes to win a championship. After all, he's supposedly been torn over remaining in Philly or leaving for a second stint in Houston. That makes absolutely no sense unless he just wants to go back to his favorite city, score a bunch of points, and win 30 games.
Suns making room for Harden by waiving CP3?

With Phoenix supposedly in the mix for Harden, the upcoming release of Paul makes sense. Although, moving on from CP3 makes sense for the Suns even without Harden potentially on the table. Paul is still a good player, but not at what he was scheduled to make next season. If the Suns can figure out some way to get Harden at somewhat of a "discount" and still add some depth to the team, then maybe it could work. Without any depth off the bench, this sounds like another failed attempt at assembling a "super team" to win it all.
Harden and Durant have played together for two different franchises at this point, and neither time ended with them hoisting the Larry O'Brien trophy. They came close in OKC but ran into the super team of that era — the Miami Heat, aka The Heatles — led by LeBron James, Dwayne Wade, and Chris Bosh. Their experiment in Brooklyn went awry — (Editor's note: That's an understatement) — and Harden opted out quickly, making his way to Philly.
Of course, these are all rumors at the moment, but it's not hard to believe Harden wants out of Philadelphia already. The Suns being linked to Harden doesn't seem like it would work, but it makes more sense than him running back to the Rockets. They were supposed to be rebuilding with young talent in Houston, and Harden no longer falls into that category. Maybe Harden and CP3 will end up swapping spots, with Paul landing in a Sixers jersey teaming with Joel Embiid.
That doesn't sound like the best option either on Philly's end, but stranger things have happened.
With the recent failures of so-called "super teams," you'd think NBA franchises would see that this isn't the answer. The quick fix rarely works, but too many organizations continue throwing teams together comprised of older players past their prime. There's nothing that says they can't do this but don't act surprised when it falls apart faster than it was assembled.